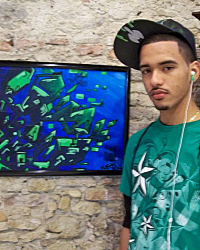 Members of the VI Club Times, a Christiansted Boys and Girls Club photo journalism group, had the thrill of having their photography displayed and sold for the first time at Art Thursday.
Whealan Massicott, owner of ib design on Company Street, opened his jewelry studio to display the youngsters' original photos of buildings and flowers.
Stephanie Hanlon, local journalist, organized the photo journalism club and worked with them the past four months. She took students on photography field trips around Christiansted, taking shots of things that looked interesting to them. The students have also been working on news reporting and have published three newsletters.
The students involved in the club are Tyler Gumbs, Imani Evans, Adriana Fernandez, and Makeda Porter.
"I love digital art and photography – there is so much you can do with it, like adjusting colors and making changes," said 9 year-old Imani Evans, bubbling with excitement at the thought of selling her photos.
Massicott's studio wasn't the only spot on Company street to view and purchase student art work.
Danica David hosted her second St. Croix Central and St. Croix Educational Complex Senior Retrospective Art Show at Danica Art Gallery in the Luncheria Courtyard.
Featured artist was Marcos Castillo, a 2010 graduate of Complex, whose oils and acrylics are indebted to graffiti art, cubism and action painting.
"I am happy to have the chance display my art here," Castillo said. "Putting it on canvas can be as much fun as on a wall at night."
Also on display were old work boots covered in acrylic designs done by art students in John Jones' senior art class at Central High School.