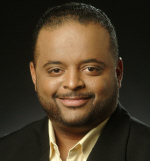 Take it over, but don't lose your integrity when doing it, was the message Saturday from Roland S. Martin, award-winning CNN journalist as he addressed the Generation Now 2010 Leadership Conference at Divi Carina Bay Resort and Casino.
Martin started off on a light note joking about locals dressed in dark suits at a conference in a resort and casino compared with his Caribbean attire which was a white suit with a pink shirt, print scarf, and dark pink pocket square.
He spoke for close to an hour about how to act and perform in leadership positions.
He said he noticed the words "emerging leaders" were mentioned during an earlier award ceremony.
"Frankly there are not emerging leaders, you are a leader or not. This is really a phrase to create a class system, baby leader, young leader, no – you are a leader." He gave examples of young people in the Civil Rights movement being leaders.
To be good leaders he said people need to have a bold vision and nothing nonsensical.
"You have to have to have a vision if you want to take over as leaders," he said.
He added leaders need to prepare for the battle they are walking into.
"Plan, plot and be strategic in all you do," Martin said. "Most not for profits have no sense of how to fight. Confront the powers and forces that beat you back and try to destroy you."
He told the audience of almost 200 to lead with integrity.
"One thing people want is leaders with integrity and credibility," Martin said. "A lot of folks miss that point." He said one should not be in it for personal gain or to get awards. "When you loose integrity you damage the leaders coming behind you." He added leaders need to respect their elders.
Adrienne L. Williams, president of Generation Now, said she needed to immediately implement Martin's suggestions.
Karl Knight, vice president of Generation Now, said the organization wanted to highlight the not-so-obvious ways to effective leadership.
"We have accomplished what we wanted with the core goal being to prepare future leaders." He added he was pleased with the attendance.
Workshops and round table discussions were held on topics such as daily habits of successful Virgin Islanders. There was a panel discussion on contributing in a meaningful way to the community. And there was a workshop designed to maximize mentor relationships. There was also a moderated discussion on identifying and developing leadership opportunities.
Leaders honored at the award ceremony included Johanna Bermudez-Ruiz, Emily Graci, Melanie Johannes, Sana Joseph-Smith and Ernest E. Morris, Jr.
Martin is an Alpha Phi Alpha Fraternity brother and the local chapter was well represented at the conference. AARP leaders attended and the students in the National Technical Honor Society from St. Croix Career and Technical Educational Center attended along with the Future Business Leaders of America from St. Croix Central High School. Commissioners Albert Bryan and Novelle Francis and Senators Sammuel Sanes and Terrance "Positive" Nelson also attended the conference.
Knight said age makes no difference in membership. People can be members as long as they are active.
Kathy Bennett, owner of Under Cover Books, had Martin's latest book available for purchase and signing.