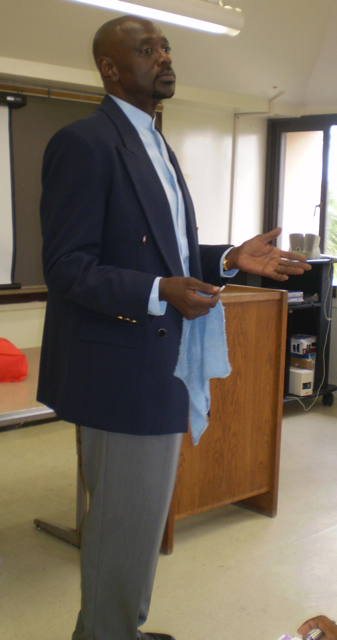 Almost everyone is wondering how to fight crime on St. Croix. Michelle Ritter-LaCoss, co-founder of Conflict Resolution Organization for Peace, says her organization has a peaceful way to handle crime.
"We are helping to battle crime by instilling peaceful solutions to conflict in the children we are serving," LaCoss says. "CROP scholars teach peacemaking skills to young children, where change can be most effective, reducing conflict that perpetuates crime on St. Croix. We will not see results immediately. It is a process."
She said in five more years she hopes to see more peaceful schools, homes and communities.
"We build their self esteem, teach respect for themselves and others, how to help and not hurt, which raises their confidence level and keeps them from being too confrontational. Little ones' minds are like sponges, they soak up everything," LaCoss says.
In 2006, LaCoss and Annette Jacobs founded CROP to address the escalating incidence of violence in schools. Their goal is to enhance the quality of life for elementary school children and their caregivers by providing skills to discourage, limit and redirect negative behavior by teaching peaceful solutions to conflict in children.
CROP scholars – instructors – receive certification in conflict resolution and bully prevention from the Peace Education Foundation through a grant provided by the V.I. Department of Education, Safe & Drug-Free Schools Program. They also have gotten funding from VIPD Law Enforcement Planning Commission. Certification gives instructors the skills and knowledge to understand conflict, respond to conflict, determine sources of conflict, develop communication skills, peer mediation, anger management, problem solving and bullying prevention.
Reuben Dowling, CROP youth motivational speaker, goes into schools sharing his experiences and encouraging students to stay away from a life of crime. Conflict/Peace Scholars go into public school classrooms twice weekly and teach conflict resolution skills in which both students and teachers are engaged and empowered with knowledge to handle conflicts peacefully. The curriculum "Peace Works" is researched and evidence based. Almost every public elementary and junior high school has been taking part in CROP programs. They collaborate with VI Family Information Network on Disabilities because LaCoss says often times a child with disabilities has behavior issues.
LaCoss says most incidences of school violence or serious disruption start as less serious behaviors that accelerate. To curtail these aggressive and disruptive behaviors from spiraling out of control, CROP initiates early and appropriate responses at the classroom level. Programs focus on bullying prevention and peer mediation skills.
The folks at CROP believe that students attending elementary and junior high schools deserve a safe and peaceful learning environment.
Further information is available by contacting Michelle Ritter-LaCoss, executive director, at conflictresolutionorg1@gmail.com or by calling 514-1316. CROP is under the St. Croix Foundation.