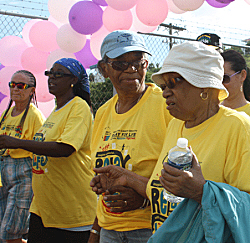 While most of St. Thomas was sleeping Saturday night, groups of cancer survivors, their friends and loved ones, and dedicated members of the community were gathered at Charlotte Amalie High School's track.
They were there as part of the American Cancer Society's Relay for Life. The event began Saturday evening and lasts for 24 hours, raising funds for Virgin Islanders suffering from the serious disease. It is in its ninth year on St. Thomas.
"It is the time of year when we have the courage to all come out," Gov. John deJongh Jr. told the crowd during the event's opening ceremony. "It is a time where we have a chance to realize that this is a very good community." He said that the Virgin Islands community is small, but has a strong connection. "For the next day-and-a-half, we're going to see how strong that is."
Cancer survivor Alfred Manuel also spoke during the opening ceremony. "I'm not just here, I'm here with praise in my heart," he told the crowd. Manuel battled prostate disease for 21 years and prostate cancer for three. He had three words of encouragement he wanted anyone still fighting cancer to hear: "Hope thou in God."
"Though we are affected by the disease of cancer, we need not be dismayed," he said. "Where there is life, there is hope."
Tents spotted the track's interior — each one for one of the 50 or so groups that were participating in the walk. The teams of 12 to 15 people all raised $1,500 to participate. This year's theme was "imagine a world with more birthdays … and I'm making it happen," so many tents were decorated with brightly colored balloons and streamers. The tents were stocked with food, entertainment and places to rest – they were where walkers would reenergize as they waited for their turn around the track.
Though cancer was the reason everyone was there – the relay had a party atmosphere. Throughout the night, walkers were to be entertained by dancers, movies and games. Energizing aerobics were scheduled in the early morning hours to keep participants energized.
Walker Cassie Mallory was there serving as team captain for the Total Fitness company. The group has been participating in the event since the very beginning. She said it's always been important to them to do what they can.
"Each and every one of us has had family, friends…lose their lives to this dreadful disease. We're all just very passionate about the cause." She said she has watched the event grow, and part of what has made it so special to her is that she knows the money she raises will go to members of the community.
June Gloria Gifft was in the cancer survivors' tent. Gifft has been breast cancer free for 15 years. She said she owes a deep debt to the American Cancer Society. They helped finance her trips to New York City when that was the only place she could go to receive treatments she needed. Now, she is a kind of mentor to those newly diagnosed with cancer.
"I know how devastating it is to have the disease," she said. "I am here to give them hope."