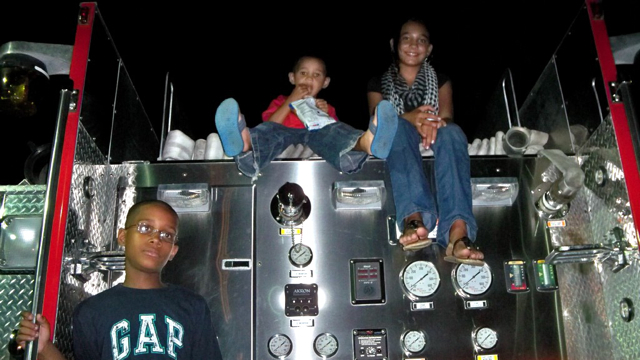 Sparkling star bursts of red, white and blue exploded over the ocean with loud boms and crackles, while excited kids screamed and people rushed to the waterfront for a view of the Fourth of July fireworks in Frederiksted.
People sat on the wall on Strand Street and in folding chairs along the beaches south from Cottages by the Sea north to the Sand Bar. It was a mile-long party where tents had speakers blaring and people everywhere were eating, drinking and visiting. People were sitting and socializing on the gallery all around the Bethel Methodist Church.
The youngsters seemed to enjoy being out with their families the most. Even before they became entranced by the half-hour long pyrotechnical display they were seen running and hiding and laughing with each other under the palms.
A couple of thousand people packed Freedom City, and parking was at a premium. People were still driving around looking for parking when the show started. Folks were sitting in cars double and triple parked on Strand watching the show.
They saw beautiful white bursts that looked like glittering Queen Ann's Lace, and gorgeous grass green cascading sparkles that young and old ooohed and aaahed over.
The shirtless, buff young guys playing basketball next to Fort Frederik in Buddhoe Park didn't stop their game for the show. It appeared their game was for show for the young ladies dressed in red, white and blue outfits.
The promoters of the fireworks got what they had hoped for – people came to town.
The Frederiksted Economic Development Association has hosted the fireworks show since 2006. Before that it was at the Yacht Club on the East End.
"We do these things to stimulate the economy," Unise Tranberg, FEDA member and owner of Pier 69 said while serving up a barbecue. "We do it so people come downtown and have fun."
Restaurants all up and down the streets of town were in full gear with patrons having fun and enjoying the show from the sidewalks.
The men and women of the VIPD were out in full force and traffic out of town wasn't too bad leaving from the south side of town as this reporter did.
Sponsors of the fireworks show were Hovensa, Rotary Club of St. Croix West, Pier 69, El Patio Flowers, Continuum Care, McKinley and Associates.