We're baaaaaack!
A couple of wonderful events happened recently here in St. Thomas. First, very special nuptials took place on Magens Bay a few weeks ago. Solicitor General Mac Davis and his wife, Debbie, gave the hand of their daughter, Elizabeth, to Dr. Stanley Voight of Massachusetts.
Lately Elizabeth has been a very busy young lady, as she also recently received her doctorate in Veterinary Medicine from U. Penn. Proud Dad Mac escorted his only daughter barefooted along the sand before handing her off to Stanley.
Among those witnessing the ceremony were Stanley's parents, Dr. Nicholas and Maude Voight of Dix Hills, Long Island, NY, as well as his sister, Neisha, who read a poem as part of the celebration.

This union of these two very close-knit families had both of Elizabeth's grandmothers in attendance, as well as her brothers, Mac Jr. and Joseph. Elizabeth Davis and Marilyn Kreke proudly witnessed the ceremony of their granddaughter, which was officiated by Rev. Jeffrey Neevel of the St. Thomas Reformed Church. The groom's family flew in from New York, Washington, D.C., Miami and Haiti. Guests were treated to a sumptuous spread prepared by Chef Charles Mereday and his staff at The Old Stone Farmhouse. The menu featured conch fritters with mango salsa, curry chicken satays with peanut sauce, rum glazed shrimp scampi, tenderloin of beef with horseradish cream, pulled pork sliders, fried plantains, tomato bruschetta and olive tapenade on crostini. A special request from the bride and groom were individual creamy mini mac and cheese servings. Dessert featured lemon cupcakes with lemon butter frosting and matching chocolate cakes with chocolate butter cream.
The fete kicked into high gear as the wedding party and their guests danced the night away to the strains of DJ Snow. No honeymoon for the newlyweds though, as both had to report back for their respective duties at New England Animal Medical Center for Elizabeth and to Tufts University Medical Center for her new hubby, Stanley. They will reside in Quincy, Mass.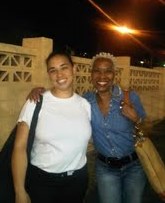 My dear friend, Elba Mc Intosh was in town very briefly for a major reunion with her graduating class from Sts. Peter and Paul School. I had the pleasure of having lunch with Elba at Petite Pump Room during her visit. Getting their fill of tasty home cuisine were Elba's riding partner and Fiji native, Rich, and her best friend from Sts P&P, Corine Lewis Moorhead. While she was here, Elba made time to attend the softball game of her niece, Tracy Goodwill.
The original class graduated 33 students and 21 of those assembled to celebrate the milestone reunion. The ice-breaker event was held at the home of Linda Rhymer-Hill where the classmates became reacquainted. Each of the attendees received a specially made T-shirt and a bag of candy. Elba got a coconut rum cake for travelling the furthest – all the way from San Francisco. The picnic at Magens Bay was a hit especially for all of those who had missed "home" and our beautiful beaches.
The tour of their old school brought back sweet memories for many who looked around and observed the changes that have taken place over the past 50 years even as some things remained the same. The final event of the reunion was held at the home of one of my BFF, Raul Carrillo, who represented his brother Jose, a member of the class. Jose was off-island so Raul stepped up to the plate to host the class on his behalf.
Among the members of this special class were, Anthony "Tony" Olive, Noreen Brin Bryan, Lucien Moolenaar, Flavius Ottley, Edgar Paiewonsky, Digna Feliciano, Priscilla Lawrence, James de Jongh, David Saul, Beverly de Lugo Collins, Beatrice Lulu Andrion, Marie Moron Vialet, Julio Brady, Elmo Richardson, president of the class, Valencia Berry Krause, Vincent Rivera and Gloria Gifft.
The classmates pledged their continued support for their alma mater.
SCENE………..!
Send invitations to private and public events to June Archibald at june.archibald@gmail.com or to source@viaccess.net