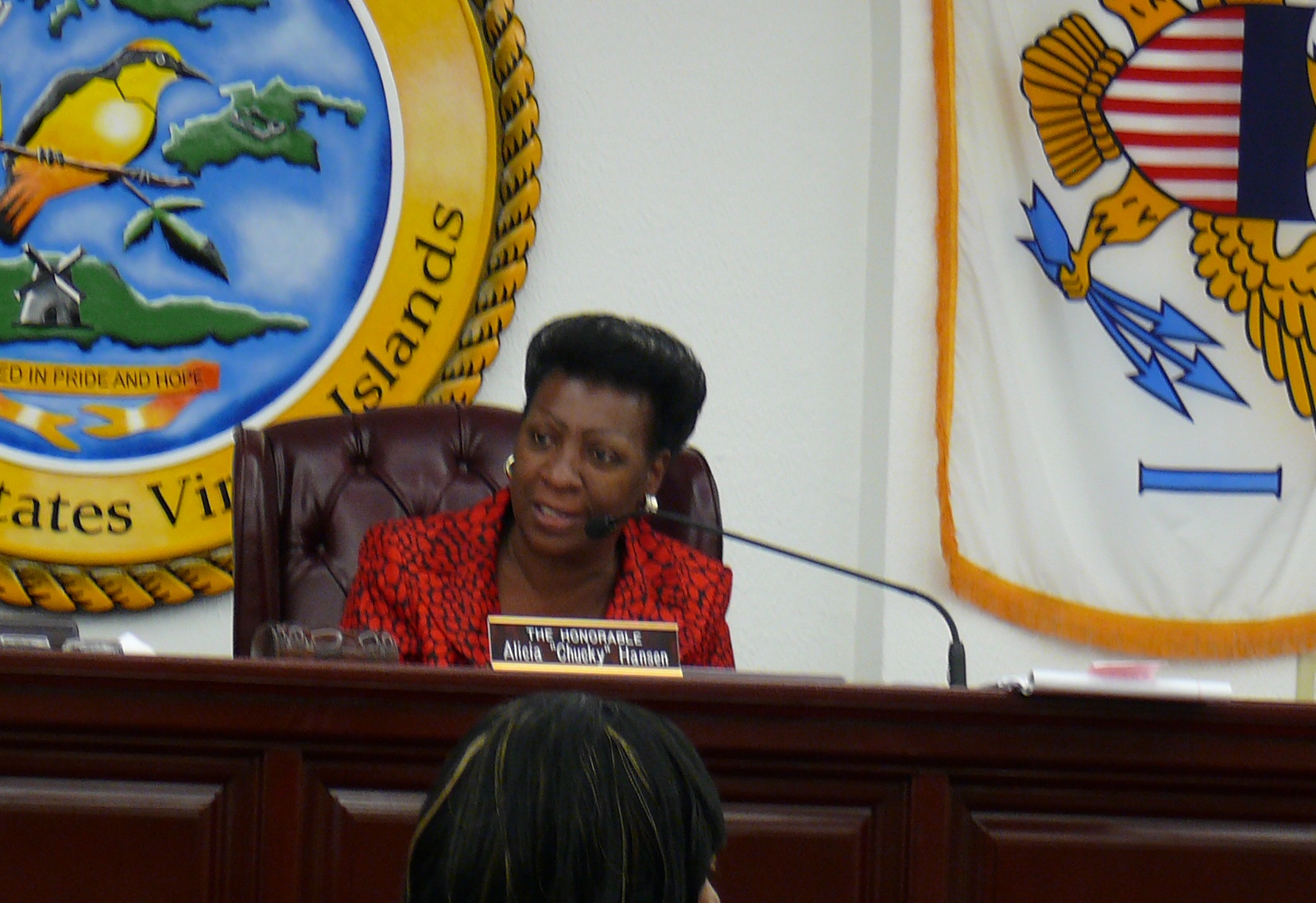 During Senate hearings this week, Sen. Alicia "Chucky" Hansen accused newly appointed Water and Power Authority CFO Joseph Boschulte of breaking the law. But after scrutiny, it turned out Hansen was quoting from a law that applies only to the V.I. Casino Control Commission.
At issue was Boschulte's move directly from the chairmanship of the Public Services Commission, WAPA's regulatory agency, to the chief financial officer (CFO) position.
Hansen made WAPA the linchpin of her senatorial campaign, saying she would do away with the Levelized Energy Ajustment Clause (LEAC), which functions as a direct pass through from the authority to ratepayer to cover the cost of oil. WAPA has not yet been able to make the move from the expensive fossil fuel to alternative energy and until it does, it cannot generate electricity without paying for the the fuel used to power its generators.
The PSC years ago approved the LEAC to provide a system for correctly billing for power usage when the prices for the fuel used to generate the power are unpredictable. And the PSC has generally allowed the LEAC adjustments—both up and down—to be made and passed on to WAPA customers. But as world oil prices skyrocketed, the additional fuel adjustment charge far exceeds actual utility bills and has more than doubled consumers' costs, causing LEAC to be a dirty word.
Hansen made her charge against Boschulte during Government Operations Committee hearings Wednesday and Thursday on WAPA fuel costs and Government Employee Retirement System pension contributions upon discovering that Boschulte had left his job as GERS chief financial officer and resigned from his volunteer position as chairman of the V.I. Public Services Commission to be WAPA's chief financial officer.
Boschulte responded that he left his post at the PSC in order to avoid a conflict of interest. WAPA attorney Lorelei Farrington said the V.I. conflict of interest law would only prohibit Boschulte from holding both positions at the same time. But Hansen countered she was certain the law required a several year delay before taking work with a regulated entity and directed V.I. Legislature legal counsel Trudy Fenster to research the law.
Later during Wednesday's hearing, Fenster returned and told the committee she had not found any law which Boschulte's actions violated.
"But we're still looking," Fenster said.
At the end of Thursday's hearing, Hansen called Fenster back to again testify on the legality of Boschulte's action. This time Fenster told the tribunal Boschulte was barred from taking the position for several years. Echoing comments made Wednesday by Hansen and Sen. Terrence "Positive" Nelson, Fenster also said Boschulte's hiring was a conflict of interest because he could reveal confidential PSC information to WAPA and Boschulte "may very well have been contracted and paid more because of his position with PSC."
What kind of information the PSC would need to keep secret from WAPA in order to set its rates was not discussed and no PSC members were present at the hearing.
When Farrington began to respond, Hansen interrupted, declaring Farrington could not represent Boschulte because Boschulte could not work for WAPA. Farrington said she would speak on behalf of WAPA, then said the conflict of interest statute had no provision about mandatory delays before taking jobs. "In this case there is no dual employment and so there is no conflict," she said, and asked what section of code was being cited to suggest otherwise.
Hansen then read from a section of code, saying in part; " No employee of the Commission or employee or agent of the Division may acquire any direct or indirect interest in, or accept employment with, any applicant or any person licensed by or registered with the Commission, for a period of two years."
Farrington asked what particular commission the section of law Hansen read was referring to.
"It's commission, any commission, Public Services Commission," Hansen said.
A few minutes later, after ruffling through legal texts, Farrington started to say the passage referred specifically to the "Gaming Commission" but Hansen cut her off.
The section of law read by Hansen (Title 32 Chapter 21 article III, chapter 413) is one of three setting rules for outside employment specifically for Casino Control Commission members going to work for casinos it licenses. The first section says the normal V.I. conflict of interest applies to the Casino Control Commission in all cases "except as herein specifically provided."
Further discussion at the two-day hearings included, GERS retirement plans for WAPA's hazardous duty workers. The retirement changes were part of Legislative action taken in 2005 to partially address the retirement system's unfunded liability of more than $1 billion. Among other things, that reform requires hazardous duty workers to work 25 years rather than 20 years before retiring. After several delays, the law formally took effect Jan. 1.
Without major increases in employee and employer contributions, or a major influx of cash from some source, the system will cease to be able to pay retirement checks in about 12 to 14 years, GERS Administrator Austin Nibbs testified.
Union representatives spoke against the changes.
"Yes, GERS needs to bet fixed, not on the backs of working class people," said Joseph Wrensford, president of AFL-CIO Local 602, representing WAPA workers.
No bills were presented, no votes were taken and no proposals to address either the GERS shortfall or how to reduce utility bills were presented.
All committee members were present both days. Members are: Chairwoman Hansen, Terrence "Positive" Nelson, Usie Richards, Ronald Russell, Alvin Williams, Celestino White and Janette Millin-Young. Sens. Patrick Sprauve and Nereida "Nellie" O'Reilly were also present, though not members of the committee.