Tech Box, a technology store that opened four months ago in Havensight Mall, offers everything from iPods to iPads, and also helps customers maintain their Apple products.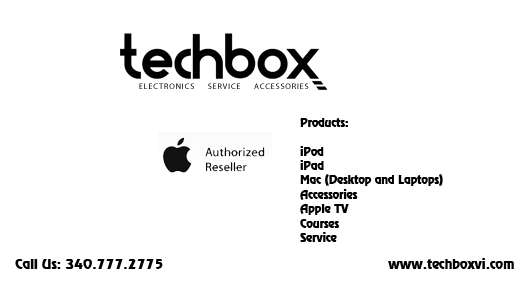 Tech Box is the brainchild of Glenford Carty and Jose Carillo, two 28-year-olds who chose to move back home after college and put their engineering and accounting backgrounds to good use.
"I have a history of doing something similar: when I lived abroad, I worked with a branch of Apple that created stores just like that, and I was driving around one day trying to think of ideas and I realized that this is one of the things St. Thomas was missing," Carty said. "Being an Apple fan, this is one of things I thought St. Thomas could definitely use."
After graduating from the University of Miami, Carty lived abroad, helpng to set up an Apple shop in one of Italy's smaller towns. Much like in St. Thomas, a majority of his customers were locals, and Carty said that one of the things that helped the business succeed was knowing the customer base and what the residents really needed.
"With our set up in Italy, we had Apple fans coming out of the woodwork for days, and I see the same kind of thing here," Carty said. "On St. Thomas, we actually have a decent amount of Apple users, and because of that, the business is doing well, so far, and we've gotten a lot of support. Opening the store up was obviously kind of a gamble, but we also have customers from St. John and St. Croix, and people coming from different islands, and off the cruise ships, and that adds up."
While Carty brings his background in engineering to the table, that doesn't stop his business partner Carillo from getting involved in the tch work as well. A longtime friend of Carty's from All Saints Cathedral School, Carillo's background is in accounting, but he also helps with maintaining some of the devices that come into the store.
"Although our backgrounds are split, that's not how we split the work load," Carty said. "At the end of the day, I think because the tech side is something new to him, he's willing to get in there and do it, which makes him a lot better at it. Jose's already repaired some stuff, and because it's something that he hasn't done before, he's ambitious and curious to learn, and the more he knows about it, the more he's able to make a decision about something related, and the same for me. He really makes up for the lack of ambition that I have sometimes, seeing the same things every day, and I think we complement each other personalitywise. And he's just smart. Two minds are always better than one, and having another individual to bounce ideas off of makes things easier."
Despite the shaky economy, Carty said the company's biggest challenge isn't with cash flow, but rather lies with "refining the business." As an example, he explained that many of his customers do not understand how their Apple devices are put together, and expect repairs to be "easier than they actually are."
"Let's say that a customer wants a battery replaced on their phone," Carty said. "That entails taking apart the entire phone, and when we're talking about a phone that's nearing the end of its useful life, anything can break inside, especially if it has been dropped before. I think a lot of the issues that we face come from things like that, where we're dealing with the intricacies of the device. And of course, when something does break, we replace that part at our cost, but we need to look at whether we want to be doing that in every repair."
Carty said the territory's business climate could be better. Outdated laws hinder some of the local businesses, he said, and a more diverse business sector would help.
"I think the government is trying their best to keep things going, but it's difficult if they have to work with what was there before, and it seems like they have to move mountains in order to get some of the changes that they need," Carty explained.
While Carty said the company is still working through some of the obstacles facing new businesses, he still has plans for more.
"I'm an entrepreneur," he said. "Both of us, we are trying not to do anything that's a mistake or a loss, because it's easy to fall in love or become infatuated with your business, but that's one thing we didn't do with Tech Box. You can't do anything without bouncing ideas off of people, not just one, but many, and that's what we did. And I have ideas outside of here, and here as well, and we'll see what the future will bring and how they will happen."
Editor's note: An earlier version of this story mistakenly said Tech Box was the only authorized Apple dealer in the territory. Several other stores also sell Apple products. Accordng to Apple's website, PC Paradise, with outlets on St. Thomas and St. Croix, is the only authorized Apple service provider in the territory. See http://www.apple.com/lae/buy/locator/index.php?ctry=VI for details. The Source regrets the error.