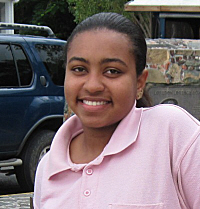 Amber Smith is a St. John girl with her path in life clear. Just 16, she already knows that she wants to study cosmetology, work in someone's shop and then own her own business.
"I'm planning to go to trade school in Florida or Puerto Rico," she said.
Smith is in the 11th grade at Eudora Kean High School on St. Thomas. She said that next year, she'll start taking cosmetology classes to help prepare her for the future and start looking soon for grant and loan programs.
At the moment, she's looking for a job to help her save for school.
With her future in mind, she signed up last summer for the St. John Community Foundation's Life Skills and Career Development program held in conjunction with the V.I. Labor Department.
"I learned where to look if I needed a job and people to get in contact with," she said of her experiences in the program.
St. John Community Foundation Director Celia Kalousek said Smith was such a standout participant in the program that one day when she had to leave early for a meeting, she put Smith in charge.
"She was able to organize those eight other kids into getting their portfolio organized," Kalousek said.
Like most St. John high school students, Smith gets up early – 5:25 a.m. – to make the ferry trip to St. Thomas for school. She leaves the house at 6:30 a.m. to catch a ride or take the bus to Cruz Bay in time for the 7 a.m. ferry.
After a full day of classes, she's home on the 3 p.m. ferry. She waits for her mother, Luz Melendez Smith, to get off work before heading home. Smith said she doesn't mind the ferry ride because it gives her time to think.
Her father is Charles Smith Sr. And her mother is proud of Amber.
"She does her work and seems to have her priorities set," her mother said.
This schedule doesn't leave her much time for other activities, so she spends time with her family. In addition to her mother, she lives with her brother, Kevin Smith, 21, and Luz Smith, 22. She's the baby of the family.
"I get the best treatment," she said with a laugh.
And she makes time for her boyfriend, fellow Eudora Kean student Marcus Norford.
When asked what was the best day of her life, Smith said it was when she graduated from Julius E. Sprauve School, because it put her that much closer to her goal.
And the worst?
"The day my iPod screen cracked," she said.