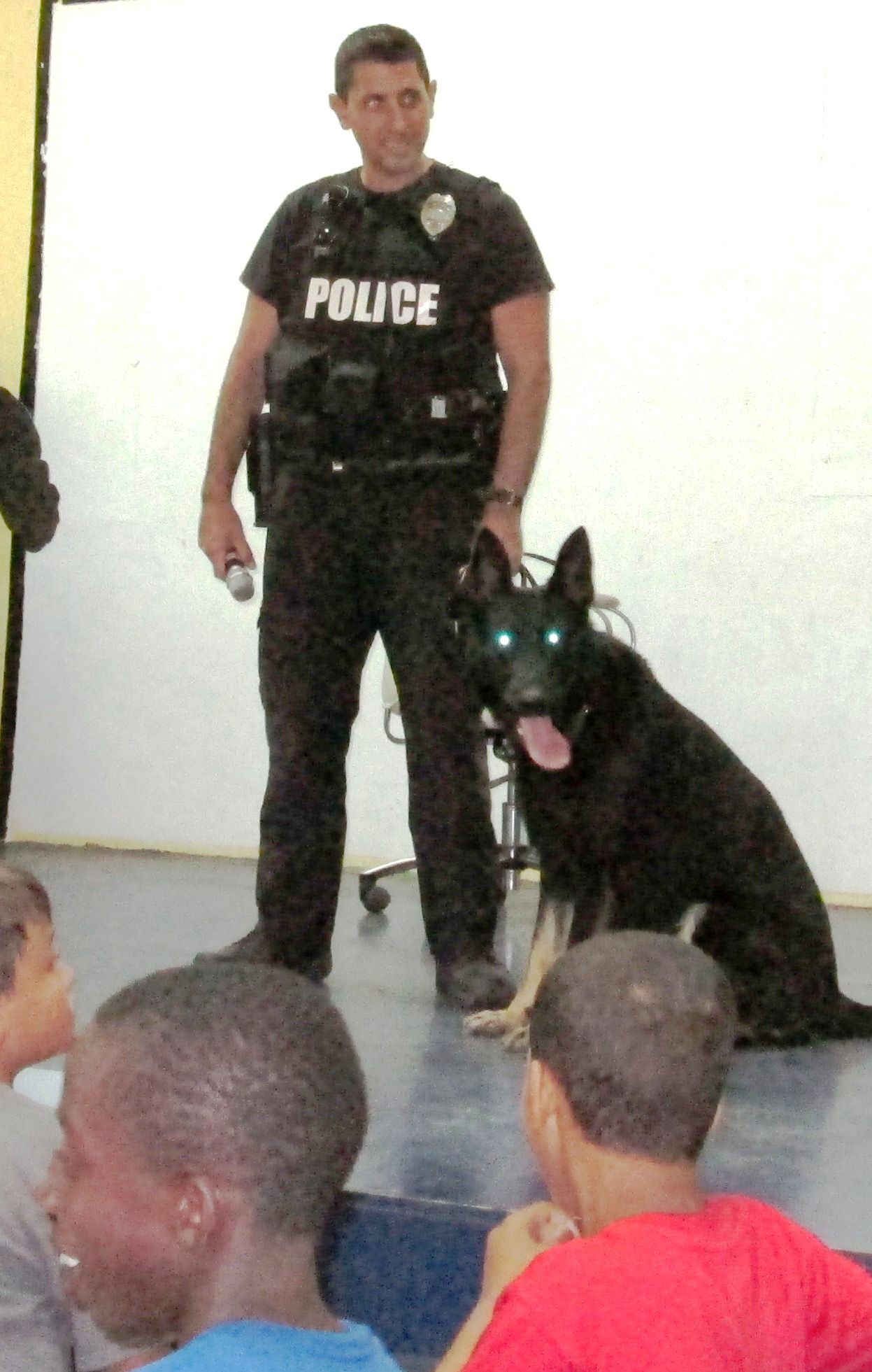 Police Officer Ares, a 3-year-old German shepherd, was the hit of Wednesday's Police Department and Community Integration Team Career Day at Julius E. Sprauve School summer program.
"The best part was when the dog came out," said 12-year-old Jahnyah Dalmida.
Jasmine Parris, 5, agreed and said she liked the police dog.
Ares, accompanied by his handler, Officer Richard Dominguez, stood on the stage in the school's cafeteria as Dominquez spoke about his job and what it took to be a police officer.
"In order to be a police officer, you've got to stay in school and you have to read and write a lot," he said, reinforcing messages given by other officers who spoke at the event.
Sgt. Clayton Brown, who served as master of ceremonies, took those words one step further. He said that to get any kind of job, students must finish school. He also said that by the time they're ready to get jobs, two years of college will be the minimum for some of those jobs.
Traffic Officer Doralyn Charles had these important words for the students. She told them too often when she's assisting the school crossing guards she sees students and their parents without their seat belts buckled.
"If somebody hits your car, a whole lot can happen to you," she said.
Charles told them to remind their parents that youths under 13 must be seated in the backseat of their car, suggesting that they also buckle their seat belts.
Officer Allen Lans wore his CSI hat to help explain his job. He's a crime scene technician who investigates "bad crimes and very bad crimes," he said.
"It takes a little longer than an hour to solve," he said, referring to television crime shows that wrap up cases in one hour.
Detective Kenneth Smalls Jr., who attended Sprauve School, told the students that when there's enough evidence, the police make an arrest.
"But we don't have to worry about anybody being arrested here because we're all good boys and girls," he said.
Linda Bechstein, chairman of St. John's arm of the Community Integration Team, said she hoped some students would consider a career in law enforcement but the event was also to get them comfortable in dealing with law enforcement officers.
While Dalmida plans to be a chef, she said hearing from the police officers was good for students who hadn't yet decided on careers.
David Marsh, 8, wants to be a mechanic, but he said it was good to learn about police officers and their jobs.
"It was cool," said 12-year-old Amaya Samuel, who is law-school bound.