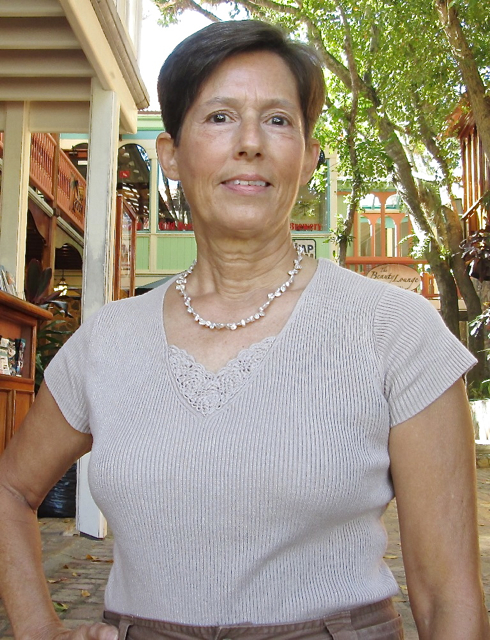 St. John resident Linda McCool Bechstein brings 33 years of police experience to her role as chairman of the island's Community Integration Team. CIT is a citizen advisory group formed to assist the V.I. Police Department.
"Right now most of the challenges are petty things – traffic, parking and trying to get copies of reports," she said.
That wasn't always so, and she said the number of house and vacation villa break-ins has slowed down considerably.
"It's nice to have people complaining about the homeless in the park," she said.
Indeed, she said subject of the island's homeless population come up frequently at CIT meetings, and the group would like to find a way to provide bathroom facilities for them. While the public bathrooms adjacent to the V.I. Port Authority parking lot across from the post office are open during the day, they close at night.
The Pemberville, Ohio, native took over as CIT chairman about three years ago. She and her husband, electrician Gerald Bechstein, moved to St. John in 2004 after several cruises and vacation trips to St. Thomas and St. John.
Living on St. John is not the same as visiting, she said.
"It's more like real life. You clean the house and work in the yard," she said.
She had retired from the Bowling Green, Ohio, police department in 2002 as a lieutenant.
Bechstein, 62, got her first taste of law enforcement when she attended a career day at her high school. She went on to work as a police dispatcher while attending Penta Technical College. She graduated with an associate's degree in law enforcement.
When the Bowling Green police force had an opening, she joined. She said Bowling Green had about 28,000 residents with another 19,000 college students. Homicides were rare, about one a year, but she dealt with lots of break-ins and bar fights.
"Mostly people being drunk and stupid," she said.
She started as a patrol officer, moving up through the ranks. As a lieutenant, she rotated through divisions, serving as head of the patrol and detectives division as well as dispatch, parking, animal control, and computers. She also was in charge of a program to ensure accreditation by the Commission for Accreditation for Law Enforcement Agencies.
In favor of accreditation for police departments, Bechstein said she'd like to use that experience to help the police department on the path to its accreditation.
She said she has plenty of ideas she'd like to pass along, but except for the era when James McCall served as police commissioner, police top brass don't seem too interested in hearing from the St. John CIT. She said, however, that Deputy Chief Maria Jones, who heads St. John operations, always follows through.
Bechstein is pushing for a helpful-hints column from CIT to be published in local media. For starters, she said too many people on St. John are living in the past when it comes to contacting the police for emergencies.
"Call 911," she said, not the police station in Cruz Bay.
This way the call is recorded and the police will respond.
Additionally, she urged people out walking to walk against traffic and wear light-colored clothing so drivers can see them.
"And lock your doors and don't leave your computers out," she said.
When she's not involved with CIT activities, Bechstein works several days a week at a Cruz Bay jewelry store. The rest of the time, she's happy to be at home.
"I like to work in the yard," she said.