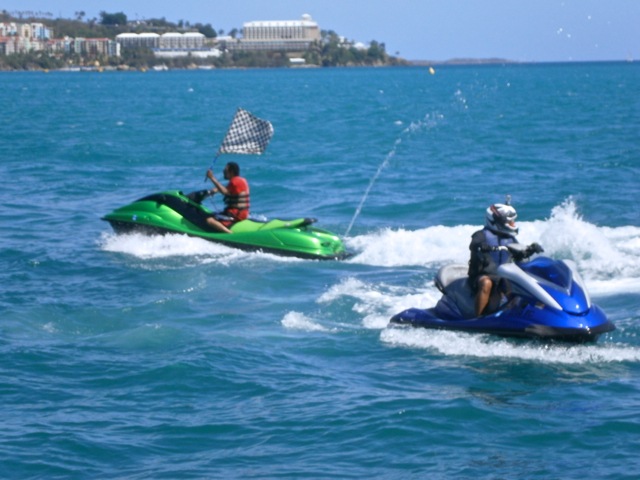 The combination of high speed boats, live music and a variety of food tents drew crowds to the Charlotte Amalie waterfront Sunday to cheer on competitors taking part in the annual Carnival boat races.
Gusty winds and high seas might have trimmed the number of participants in this year's race, but it did not diminish the excitement of residents and visitors alike that filled St. Thomas's waterfront to capacity.
While the initial race schedule called for an early start to the daylong event, the actual competition did not heat-up until mid-afternoon. By then 30 boats had officially been registered to compete.
"This event traditionally starts a little later than planned because we like the crowd to gather to cheer on the boats," said event coordinator Steve Hunte. "From a logistics standpoint there are a lot of factors that come into play, but we are very grateful for all who braved the conditions to compete today."
Cheers, applause and thunderous music greeted a collection of stand-up paddle boards, jet skies and power boats that traveled from all three islands to compete for a share of $16,000 in cash prizes and ever-important bragging rights.
Three buoys were spread in a triangle to form the harbor race course, allowing for wide turns and high speeds. Each competitor was required to complete three full laps to complete each race. It was a feat that proved daunting for several boats as choppy seas and 20-mile-per-hour winds hindered progress for some.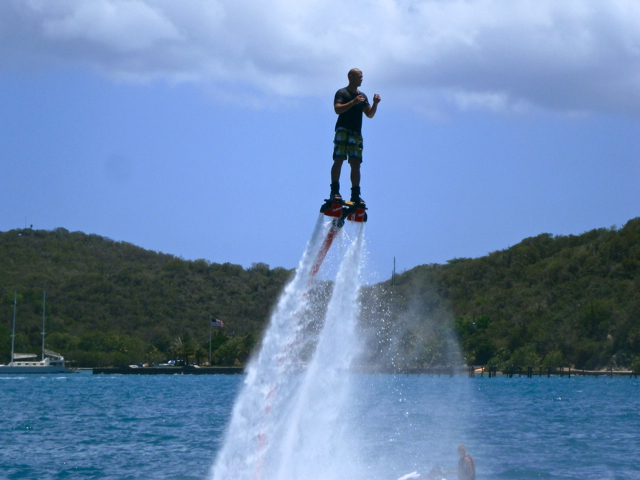 A white flag from the committee boat signaled the start of each race and a checkered flag was presented to the winners of each category upon completion. All drivers and crew were required to wear safety helmets and personal flotation devices. In the case of the larger power boats, an emergency motor kill switch device and fire extinguisher were also a requisite.
The sea conditions and normal harbor traffic played a factor throughout the day, forcing paddle board organizers to shorten their race course and sailors from the St. Thomas Yacht Club to cancel the IC24 sailboat competition completely. Inter-island ferries, sea planes and recreational boaters needed to be cleared from the course between races before Coast Guard officials pronounced the race course open.
Organized by the not-for-profit group Wha'SUP VI, this was the second year for stand-up paddle boards participating in the annual Carnival event, which featured quite a few first-time racers.
Each winner among the 27 paddle board entries was presented a custom made plaque adorned with either a gold, silver or bronze colored coconut design. The race was divided between men's and women's divisions, along with a tandem division of one adult and one young person.
"I have been a spectator before, but after two years of paddle boarding this is my first race ever," said women's division winner Thais Taylor. "Everyone had fun and the wind was super challenging."
Spectators were thrilled by the roar of the powerful, brightly adorned "go-fast" motor boats that ranged from 50 horsepower rocket style boats to 32-foot speedsters sporting dual 300-horse-power engines. Several of the racing vessels brought along fans and family who cheered from shore while sporting the name and logo of their favorite boats on team shirts and hats.
As the sun was setting, a perennial crowd favorite, the greased pole event, brought the day's races to a close. The goal was to capture the flag attached to the end of slippery oil covered steel pole that extended over the water. Many tried but no winner was to be found on this day.
In true "nothing stops the Carnival" tradition, organizers made the best of the various challenges and persevered, much to the enjoyment of all who attended or followed along on local radio.
Carnival entertainment continued into the evening with steel pan musicians competing on the Lionel Roberts stadium grounds in the Steel Band Jamboree.
2013 Carnival Race Winners
Jet Ski
1100-1200 hp – Curtis Gonzales
35-50 hp – Da' Fly driven by Osa McCleverty
60-90 hp – Chupacabras driven by Christian Greaux Jr.
150-225 hp – Powered by the Son driven by Alvin Theophilus
250-300 hp – Dark Night driven by Rasheed Frett
250-300 hp, 24-foot – Pure RPM driven by Rasheed Frett
600 hp 32-foot – Gizano driven by Ben Beer
Stand-Up Paddle Board

Tandem Division (Adult and child)
First place, Todd and Hanna Clements (STT)
Second, Gail Vento and Abi Wilson (STT)
Third, Tyler and Carter Maltby (STT)
Womens Division
First place, Thais Taylor (STJ)
Second, Meg Sheehan (STT)
Third, Sharye Smith (STT)
Mens Division
First place, Nat Ford (STJ)
Second, Eric Walker (STJ)
Third, Dean Dunham (STT)