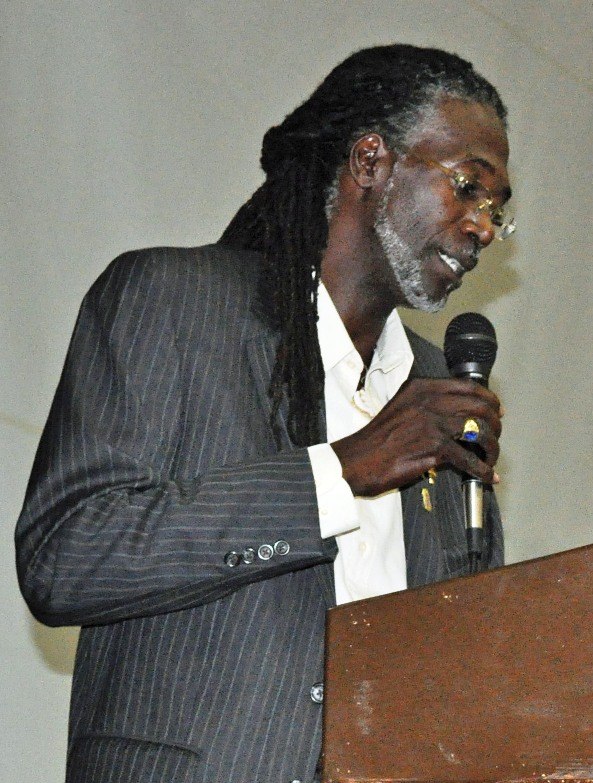 The 30th Legislature on Friday will discuss Sen. Terrence "Positive" Nelson's bill that seeks to lessen the penalties for marijuana possession from imprisonment to fines.
On Thursday a town hall meeting was held to discuss the matter, and what many of those in attendance want is for the prohibition on marijuana to be lifted and for the territory to join the states of Colorado and Washington, where marijuana has now been legalized and taxed, for recreational purposes.
"I don't understand why we have to decriminalize and why we can't just go to legalize," said Ariela Hayes, who has previously testified on the issue before the Senate. "We need to drop the apprehension. The time is now and I think our community will completely support this."
Nelson didn't disagree but said rather that his current legislation was the first necessary step and what could politically be taken "right now" in order to move down that path.
"Let's consider this the road to legalization," Nelson said. "People drive policy and I can't snap my fingers and make it happen. But you all can make it happen. Call your elected officials and tell them this is the way to move on the issue. I'm already on board and believe it's the direction to go."
In a Gallup Poll released this week, 58 percent of Americans said they now favored marijuana legalization. Nelson said he wanted the territory to start moving fast on the issue or else the Virgin Islands was going to miss the boat and the potential economic benefits that could come from full legalization.
"The window of opportunity is closing fast," Nelson said. "If we don't move soon, we will miss that rising economic wave as it relates to the policy of legalization of marijuana, ganja, weed. We need not be afraid of saying these words."
"We just need to understand that we need to take it away from that street mentality," Nelson said. "Let's take it to the corporate mentality and understand that it's a legal industry in some places and big corporations are already lobbying Congress to make it happen."
Former Sen. Holland Redfield admitted that. as far as policies went, he and Nelson didn't agree on much. That wasn't the case here though, he said, as it pertained to marijuana legalization and Nelson's current decriminalization bill.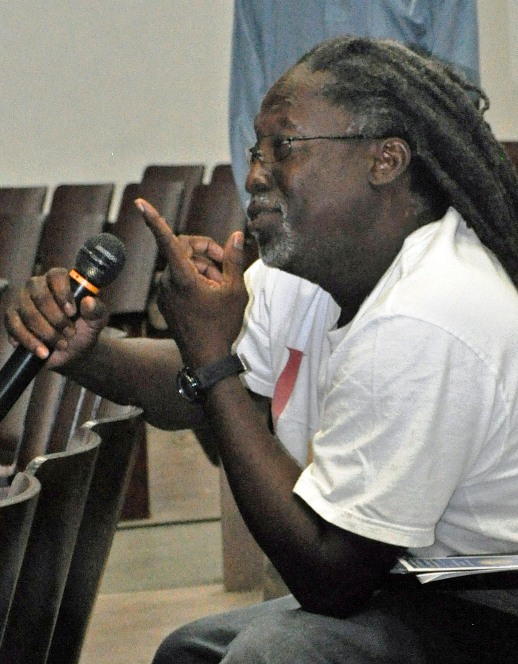 "'I'm pushing this issue and I'm going to stand with the senator," Redfield said. "I do believe the senator is riding on a wave right now and I too would find a sponsor and get this going. Everybody else is doing it and we're talking about how to stimulate our economy? For Christ sake, this is how you do it!"
He wasn't the only admitted nonsmoker of marijuana that felt that way.
"How many cruise ships come to St. Croix? I don't know, but how many people are coming off the dock and asking you where the jewelry store is," attendee David Clarke said to scattered laughs and applause. "I don't smoke, but I'm for it because I wake up and the time is now."
One person who will testify on the matter Friday in support of the current legislation is a 20-year veteran of the New York City Police Department, Joanne Naughton, also an attorney. She's now with the Law Enforcement Against Prohibition organization, which has 80,000 supporters that includes police, prosecutors, judges, FBI/DEA agents, corrections officials, military personnel and civilians.
Naughton traveled on LEAP's expense to the territory in support of the measure and some of the numbers she provided as to how states and municipalities are already capitalizing on medical marijuana were telling, especially for a government experiencing a case of revenue shortfall like the Virgin Islands.
Naughton also had data from other countries where decriminalization policies were in effect.
She said the city of Oakland, Calif., in 2011 collected $1.4 million in medical marijuana taxes. Denver that same year collected more than $3.4 million in taxes and license fees while the entire state of Colorado collected $5 million, and with recreational use revenues beginning Jan. 1, those numbers are very likely going to climb.
The state of Oregon was able to close a nearly $7 million budget shortfall through medical marijuana taxes, Naughton said.
"Switzerland and Portugal have shown that they have saved money by not waging the war on drugs. They have figures to show that they saved money in law enforcement and in the courts because cops aren't going out and locking up these people and charging them," Naughton said. "They have shown that they can save money across the board by decriminalizing drugs."
"It's (legalization) going to happen within the next three to five years," Nelson said. "The question I have for you as a community is, where do you want to be in this tidal economic pool?"