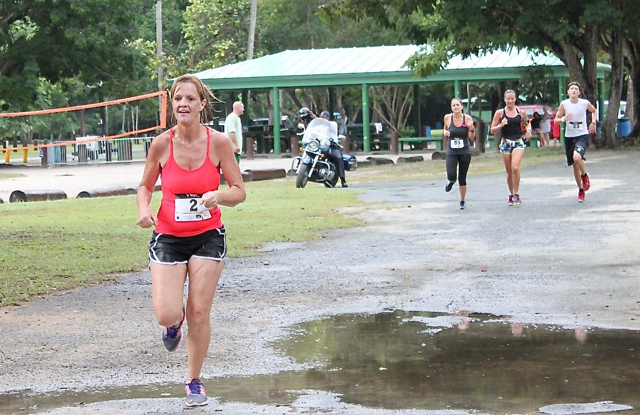 An unexpectedly large turnout took the rain in stride Saturday morning to take part in the first Montessori-to-Magens, or M2M, Road Race, a project by the V.I. Montessori School and Peter Gruber International Academy.
The runners hit the road at 6:30 a.m., starting at the Montessori School, running through Red Hook, up Cassi Hill, turning right at Tabor Harmony road past Hometown Convenience Store, onto Donoe Bypass, turning left at ABC Nursery, and finally, to Magens Bay Road for the last leg of the race.
The turnout blasted past the expectations of race director Shane DeGannes, who was hoping for 70 participants. A week before the race, 120 people were already registered to run. A few days before the race, new registrations started flooding in and on race day more than 350 runners were on hand.
"We only ordered 250 dog tags for the runners. We didn't expect we'd have this many," said DeGannes. "But next year, we'll be ready."
DeGannes, who described himself as a "nervous wreck," could be seen hopping from one point of the race route to another, talking with police officers and volunteers about race safety.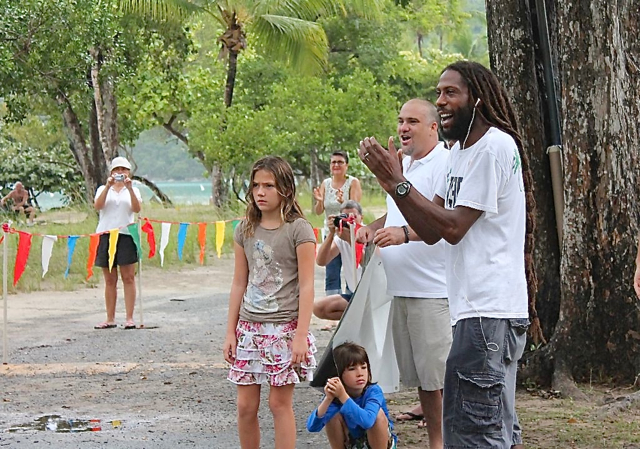 "I think I was a pain to the V.I. Police, always having meetings with them and making sure we're really all on the same page regarding the safety of the participants," admitted DeGannes, who commended the police for "a tremendous job."
The crowd that started at Montessori School started thinning out further into the course. At 7:10 a.m., Michael Thompson, who ended up winning the male overall title, made it first to Donoe Bypass, a lone runner surrounded by a V.I. Police escort.
"It was so inspiring running along the race course with people stopping their cars, cheering me on," said Thompson, a lifelong runner who placed ninth in the last 8 Tuff Miles on St. John. "It's just so great, everyone coming together, with such a huge turnout on the first year."
Ruth Ann David came close behind, winning the female overall title.
"You never know if you're going to win or not," said David, also a veteran runner. "You just get out there and run your race. You run your race and you'll be fine."
Following Thompson and David were a scattering of runners who all made it through the finish line by 10 a.m. amid applause and cheers from enthusiastic volunteers.
The M2M Road Race, the first major race its kind on St. Thomas, was a brainchild of the Montessori parents, according to DeGannes.
For the Montessori crowd, the race is a way of teaching their children some valuable lessons, and was even a gym class requirement for grades seven to 10.
"We really wanted to teach our kids at the school that with some hard work, planning and some effort, you can do something really good," said organizer Alice Slimming, who had energy to run the race after organizing it. "In the process, we've managed to gather groups from all over the community."
Montessori director Norma Bolinger was particularly proud of their students' engagement.
"We have all kinds of participants from the school volunteering, running, from the Montessori all the way up to the International Academy," she said, adding that some students were up from about 4 a.m. to help with registration or man the water stands.
By the end of the day, the M2M Race managed to raise more than $8,000, all of which will go to Mothers Against Violence, Inc. and the V.I. American Red Cross.
"I have to honor everyone who came out this morning in this rain," said Mothers Against Violence president Celia Caroll, whose late son Jason, a victim of gun violence, was a Montessori graduate. "This whole weekend has been an outpouring of love towards the organization."
Superior Court Judge James Carroll III also commended the event.
"Any of these types of physical activities – walking and running – can be palliative for people, and helps to heal," he said.
For DeGannes, it was certainly all worth it.
"I just really wanted the community to come together in an event such as this, and to benefit good organizations," he said, adding that there will definitely be a 2014 M2M Road Race. "Everyone keeps asking for it again, so definitely, yeah."
The official; race results follow.
Official M2M Road Race Results:
Male Overall Winner: Michael Thompson
Male Categories by Age Group
12 and younger: Axel Bartsch, 11
13-16: Evan Jones, 14
17-19: Lukata Samuel, 17
20-29: Timothy Hindes, 27
30-39: Thomas Dahl, 31
40-49: Donald Rensch, 41
50-59: Lance Maanum, 53
60-69: Jack Hullings, 61
70 + : Vincent Fuller, 72
Female Overall Winner: Ruth Ann David
Female Categories by Age Group
12 and younger: Kaia Anspacher, 11
13-16: Alison Bartsch, 14
17-19: Kendall Hebert, 17
20-29: Ashley MacDonald, 24
30-39: Junnel Berry, 36
40-49: Allison Slimming, 49
50-59: Kirsty Aitken, 51
60-69: Candace Grant