The festive atmosphere in the territory's McDonald's restaurants on Friday could best be explained in company lingo – McHappy Day.
Now in its 25th year at the corporation, McHappy Day was being held simultaneously this year in 17 Latin American and Caribbean countries where franchises selected a local charity and donated the day's proceeds in sales of Big Macs to that charity.
Last year McHappy Day raised $2,444 on St. Thomas for the Therapy Association and Disability Advocates and on St. Croix it raised $1,937 for Court Appointed Special Advocates for the Virgin Islands.
This year on St. Thomas, proceeds are benefiting the nonprofit My Brother's Workshop, which provides services for at-risk youth by offering mentoring, counseling, paid job training, education and job placement.
On St. Croix, proceeds are headed to the territory's oldest nonprofit, Lutheran Social Services, which runs the Queen Louise Home for Children and provides temporary placement for children ages birth to 12 who have been the victims of abandonment, abuse or neglect.
Having just completed their biggest fundraiser yet and acknowledging the tough environment right now for nonprofits and fundraising in general, the chief executive officer of Lutheran Social Services, Junia John-Straker, said the nearly 109-year-old nonprofit was extremely "grateful and thankful" for the donation from McDonald's.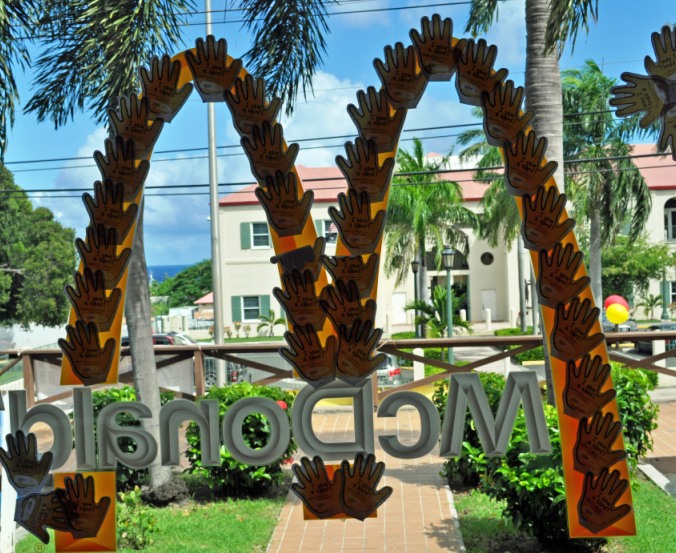 "We're always grateful to corporate citizens for selecting us or any nonprofit for that matter," John-Straker said. "We do a lot of work with children, with adults with disabilities, with seniors and just a slew of social service work in the Virgin Islands. It's only possibly through support from citizens and corporate citizens like McDonald's."
Susan Kraeger, director of public relations and development for Lutheran Social Services, said, "Every little bit helps and makes a difference. This is a wonderful boost for us. We're grateful to the governor and McDonald's for choosing us."
The goal for the day on both islands was raising $3,000 each.
On St. Croix, nearly $1,300 was coming from the sales during the past month of $1 sets of paper hands on which customers could sign their names in support along with the donation.
Golden Rock's restaurant decorated itself to the max with those hands in commemoration of McHappy Day and employees waved them in support when Gov. John deJongh Jr. made his show of support in stopping by.
DeJongh said he wanted to highlight Lutheran Social Services on St. Croix as this year's McHappy beneficiary. "I wanted to not only give them resources but also give them public support for all the good work they do," deJongh said.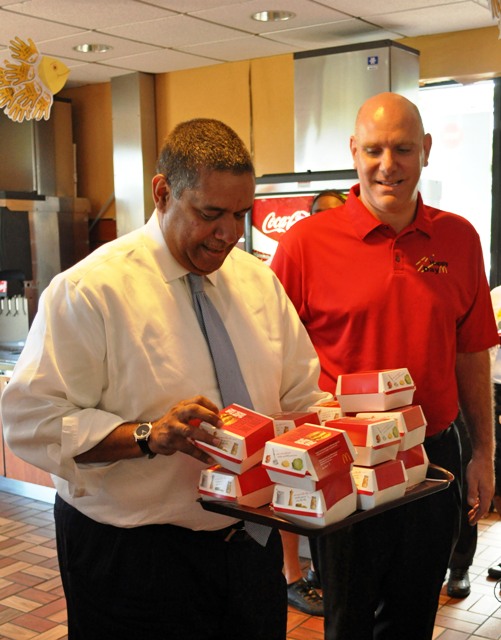 McDonald's employees had their happy faces on during Friday's afternoon celebration. Trays of Big Macs were ready to go as customers trickled in and took pictures of the governor with their cell phones as he made his way around the restaurant, stopping to shake hands and take pictures along the way.
With the music playing from an in-house DJ and the party going on inside for lunch, it was that element of celebration covered in good, keep-it-in-the-community intentions that McDonald's Regional Operations Director Gabriel Serber said he loved most about McHappy Day.
"The crew, the customers, the ambience, the party going on," Serber said. "And we're here to help. Everyone is working together to help."