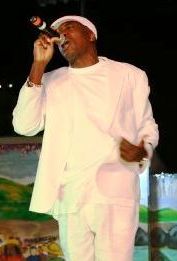 After winning three competition titles this year, vocalist Patrick "Soljah" Farrell has resigned as one of the lead singers with Spectrum Band.
The reigning V.I. Calypso King announced his decision to end his relationship with Spectrum Band on Facebook, saying, "This is a very bitter sweet moment for me. After some very serious considerations, effective immediately, I have decided to end my membership with the Spectrum Band."
Farrell thanked Malvern Gumbs and the rest of the "Spectrum family" for the opportunity. "I will never forget the last five years that we have spent together," he said.
He also promised his fans to continue his work in the music industry. Farrell was a lead singer in Spectrum along with Lorna Freeman and band leader Gumbs.
In addition to winning the V.I. Calypso King competition, Farrell won the "Boy Ah Boy, Big Man Ah Big Man" competition on St. Thomas and the Leeward Island's Calypso crown this year.
Spectrum Band, based on St. Thomas, has won the V.I. Carnival Road March title the last four years.