If the 200 people at the University of the Virgin Islands Great Hall could have held a binding official vote Wednesday night, marijuana in all its forms would be legal.
Sen. Terrence "Positive" Nelson, along with Gustav James and Tafari Tzaddi, hosted what was called an "intellectual discussion on marijuana reform" for the Virgin Islands.
Although words of caution about how legalizations should come about, especially about how legalization would affect children, the overwhelming feeling of the panel and the audience appeared to be that the prohibition of marijuana use was not working.
When panelist Ras Bobby, an herbalist, said, "Fireburn on prohibition," his words were greeted with cheers from the audience.
Panel member and attorney Scot Mchain was one of many who spoke about the high cost of prohibition. He talked about the cost of enforcement, the cost of judicial proceedings and the cost of incarceration.
Several panel members used the figures of incarceration of offenders being between $30,000 and $60,000 a year.
Nelson said that money could be spent much wiser in other areas – recreation, education and counseling. He also said there needed to be a line drawn between "use and abuse."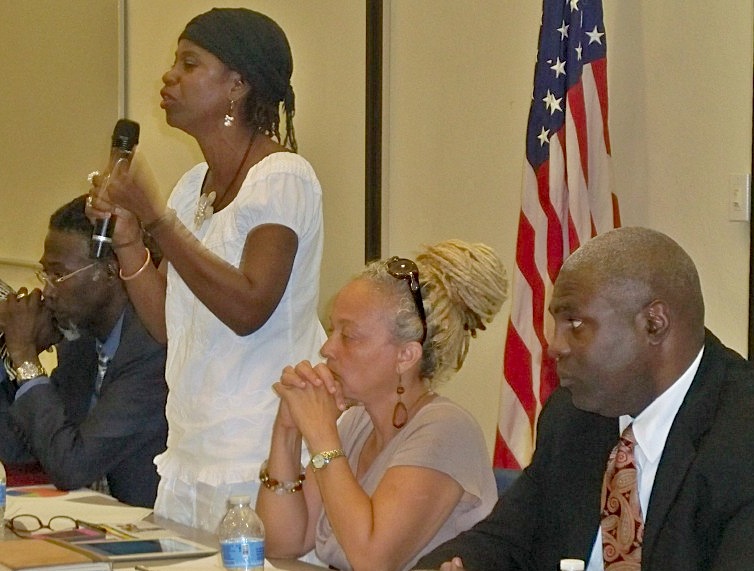 Nelson said that the focus is generally on those who abuse marijuana and not the vast majority who just use marijuana in the privacy of their own homes.
Nelson said there are three pieces of legislation he has proposed: the legalization of the production of hemp, the decriminalization for up to an ounce of marijuana, and the legalization of marijuana for medicinal and recreational use.
Almost everyone agreed the revenue streams, especially on St. Croix, would immensely help the economy. The audience again cheered loudly when a panelist mentioned that St. Croix already has the farmers and land for the production of hemp and marijuana.
When the floor was opened up for comments and questions, people shared personal testimonies of dealing with and finding substantial relief from chronic illness and pain with the medicinal herb.
EllaJean Forbes, who is living with multiple sclerosis and is a founder of the V.I. Autoimmune Disorder Organization, was among those who gave testimony. "Let us not stop here," Forbes added. "Let's keep on talking about this."
At least one person in the audience did not agree that legalization was a good idea.
Laverne Bryan, speaking to the Source outside the door to the Great Hall, said she was disappointed that there were not more people on the panel or in the audience giving an opposing view.
"They needed more voices telling the consequences," Bryan said. "I don't agree with the idea that so many people are in jail for simple possession of marijuana." She said many of the young men were in jail because they are shooting each other because of money owed for weed.
"I hope those for legalization really do their research," Bryan said.
Nelson said marijuana should be uplifted from the underground and criminal elements to a legitimate business.
Other panel members included Sana Joseph-Smith, IHOP business owner; Kendall Tutein, executive director of V.I. Partners in Recovery; Barabara LaRonde, president of USVI NORML; Desiree Lambertis, drug and rehabilitation counselor; Gustav James, business owner; Tafari Tzaddi, member of the Rastafarian community; and attorney H. Hannibal O'Bryan.
Simon Jones-Hendrickson, UVI's dean of Liberal Arts and Social Sciences, moderated the forum.
Nelson said earlier in the day that UVI collaborated with the group as an institution of higher learning by opening up a space for people to have intelligent discussions.