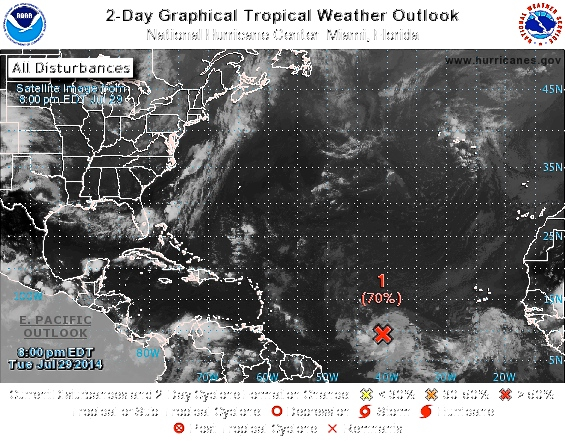 Forecasters will have a better idea by Thursday as to what the low pressure area now making its way west across the Atlantic Ocean will do.
"It still has a very good potential to develop into a depression," meteorologist Robert Mitchell at the National Weather Service in San Juan said Tuesday.
The National Hurricane Center's 8 p.m. update indicated that the system could become a depression Tuesday night or sometime Wednesday. It put the probability of that happening within 48 hours at 70 percent.
It's moving west or west-northwest at 15 mph.
Whether it will be a depression, a tropical wave or Tropical Storm Bertha when it nears the Virgin Islands late Saturday through Sunday is up in the air. Mitchell said if the low pressure area stays south it will pick up moisture from an area of moisture to the south called the Intertropical Convergence Zone. If it goes a bit north, it will encounter a lot of Sahara dust and dry air, which will inhibit development.
He said the majority of the models currently put it passing to the northeast of the islands.
"But one of the models we have confidence in indicates it will bring rain to the Virgin Islands," Mitchell said.
He said the low pressure system was still about 1,800 miles from the Virgin Islands.
If it develops, the storm could put a monkey wrench in the Board of Election's primary planned for Saturday. Caroline Fawks, who serves as supervisor for the Election System of the Virgin Islands, said it's up to the board to make the decision on what to do because they have "emergency powers." She referred questions to Alecia M. Wells, who chairs the joint board, but she could not be reached for comment.
However, Fawks said there is a precedent and election dates have been moved at the last minute because of bad weather.
"But we're praying nothing happens," she said.
V.I. Territorial Emergency Management Agency Director Elton Lewis is advising the public to closely monitor weather updates on this system and to assess their level of preparedness for storm impact.
"Preparedness begins with the individual. I encourage the public to take this opportunity to make sure all of your essentials items are in place, such as dried goods and water. The worst thing to do is to wait until the last minute to get ready," he said in a press release issued Tuesday.
Updated weather information is available on local radio and TV along with the National Oceanic and Atmospheric Administration weather radio.
More information about storms and hurricanes and how to prepare is online at www.VITEMA.gov/plan-prepare, www.Ready.gov or www.Listo.gov.