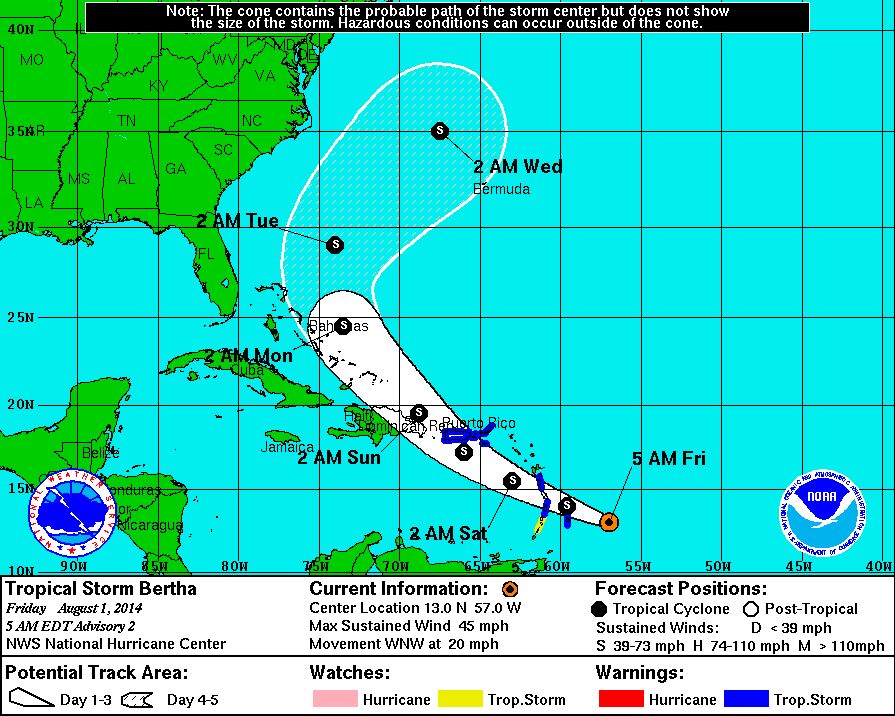 The National Hurricane Center has issued a tropical storm warning for the territory due to anticipated passage of Tropical Storm Bertha's center 67 miles to the south-southwest of St. Croix around noon Saturday. Tropical storm force winds currently extend outwards 45 miles, which means the territory should be spared the brunt of the storm's winds.
Meteorologist Luis Rosa at the National Weather Service in San Juan said at 5:30 a.m. Friday that most of the rain associated with Bertha is on the north and northeast side of the storm's circulation center. He said Bertha is expected to produce rainfall amounts of one to three inches across the territory.
He said the rainfall is good news for the territory.
"We need the rain," Rosa said.
He said residents across the Virgin Island can expect winds of 35 to 40 mph, which he likened to what you'd get with any thunderstorm. That said, some gusts to tropical storm force, which starts at 39 mph, can be expected.
A tropical storm warning means tropical storm conditions are expected somewhere in the warning area within the next 24 hours.
According to Rosa, the rain should start falling around 2 a.m. Saturday.
However, he said that St. Croix is on a red flag warning Friday, meaning that it's very dry and fire is a hazard. As the winds strengthening throughout the day, Rosa said the hazard will increase.
"There's a lot of dry air ahead of the storm," he said.
As of the 5 a.m. update, Bertha had winds of 45 mph. The storm was moving west-northwest at 20 mph. The barometric pressure stands at 29.77 inches.
It was located at 13 degrees north latitude and 57 degrees west longitude.
After trying to escalate all day Thursday, what had been a low pressure system finally grew into Bertha late Thursday. It got a name at the 11 p.m. Thursday update from the National Hurricane Center and the territory went on a watch.
The warning was issued at the 5 a.m. Friday update.
The V.I. Territorial Emergency Management Agency sent out an alert early Friday morning.
"Preparedness begins with the individual. I am urging the general public to begin preparations of their homes and businesses as soon as it is possible," VITEMA Director Elton Lewis said. "Stay tuned to radio and TV for updated storm-related information and for instructions from local government officials."
The Source will also provide updates of any significant changes to the storm conditions.