Pistarckle Theater students presented a powerful dramatic program on anti-bullying Thursday, and will perform once more on Friday. Fourteen St. Thomas students ages 12 through 17 participated in the 2014 "Stopping Crime Starts at the Roots!" Youth Leadership program, which culminates with Friday's show.
Directed by Empress PJ Crosby, the dramatic program is a veritable theater montage. In the first half of the show, students perform two skits written by the students themselves. Following the short plays, Irvin Mason Jr. and Isis Collier, both previous participants in Pistarckle camps and youth programs, perform a duet of emotional monologues that will leave the audience speechless.
After a short intermission, student Tiana Williams shines in a play written by Crosby, the director. The live collage ends with a "Black Wall Prompt" during which the teens each step up and relate bullying to the color black – the color of the walls of Pistarckle's "black box" theater.
"Stopping Crime Starts at the Roots!!" is in its third year and is funded by a grant by the V.I. Department of Labor. The students hail from four different St. Thomas schools. During the past few weeks, these teens wrote, directed and acted in plays focusing on the difficult subjects of bullying and cyberbullying.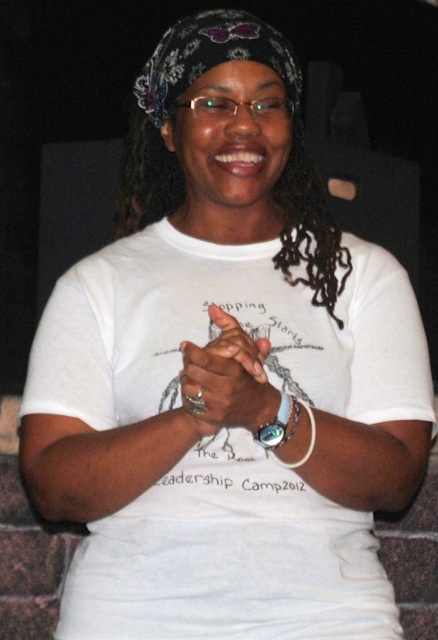 Although most of them had never even attended a dramatic performance before this summer program, each of the students exhibited a charisma and believability that profoundly affected Thursday's audience of nearly 60.
The amateur actors remained impressively professional throughout Thursday's show, despite their nerves and the occasional audience interaction. The already heavy themes of bullying and cyberbullying acted as umbrellas for other social themes such as rape, domestic abuse, gossip and slander, suicide, gangs and romantic relationships.
In a follow-up explanation of the second skit, "Riches to Stitches," Didier Hughes III said, "Bullying can not only inflict pain on its victims, but also lead them into a deep hole…of peer pressure." Hughes both wrote and acted in the skit.
During a Q and A session after Thursday evening's performance, a number of audience members expressed their pride in the students' performance and new role as young leaders among their peers.
The teens were poignant in their reactions to questions about bullying and what they gained from the program.
While some audience members suggested the program focused too much on the problem of bullying and not enough on the solution, Crosby and the students reminded theatergoers that every crime has a cause, and bullying is often the cause of some of the most vicious crimes.
Perhaps 14-year-old Kasiah Freeman summarized the program best in his response to an audience member's question about his contribution to the spoken word portion, "Black Wall Prompt." "We're all one," Freeman said. "We shouldn't be discriminating or picking on another."
In addition to strengthening the students' writing and speaking skills, one of the goals of the Leadership program and its partnership with the Department of Labor is to prepare teens for joining the workforce. Pistarckle's Founding Artistic Producer, Nicola Emerich, said that the four-week program also teaches students basic life skills: to show up on time, dress appropriately, and respect peers and superiors.
A rather shy Joshua Bell, the program's youngest participant at 12 years old, smiled as he told the audience that the experience "taught me something new."
"And I found some new friends," he added.
General admission is $10, but a group rate for eight children is also available at $40, or $5 per child. For more information, contact Pistarckle Theater at 775-7877 or online at (pistarckletheater.com). DVDs of the performance can also be purchased from Pistarckle Theater.