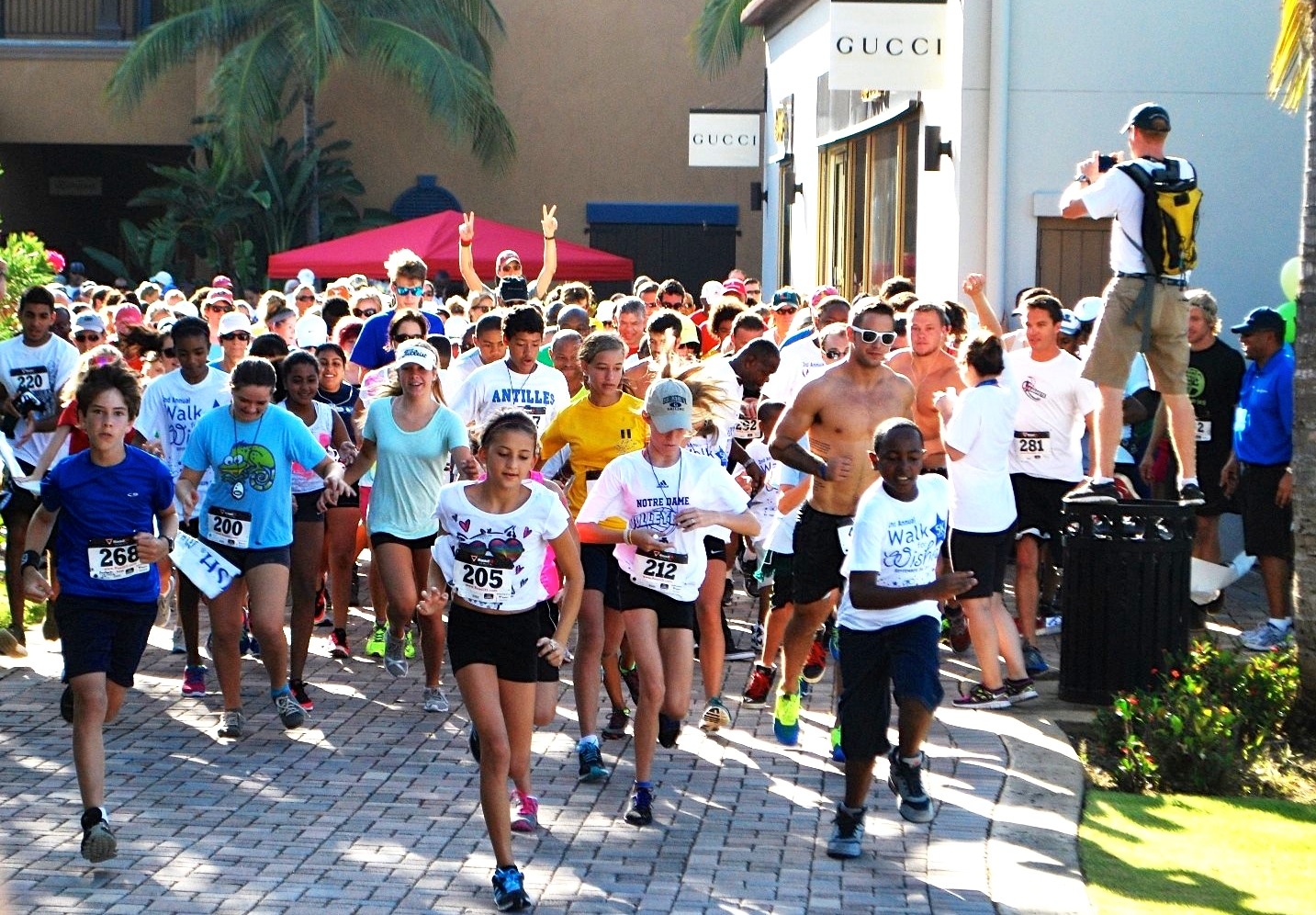 The third annual Walk for Wishes 5K will take place on Sept. 27 at Yacht Haven Grande. Both walkers and runners are encouraged to preregister for the event either as individuals or as teams. The race will begin at 8 a.m., although registration will still be open at 7 the morning of the event.
The St. Thomas Walk for Wishes began in 2010 as a fundraiser for the Virgin Islands Make-A-Wish fund. The Virgin Islands currently falls under the auspices of Make-A-Wish Southern Florida, but all funds raised in the territory will stay in the territory for the benefit of local children's wishes, according to Nagesh Tammara, chairman of the local Make-A-Wish Council.
The 2013 Walk's 632 participants raised enough funds to grant three wishes – about $16,000. This year, Tammara expects more than 1,000 people to participate, hopefully surpassing the previous year's fundraising.
There are also some changes and additions to this year's event, Tammara said. The 5K course will be slightly different and the 5K run will be timed this year. Also the businesses in Yacht Haven Grande are working to be more involved, potentially opening early and including other activities, such as a Zumba or yoga class for participants.
This year Tammara hopes to "make it a morning of fun … more of a community gathering." For him, the goal is not just to raise money for Make-A-Wish, but also to raise awareness in the community and foster support for a long-term annual event.
The local arm of Make-A-Wish has been very active in its short three years of its existence. Tammara reports that the organization has granted 10 wishes since the 2013 walk, including sending some Wish kids to Disney World, creating an opportunity for one girl to perform on-stage for an audience, and sending one boy to New Orleans to learn about the mechanics behind ship-building.
There are currently 60 Wish families in the territory, said Tammara, and the organization continually works with them to share their experiences and advocate.
"At the end of the day, that's the focus, that they get to experience" escape, Tammara said.
He recalled the first Wish granted on St. Thomas to 4-year-old J'Len, diagnosed with Leukemia, who wanted to be a police officer like his father. A video of that day included J'Len's heroic capture and arrest of a criminal and the receipt of an award from Gov. John deJongh Jr. It is a perfect example of what Make-A-Wish does, Tammara said.
Registration for walkers is $10; for runners it's $15. The first 700 registrants will receive a T-shirt, and the runner registration fee includes a shoe wallet. For more information on the Walk or V.I. Make-A-Wish – including registration information and to download a team or sponsor form – go to (http://usvi.wish.org/news-and-events/calendar-of-events/calendar-of-events/walk-for-wishes-2014).