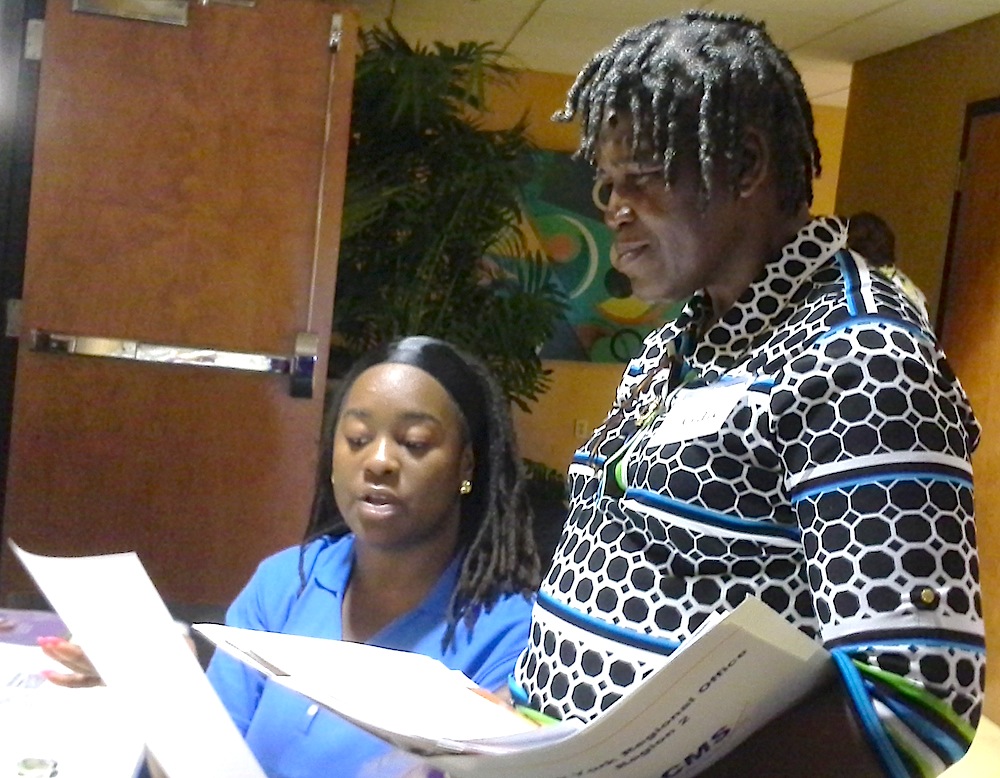 Family caregivers gathered at the Divi Carina Bay Resort for a weekend workshop sponsored by the V.I. Department of Human Services and the V.I. State Health Insurance Program/ Medicare.
The three-day conference is for anyone over the age of 18 who is caring for another person 60 years old or older, according to Arleen Evans O'Reilly, director of the V.I. Family Caregiver Support Program. More than 140 people from throughout the territory registered for the 12th annual conference, she said.
"The workshops are based on suggestions by the caregivers," O'Reilly said. "We hope they take away what they can apply hands-on, not just run-of-the-mill ideas."
Most of the caregivers were over 40 and some listened to the presentations with their eyes closed — either for peace or a moment's rest. However, they participated actively when speakers asked for questions and comments.
Friday morning, after welcoming remarks, DHS nutritionist and dietitian Alice Henry led a discussion about diet and health for seniors. She talked about the importance of drinking water and eating solid foods as along as possible. Nutritious food for the elderly includes oatmeal, eggs, fish, chicken, yogurt, green vegetables, squash and fruit.
Henry also stressed the importance of time-off and healthy diets for the caregivers, themselves.
"If you're tired yourself, or burnt out, you will not be able to care for anyone. Ask for help," Henry said.
The audience asked Henry for ideas on how to cure dry mouth, and how to encourage patients to swallow their food. She recommended sour candy, tamarind and mouthwash. Henry said sometimes it is better to wait and try later if they are having trouble swallowing their food. One participant suggested massaging the throat gently and another said a bit of pudding or applesauce on the end of the spoon helps.
Later in the morning, caregivers learned about Medicare, Medicaid and fraud prevention.
Beverly Joseph, VI/ SHIP coordinator and acting Medicare director, explained the process of enrolling in Medicare and how the program works. There are seven supplemental plans that can be added to Medicare A, costing $50 to $139.75 a month, Joseph said.
She told caregivers they should list themselves with the Social Security office, as authorized representatives for their charges, if appropriate.
After lunch, Iris Bermudez, director of Centers for Medicare and Medicaid Services in the Puerto Rico field office, talked about some of the Affordable Care Act provisions applicable to caregivers, including services, quality improvement organizations, medications, hospitals and consumer protection. The organizations are nursing facilities, home health care and hospice agencies surveyed by CMS.
Other topics Friday included managing responsibilities and, during an evening session, tools for keeping older adults active.
On Saturday and Sunday, the participants will learns about infection control, caring for parents, and resources for caregivers.
The caregivers will enjoy some fun and "pampering" during the weekend, according to O'Reilly. There will be a beach barbecue on Saturday and a workshop on using laughter for stress relief.