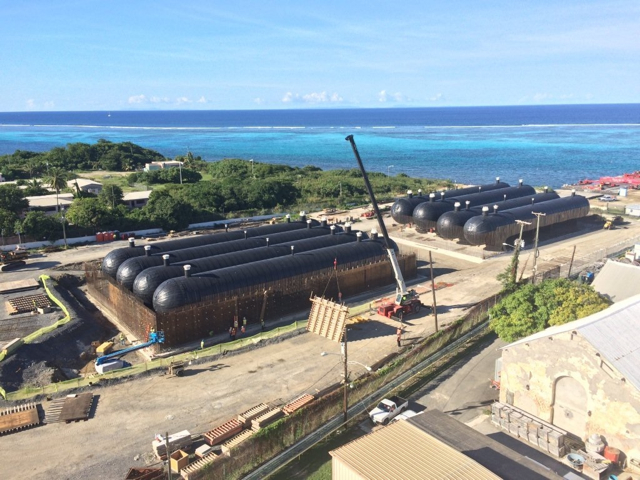 The board of the V.I. Water and Power Authority approved a $4.2 million contract for design and upgrade of the fire protection systems needed for the conversion to propane gas.
The vote was one of several taken after the board's two-hour executive session at its meeting Thursday.
The funding covers two phases of engineering and improvements for the existing fire systems at the St. Thomas Randolph Harley station and St. Croix's Estate Richmond power plant.
Gregory Rhymer, WAPA chief operating officer, said good safety equipment is necessary as both plants convert to liquefied petroleum gas.
The first phase will focus on fire and gas detection systems and the second phase will address firewater, sprinkler and foam systems, battery room upgrades and a fire suppression system. Rhymer asked for the board's approval to contract IV-AGA, Texas, LLC, to provide engineering, specifications and manage requests for proposals during both phases.
Using one company to both design and oversee construction will be more cost effective, he said.
Hugo Hodge, WAPA executive director, said not many companies can do that type of work, so they did not ask for bids. He added it is the "most expeditious and cost effective" way to do the project. The individual components of the project will be let out to bid, Hodge said.
"When we embarked on LPG, we knew there were different safety issues. It has to be in place before we start using LPG," Groner said before the board approved the funding.
A request to fund live-line certification training for about half of WAPA's linemen was presented by Clinton Hedrington, director of Transmission and Distribution. Technical Electrical Consulting and Training Inc. will provide certification and refresher courses for 26 linemen based on St. Thomas, St. Croix and St. John.
"What this means for the customers, is that linemen can work on lines – hot – and there's no interruption of service," Hodge added.
The board approved $264,960 for the training program.
The WAPA board also approved two contract extensions. One allows Vantage Energy LLC to continue assisting the utility with a focus management audit, and the other extends for another year the contract to Leidos Engineering LLS. The company is providing technical assistance to transfer net metering to feed-in-tariff billing, as required by Act 7586, passed by the Legislature in 2013. An extension is needed to give time to the Public Services Commission to set rates.
Hodge explained feed-in-tariff is "more equitable" because the actual cost of energy is passed on to the customer.
Hodge reported several items, including the status of the LPG conversion – the storage tanks are in place on St. Croix and will be in place soon on St. Thomas. Unit 16 on St. Croix has already been converted fully and is ready to burn propane to produce electricity.
He also reported that three towers to be use for advanced metering infrastructure (AMI) are online on St. Thomas. Towers should be completed on St. Thomas and St. Croix by next year.
Advanced metering infrastructure is a system of smart meters, communications networks and data management that allows communication between the utility and customers.
The "WAPA Working for You" segment featured Rupert Pell, director of Water Distribution. He gave a history of water service beginning in 1948 when construction of the system began on St. Croix. He also talked about leak and water loss prevention and explained that the brown water produced by WAPA is due to rust in pipes that have exceeded by decades their life expectancy of 30 years.
The executive session, called at the beginning of the meeting, was not explained other than to say "personnel and legal matters" were discussed.
The meeting was held through videoconference between St. Thomas and St. Croix, with one member joining by phone. Board members present were: Gerald Groner, chair, Juanita Young, vice-chair, Conrad Francois, Cheryl Boynes-Jackson, Noel Loftus and Elizabeth Armstrong from the private sector. The public sector directors present were Karl Knight, V.I. Energy Officer executive director and Wayne Biggs, commissioner of V.I. Licensing and Consumer Affairs.