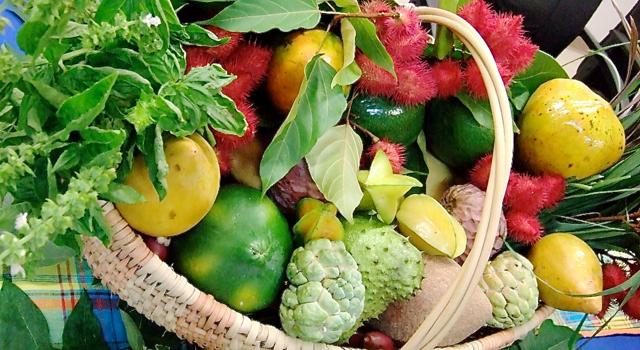 Just in time for the holidays, a glossy, brightly colored and informative hardback book about local fruits was launched Wednesday at the University of the Virgin Islands Cooperative Extension Service on St. Croix.
"Tropical Fruits of the U.S. Virgin Islands and Their Nutritional Value," is one of dozens of books and posters published by UVI since the early 1990's, including "Heart of the Pumpkin."
The book features 75 local fruits, with photographs, a list of each variety's health benefits, nutrients, growing season and calories. Each variety is also rated on a scale of one to five stars based on its benefit to those with diabetes.
The last few pages are devoted to recipes.
University administrators, people who collaborated on the book, students and members of the media attended the reception to introduce the book, which is available at UVI Bookstores on both islands, the Owl and Seahorse on St. Thomas, and on Amazon.com.
Clarice Clarke, public information specialist for UVI's Cooperative Extension Service, thanked those who contributed to the publication, including researchers and scientists from UVI, the V.I. Agriculture Department and Dr. Leticia Henry, a preventative care specialist. She said the goal of CES publications is to educate residents about eating healthy, nutritional foods.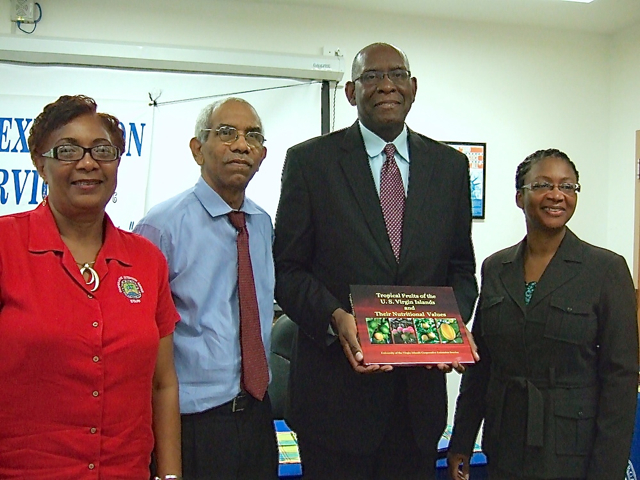 "This new book – a coffee table book – is a continuation of the Extension Service's mission to respond to the issues of the community," Clarke said.
Henry spoke about her role in providing information about the calories and vitamins in local crops compared to stateside fruits. When she returned to St. Croix 15 years ago, people were told not to eat mangos and sugar apples because of the sugar content, she said. Now people can refer to the book to learn valuable information such as the vitamin content. For example, one guava has as much vitamin C as three oranges.
CES State Director Kwame Garcia and UVI President David C. Hall also spoke at Wednesday's event.
"We encourage publication because knowledge is more valuable when shared," Hall said.
Healthy holiday recipes from UVI will be featured on "Best Bites" on Dec. 12 on TV2.