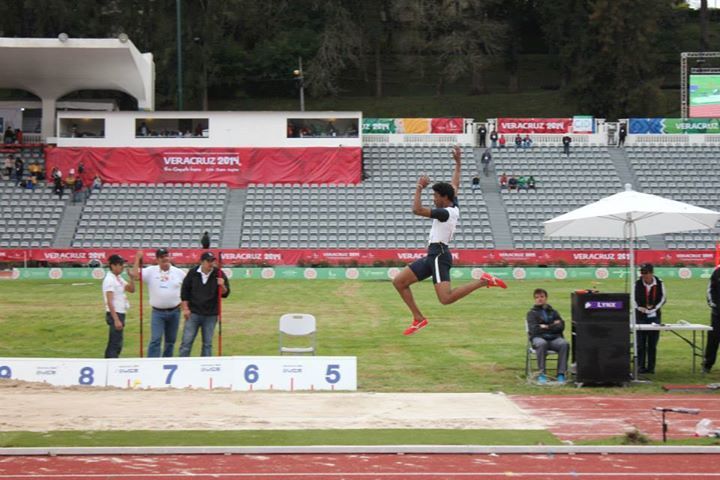 Muhammad Halim won the silver medal in the long jump at the CAC Games in Vera Cruz, Mexico, on Wednesday, Nov. 26, with a leap of 7.75m and becomes the first V.I. National Track and Field team member to win two long jump silver medals at the CAC Games. David Registe of Dominica won the gold medal with 7.79m; Yunior Diaz of Cuba won the bronze with 7.76m.
Halim's mark is just off his CAC Games 2010 Silver Medal win in Mayaquez, Mexico, of 7.79 and his third best ever. Another of his best performances came when he was a student/athlete at Cornell University where he was 2008 NCAA Champion in the Triple Jump which is considered to be his specialty.
Leon Hunt had a very strong performance in the event with an 8th place finish with a leap of 7.43. His performance marks the first time for such high performances in the long jump for the Virgin Islands. Hunt is the CAC University Games Gold Medal Winner. He spent the summer at camp at Cornell University under V.I. National coaches Nathan Taylor and Adrian Durant.
Halim joins Laverne Jones-Ferrete as medal winners at CAC Games. Finalist in the games up to Wednesday include: Laverne Jones-Ferrette Silver 100m, Muhammad Halim Silver Long Jump, Wanetta Kirby Long Jump, Leslie Murray 400m hurdles, Wanetta Kirby Long Jump
Competing later are: Allison Peter 200m, Laverne Jones-Ferrette 200m, Eddie Lovett 110m hurdles, Leslie Murray 400m hurdles final; Hasheem Halim Triple Jump; Muhammad Halim Triple Jump; Eduardo Garcia 10,000m
For information contact VITFF: isv@mf.iaaf.org; logon to: http://virginislandstrackandfield.org call: 643-2557.