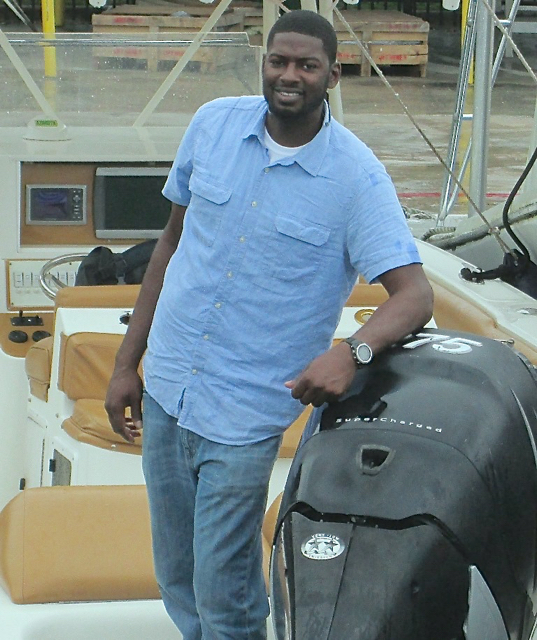 While his 35-foot charter power boat named Tequila calls Cruz Bay home, Capt. Tony Hill and his Ilan Lyfe Boat Charters will pick you up anywhere in the area and take you where you want to go.
"Anywhere between St. Thomas and Anegada," he said.
Hill does the usual charter boat day trips that take people snorkeling if that's their preference. Or, he said some folks just want to hang out on Jost Van Dyke or the Bitter End Yacht Club in Virgin Gorda for the day, and he'll accommodate that request too. He'll also transport people from one island to another.
Tequila's twin 275-hp engines means the boat moves through the water at a rapid clip, particularly if it's a flat day, and Hill said he can make Virgin Gorda in 40 minutes if the conditions are right. Otherwise, he said count on an hour's trip.
He provides water and ice on charters, while the passengers bring snack and lunch. However, he said the passengers often agree that they want to stop at place like Cooper Island in the British Virgin Islands for lunch. Hill said he's planning to get a grill for the boat so passengers can cook up their own barbecue.
Hill's been in the charter business for three years, after getting his feet wet in the marine industry at the Caneel Bay Shipyard, where he worked as a supervisor. He got his captain's license and moved into the charter industry.
"I thought it was a good way to meet people, and you really get to see people for who they are," he said, adding that this was the part of his job he liked best.
Hill was born on St. Thomas to Harriet Mercer and Anthony "Benj" Hill. He said his parents split when he was young so he got to spend time on both St. Thomas and St. John, where his father lives.
After graduating from Eudora Kean High School, he spent the next seven years in the U.S. Navy, with posts to Jacksonville, Florida, San Diego, California, and Iran.
"I was a weapons system technician," he said.
Along the way, he studied at the University of the Virgin Islands and Embry-Riddle Aeronautical University in Daytona Beach, Florida.
While Hill's charter business keeps him busy and pays the bills, he has bigger dreams. He holds commercial and private aviation licenses, and he's like to expand his boat business into airplane charters.
And he's dabbling in the reality show arena with some friends by putting together a program about life as a charter boat captain in the Virgin Islands.
"We've been filming for about a year," he said.
As for his free time, he said that since he's out doing for work what many people do for relaxation, he's happy to spend time with his fiancé, Karen Jennings, and two children, Jabari, 9 and Jae, 5.
"And I like to do nothing. Watch TV," he said.
Those interested can book a charter by calling Hill at 1-305-409-3996 or book through any of St. John's concierge services. His website is at www.ilanlyfe.com and he's on Facebook at https://www.facebook.com/ilanlyfe/info?tab=overview.