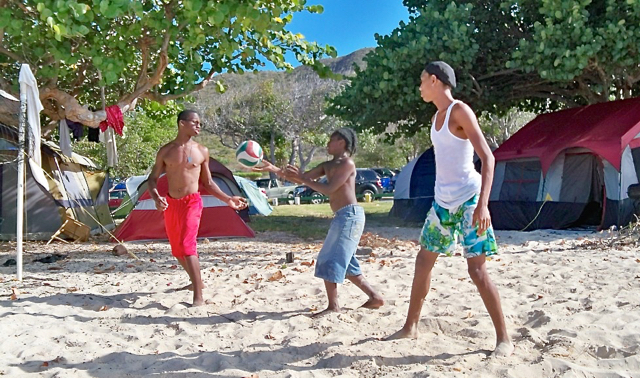 Some St. Croix campers see more in the annual Easter camp foray to the beaches than a good time weekend. They see opportunities to educate youngsters, strengthen family ties and bring religious practices to the forefront.
At Cramer's Park youngsters were camping out at the Unity Retreat Camp hosted by Sen. Terrance "Positive" Nelson. The Christiansted Seventh-day Adventists camped on grounds they own looking out over Green Cay. And a few folks camped out on top of breezy Kings Hill at the St. Croix Reformed Church.
Verne Lansiquot-Graham, spokeswoman for the Adventist's camp, said families camp in Southgate along with youth in the Path Finders Club and the Adventure Club. She said there were around 100 campers, including families of the Club members.
The camp geared toward youth ages 5 to 15 is spiritual and Bible-based, Lansiquot-Graham said. She added the camp includes daily morning and evening devotions.
The club members work at earning badges in physical drills, swimming, hiking and camp skills. Children make kites, star gaze, and learn about nutrition and health. The camp started at 9 a.m. Thursday and wrapped up at 4 p.m. Sunday.
Lansiquot-Graham said they have camped in Southgate for at least 10 years, Before that they camped at a variety of other locations.
Nelson said he and his whole family have hosted the Thursday through Sunday camp at Cramer's for the last 17 years.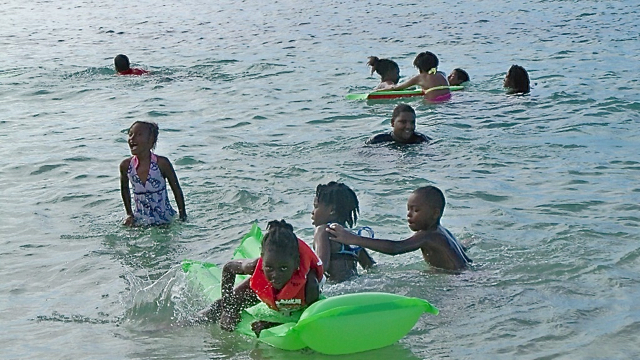 He said he has seen a lot of the children grow and mature since he started the camp. Malachi Farrelly, 15, said he has attended the camp every year since he was born.
"Camp is a lot of fun," Farrelly said. "And it's nice spending time with my family."
Nelson said the youth work on behavior, social issues, martial arts, academics and physical fitness. Group sessions cover real talk and real-life scenarios, and the camp includes a boys-to-men ritual.
The camp is created as a positive environment, and praise and thanks is always given to Jah, Nelson said Saturday on the beach after he had a soak in the sea. He said Bob Marley music is played a bit and the conch horn is blown for announcements, wake-up, and curfew.
Campers get up at 6 a.m., do calisthenics and then clean up. The boys and girls ages 7 to 18 swim, play volleyball, soccer, kick ball and other games.
Nelson mentioned that over the years it has usually rained on Good Friday, but then the rest of the weekend is perfect.
Raymond Hector, from the St. Croix Hiking Association, led about 30 youth up Goat Hill down to Jack's and Isaac's Bays and up to Point Udall, then back to Cramer's. Hector said they do the hike every year and the children generally forward to and enjoy it.
"Camp is the best opportunity to talk to old friends and meet new friends," Nelson said. "The children look forward to camp and come back religiously."
In the past they have had as many as 70 children camping.
Camper Delroy Williams, 15, said it is nice to see all of the young people come together as one.
"And every year there is something different for us to do and new people to meet," he said.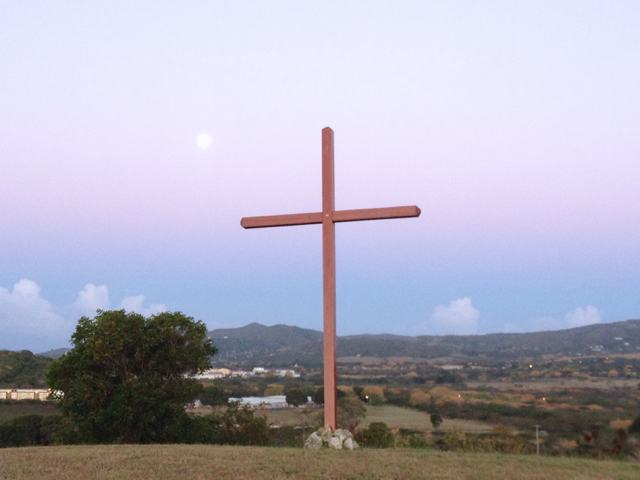 Camping at St. Croix Reformed Church started at 3 p.m. Saturday with a pot luck followed by s'mores, and stories and conversation around the camp fire attended by around 25 people. Eight camped, woke up bright and early, and were there for early Easter service at 7 a.m. at the cross on the hill.
Dulcie Crowther, camp organizer at SCRC, said it is the second year they have had Easter camping.
"It's fantastic to wake up and be right where all the Easter festivities will be happening. We're able to jump in and get ready for the early service and brunch," Crowther said. "Waking up to a setting full moon was especially magical this year."
"It was full of beautiful nature and fun," Alex Tonin said.
Crowther added the church's wind turbine on the hill was quiet and didn't disturb the campers. Following the early service a full breakfast was served, and all the campers lent a hand.
"I thought it was fun because my friends were there and the food was good," Cooper Crowther said. "I would do it again."