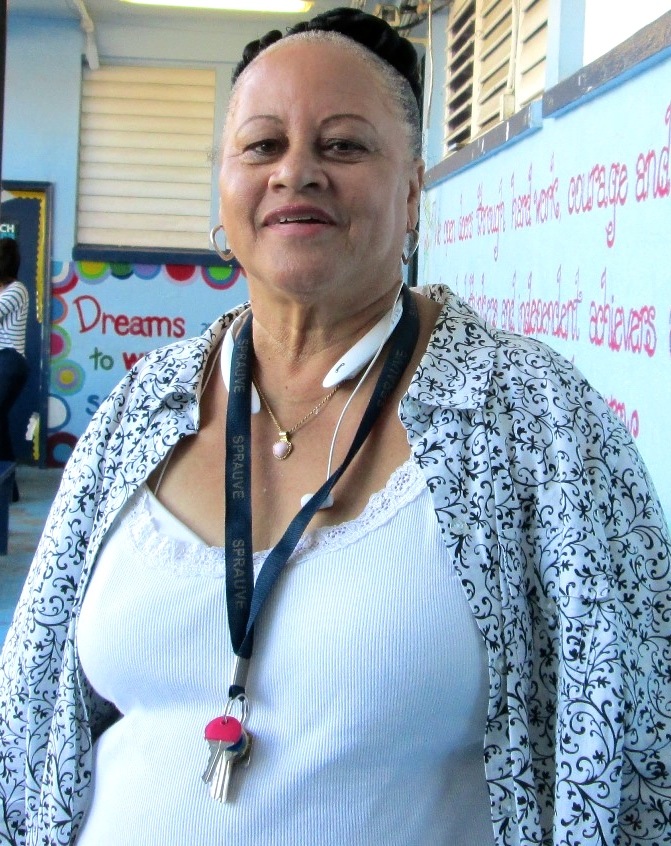 Ellen Francois is still getting her feet wet as the new Julius E. Sprauve School principal, but she said she loves it.
"They're so welcoming and they make me feel like I belong," Francois said of the students and staff. She took over as the school's principal in January.
Francois came up through the ranks in the Education Department. After graduating from Herbert Lehman College in the Bronx, N.Y., with a bachelor's degree in sociology, she returned home to St. Thomas in 1974 to start her teaching career. Her first job was at Kirwan Terrace School, now Gladys Abraham School, where she started the year as a substitute teacher. By December of that year, she said she had her own second grade.
A stint in New Orleans followed while her husband of what is now 40 years, Conrad "Ricky" Francois II, studied at Tulane University. They moved back to St. Thomas in 1980, and Francois started teaching at the now-closed Gramboko School and then moved to Ulla Muller School. She said she taught third grade, second grade, and a gifted and talented class.
Along the way, Francois began to study for a master's degree in education with a concentration in teaching gifted students. She got this degree from the University of Connecticut, which offers a program where teachers can do coursework from home throughout the school year and attend on-campus classes in the summer.
After that, she attended the University of the Virgin Islands for classes in administration, which helped her get the job as assistant principal at Gomez School on St. Thomas.
Francois still lives on St. Thomas and makes the daily commute to St. John via the ferry. She said it has pluses and minuses. She takes the 6:30 a.m. ferry from Red Hook to Cruz Bay, and said she uses the time to catch up with emails and the like.
Francois puts in a long day at the school, spending lunch hours outside interacting with the students and often sticking around after classes end for afterschool activities. However, she said, the fact that she can't just pop down to the school on weekends is a wish that has no easy solution.
Francois is focusing on her goals for the school. "When you leave here, I want you to have all the skills needed to succeed at the next level," she said.
She said she'd also like Sprauve to become a Blue Ribbon School, a U.S. Department of Education program that recognizes public and private elementary, middle and high schools based on their overall academic excellence or their progress in closing achievement gaps among student subgroups.
Like most people, Francois said she spends her weekends catching up with laundry and shopping. Sundays are devoted to church and a bit of relaxing.
She and her husband have two children. Their daughter Eleanor is following in her mother's footsteps by teaching history at Charlotte Amalie High School. Their son Conrad Francois III works in the yachting industry. And grandson, Khafri Francois, 6, lives with Francois.
Francois said she knew her own grandparents well. Her father, who was a projectionist at the movie theater, died before she was born when he couldn't escape from the projectionist booth when the building caught fire. Her mother died when Francois was still a child. She lived with her New York-based paternal grandparents, returning to St. Thomas in the summers to stay with her maternal grandparents.
Her grandfather was Alton Adams Sr., who wrote the V.I. March, a fact she proudly told the Sprauve students during a morning assembly when she was just days into the principal's job.
As for what's ahead, Francois said she's focused on improvements at Sprauve. "And getting to know the faculty, students and culture of the school," she added.