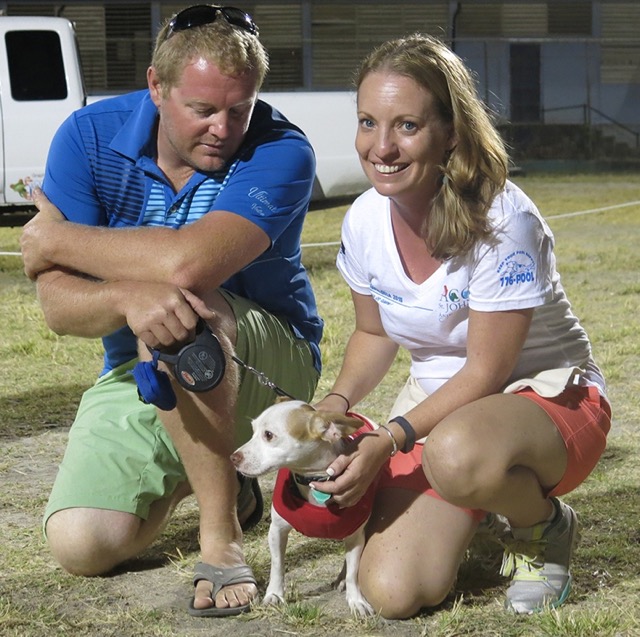 Dog owners and lovers of all ages packed the Winston Wells ball field in Cruz Bay Saturday evening for the 15th Annual Wagapalooza, honoring the island's shelter dogs and supporting a fundraiser for the St. John Animal Care Center.
Prizes were awarded in a range of categories, but the crowd favorite, as usual, was the Babe Award. Given to the dog that has made the most miraculous change in spirit and health since it entered ACC's shelter, this year's award was given to Maximus.
Maximus was hit by a car in March and eventually lost a leg, but not his spirit. Thanks to an outpouring of support, Maximus had successful surgery and was adopted by Michelle Fage and Jason Cawthorn.
Today Maximus has a big brother doggie and has been enjoying life like any other doted-upon four-legged best friend.
"Just a week or two after his surgery, Maximus was up and about, walking around on his three legs," said Wagapalooza emcee Ellis Davis. "Now he loves to run and jump and doesn't even realize he only has three legs."
The Babe Award was the final honor handed out during the distinctly island-style dog show, which supported the sole animal welfare organization on St. John.
Late Saturday ACC officials were still tallying the amount raised at this year's Wagapalooza, but expected to do well based on the size of the crowd. While raising much-needed funds for the nonprofit organization, which receives scant government funding, the event also offered a night of free, family-friendly entertainment.
"This is a great turnout and we're really excited for a great night," said ACC President Lucy Banks. "This event brings the animals to the forefront and brings the community together. There aren't many free, family-friendly events on St. John and this really is a great one."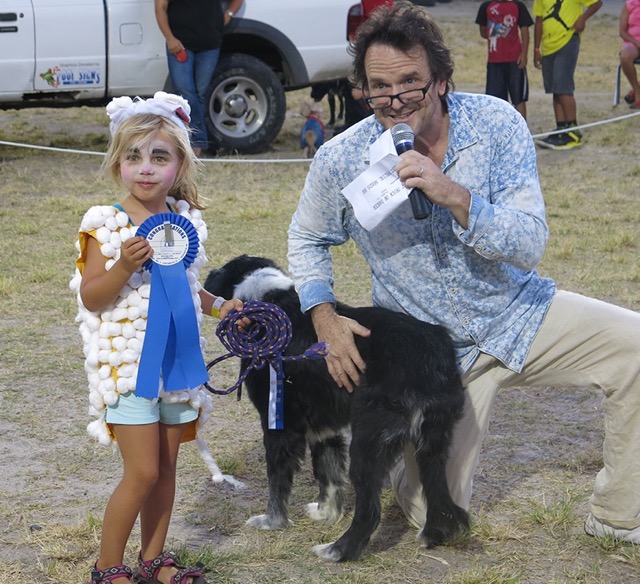 The evening featured plenty of entertainment for the island's youngest residents, with a bouncy house, face painting and a popcorn machine. The event also included music by DJ I-Duane as well as a host of well behaved and talented pooches, many of whom were former ACC shelter dogs.
"It's so great to see these dogs here who used to be in the shelter and now they've been adopted and they're so happy," said Lori Damron, who works with Canines, Cats and Critters and is a devoted ACC supporter. "It's especially great seeing some of the dogs who we watched go through heart worm treatment and now they're doing great."
Dogs and their owners faced off in categories ranging from Best Trick to Best Look Alike, all while raising money to ensure the ACC's Cruz Bay no-kill shelter remains open.
Wagapalooza 2015 Judges Joan Sparling, owner/broker of American Paradise Real Estate, Kelly Cruikshank and Magistrate Judge Allen Smith had no easy task naming winners in each of the evening's categories, but all relished the opportunity to see some of the island's most cherished pooches.
"I'm a big ACC supporter," said Sparling. "This is a great fundraiser and it's a joyful event. It's great to see the community come together."
The judges named a 13-year-old Pug named Algernon the Best Old Timer, with 15-year-old Chihuahua Rufus taking second place and 12-year-old mixed breed Yoda earning third.
Best Costume went to the adorable crowd favorite Maddie, a sheep dog who was escorted by four-year-old owner Elena Magnie, herself dressed as a sheep. Rescue dogs Roxy and Curacao, who were dressed up in life jackets and snorkel masks, took second place while Sampson, in his feathered headdress, took third place in the category.
Standing on two hind legs, rolling over and even jumping aloft for treats impressed the judges enough for Sweet Pea, along with owner Deanna Sommerville, to take home Best Trick. Adorable black-and-white mixed breed Banksy was named Best Rescue/Shelter Dog. Best Trick winner Sweetie Pie was also named Best Look Alike with owner Sommerville, thanks to their matching black, red and white color schemes.
All the ribbon winners in each category were eligible for best in show, called Waga King and Queen. This year it was Sampson and Yoda, respectively, who took home the titles.
"I come out to see the dogs perform and because I want to be a veterinarian," said Sage Osiris. "I don't have a dog yet, but I really want one."