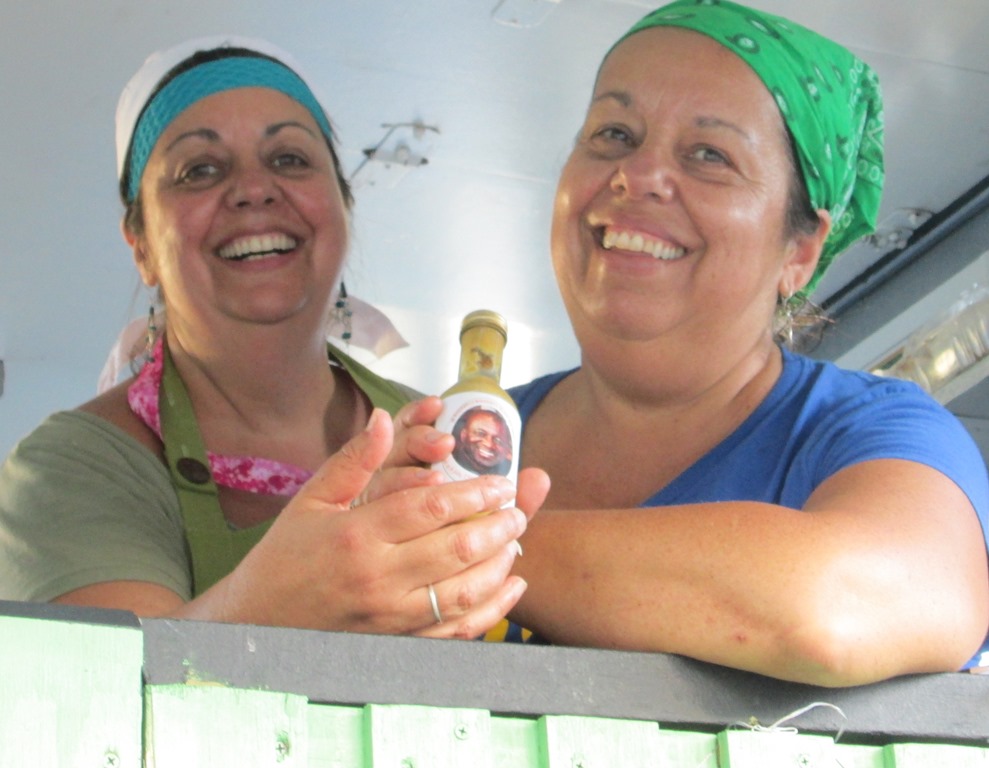 Little Olive, a new addition to St. John's food scene, serves up delicious Mediterranean food at an aptly-painted olive green food truck located street side at the Motor Vehicle Bureau parking lot.
It's adjacent to the public tennis courts on the road that runs from the Cruz Bay roundabout to Pond Mouth.
"We use a lot of my grandmother's recipes," longtime resident and part-owner Val Prakas said.
The food truck is a family affair. Prakas, along with sister Georgia Dandeneau, nephew Leo Dandeneau and niece Dlana Dandeneau, opened up to rave reviews on March 14.
It's a small menu but the offerings include many favorites, including spanakopita, a savory spinach pie. The homemade falafel with hummus, tzatziki, feta cheese, cabbage slaw, and greens on warm pita bread gets special mention by Prakas. Or try the gyro, chicken souvlaki or pesto grilled sandwich.
Salad lovers will enjoy the Lotta Love City Greek Salad with feta, grape leaves, pistachios, greens and fresh veggies on top of the grain salad of the day. The Street Beet Salad includes roasted beets, dates, goat cheese, grilled onions, greens, cabbage slaw and pita croutons.
Finish it off with Miss Val's baklava or a homemade ice cream sandwich.
The menu also features a changing array of daily specials.
According to Prakas, in addition to her grandmother's recipes, Little Olive uses local produce from Josephine's and St. Croix's Ridge to Reef farm. She said she just got "beautiful tomatoes" from Ridge to Reef.
"We want to support local farmers as much as we can," she said.
While Little Olive is a new venture for Prakas, her sister as well as her niece and nephew, she is no stranger to the island's food scene. She cooked up what was known as Greek Night at Tamarind Restaurant in Cruz Bay. Located at the Inn at Tamarind Court, the restaurant featured different chefs many nights of the week.
And for the past several years, she had a booth at the annual St. John Festival Village.
Prakas and Dandeneau learned the restaurant ropes through their father, who Prakas said owned restaurants in Washington, D.C. and Bethesda, Md.
All four of her grandparents hailed from Greece, so her interest in Mediterranean food comes naturally.
However, her training is as a teacher. She graduated from Baltimore's Towson University with a degree in early childhood education. After teaching at the Bryn Mawr School in Baltimore, she spent a summer teaching at a Gifft Hill School summer camp.
A job offer to teach in the school's preschool followed, and now 21 years later, she's still on the job.
"Teaching and cooking are two passions of mine," she said.
To prevent overload, she handles the ordering, Little Olive's day-to-day business, and creates some of the specials while the rest of her family takes care of filling orders at the truck's window. Her sister came to St. John to help open the food truck, and her niece and nephew were already on island.
"We all work together," she said.
Little Olive is open for lunch and early dinner from 11 a.m. to 5:30 p.m. Monday through Friday. Prakas said plans to open for breakfast are in the works.
Little Olive's menu is online at www.facebook.com/littleolivefoodtruck .