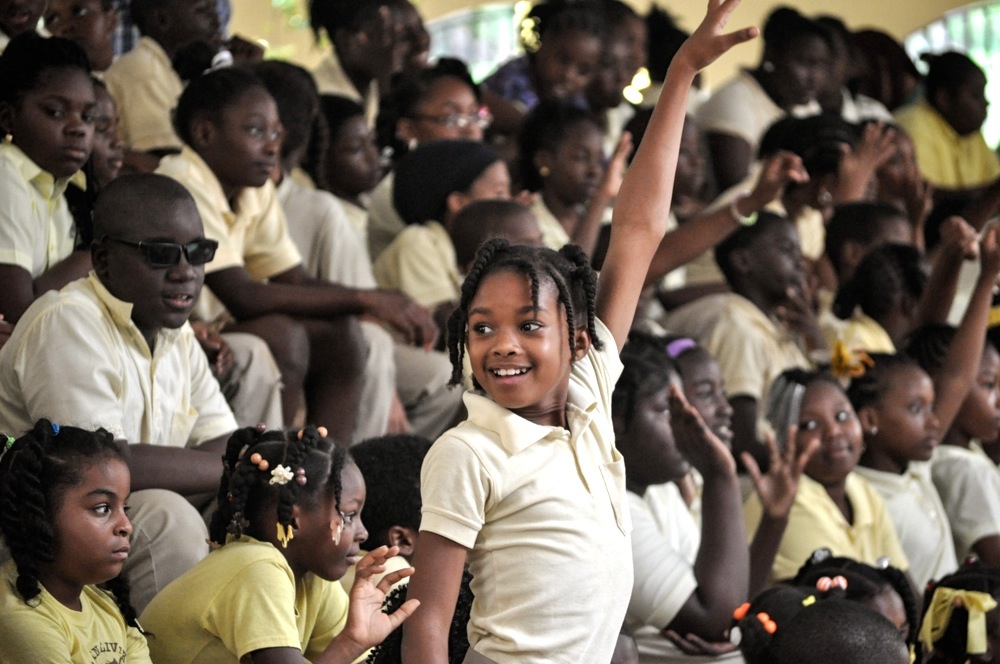 Commissioner of Education Sharon McCollum paid a visit to two St. Thomas elementary schools on Monday to distribute books as part of the Governor's Summer Reading Challenge, a literacy program that is in its seventh year in the territory.
The reading challenge, a partnership between the Office of the Governor, the Department of Education and Virgin Islands Public Libraries, rewards kindergarten through sixth-grade students in all public, private and parochial schools in the V.I. who read at least five books over the summer break.
On Monday, McCollum spoke to students about the challenge, how they can fulfill it, and what their rewards will be. Also speaking to students were Ludence Romney of the governor's office; Kalamis Maduro, the coordinator for St. Thomas-St. John Elementary School Programs; and local author and publisher Mario Picayo.
"How many of you love to read?" Romney asked students at E. Benjamin Oliver Elementary in Anna's Retreat. Hands immediately shot up into the air and an excited murmur filled the room.
McCollum told students that kindergarteners though fourth-graders would be given two books each, and fifth- and sixth-graders would be given one book, but that Gov. Kenneth Mapp wants every student in the territory to read at least five books over the summer. If they accomplish this, they'll be awarded with a special party thrown by the governor.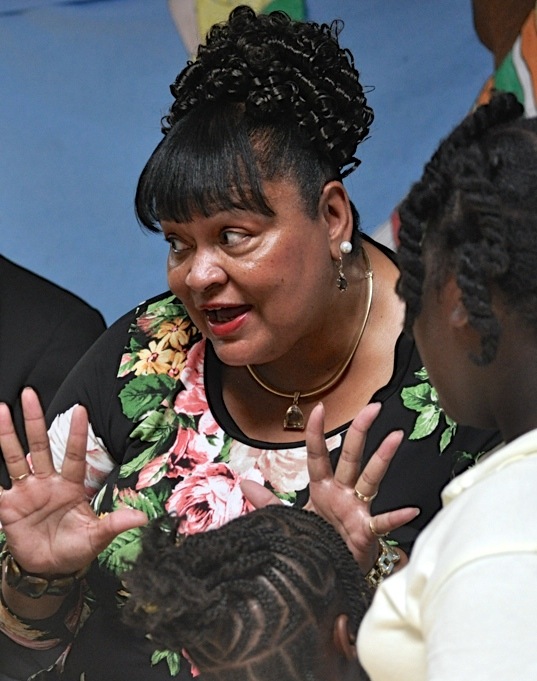 Books distributed to students were written by local authors including Sen. Tregenza Roach, Alcess Lewis-Brown and Tiphanie Yanique.
"You know what's so cool about these books?" Maduro asked the students. "They're actually written by local Virgin Islanders. So they're written by people just like you."
"This book 'Malcolm and the Money Tree' actually takes place in Bordeaux. Raise your hand if you live in Bordeaux. And this book teaches you about fungi. Raise your hand if you've ever eaten fungi before. What color is fungi?"
"Yellow!" yelled the students.
Among the books distributed were some written in Spanish, adding a bilingual element to the program and ensuring students who speak Spanish as a first language aren't left behind in literacy over the summer.
"Some of you speak Spanish. So you see, I also learned to read Spanish first and then English," the Cuba-born Picayo told students as he held up one of his books.
"And let me tell you something else," said Picayo. "Any of you can be a writer. All of you can be writers; you don't just have to be readers."
Each student received a tracking sheet to mark his or her progress in completing the challenge. Boxes to check off on the form include accomplishments such as "I read a book based on a true story" and "I read a book about the Virgin Islands."
McCollum said she'll be visiting schools on all three islands to distribute books to ensure every child has an equal opportunity to read this summer.
"In past years the books were distributed only at public events. This year we're actually going into the schools to make sure the books get into the hands of the students who need them most," she said.
McCollum said the reading challenge will involve book exchanges and that the Department of Education is looking to get books into barber shops and pediatrician waiting rooms as well. She also said that she is considering enacting a territorywide stop and read day to further highlight the importance of literacy.