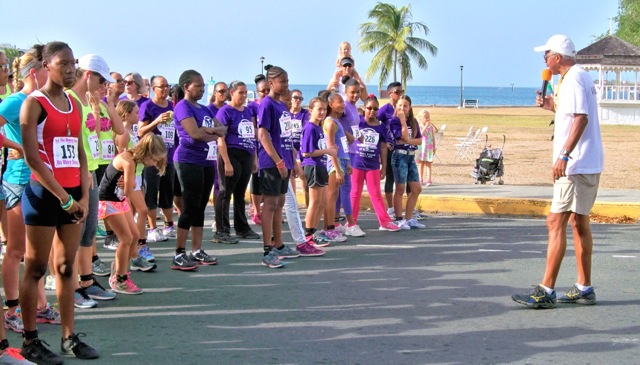 The Women's Coalition of St. Croix has some sad stories to tell, but Sunday afternoon it was all smiles and healthy sweat as more than 350 women and girls participated in the 31st Annual Women Race.
The breeze coming from the Christiansted harbor and over the National Park Service lawn to the race's beginning and ending line added to the happy positive atmosphere.
Enjoying that positive atmosphere was Clema Lewis, a director of the Women's Coalition, which sponsors the annual fundraiser. She said that funds raised by this race would help keep the Women's Coalition going and keep it from dropping any programs that help women who have suffered rape, domestic abuse or other violence.
"I'm very happy with the number of people who registered for the race," Lewis said "We're in a financial crisis right now. It's really important for people to donate so we don't have to cut programs." She said if the coalition did have to cut programs, "it would be the first time in 34 years."
The number of runners, joggers and walkers was up from the past couple of years.
Bridget Klein, a St. Croix resident who represented Country Day Good Hope School, came in well ahead of the pack, finishing the two-mile run through Christiansted in just about 12 minutes even.
Ruthann David finished second.
Mikaela Smith, a 13-year-old member of the St. Croix Track Club Mustangs, finished third.
Fourth was Julie Sommer. Sommer is a member of the Cruzan Run Club, a club that includes mothers and daughters who run together and that had 15 entrants in the race.
"I feel great. This is a fun race. I run in it every year," Sommer said at the finish line.
Keeping the race organized was former St. Croix librarian and long-distance runner Wallace Williams. The race was his brainchild and he has played a central role in its coordination for more than two decades.
Women's Coalition of St. Croix is a multicultural, nonprofit organization whose mission is to end all forms of violence. Since 1981 it has addressed the issue of violence against women, men and children in the community through education and advocacy.
Participants took part in a Zumba warm-up session in the street near the starting line by Customs House in Christiansted before the race. Announcer Claudette "Adjoa" Young-Hinds, along with Lionel Downs, kept every one energized with lively comments of encouragement.
This year the school that had the most entries, at least 25, won $300 and the track coach at the school got $150 to use for sporting goods.
Lewis explained that trained volunteer advocates and counselors at the Women's Coalition have touched the lives of so many, whether they were victims in crisis or survivors on the path to healing and rebuilding independent lives.
In an email she cited the following figures:
– 1,184 survivors of domestic violence received supportive services;
– 243 survivors of rape received supportive services;
– 82 child survivors of physical and sexual assault received supportive services;
– 25 survivors of domestic violence, sexual assault and stalking, and their children, were housed in Sojourner House and other emergency shelter.
"Federal funding granted to the territory for community service agencies continues to be delayed at the local government level," Lewis said, adding that the coalition and other public service agencies "have been waiting on the disbursement of these vital Department of Justice and Department of Education funds for years."
Lewis said that the delays, "coupled with a reduction in funding from the local government," have forced the agency to drastically cut its budget. "Without this funding, which is meant to assist those in need, people will continue to suffer and have nowhere to turn," she said.
For more information on the Women's Coalition of St. Croix's programs and services, call 340-773-9272.