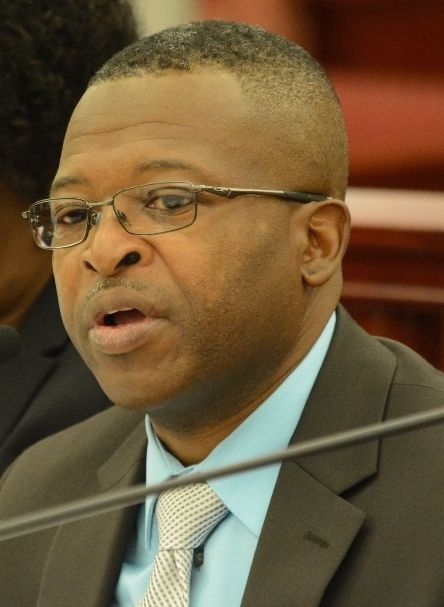 The V.I. Fire Service is racking up millions of dollars in overtime expenses that are not funded in its budget and Fire Service cannot reduce overtime without more firefighters and more funding, Fire Service Director Eugene Farrell said during budget hearings Thursday.
Farrell said a shortage of candidates and low entry pay, combined with the unwavering need to be available 24 hours a day, forced the department to have employees work overtime. (See: Commissioner: Police Will Have to 'Curtail' Activities without Overtime Funding)
"There are 234 active employees in the V.I. Fire Service. Over the past eight years the Fire Service has lost 67 firefighters," Farrell said, telling the committee this short-staffing forced overtime. In 2014 Fire Service spent $1.6 million on overtime, but was budgeted $250,000, Farrell said.
Fire Service has spent more than $1 million on overtime this current fiscal year, but have no funding budgeted for it for Fiscal Year 2015 or the upcoming FY16, he said, adding that 20 firefighters serve in the V.I. National Guard, which, while praiseworthy, also affects staffing.
"In order to drastically reduce overtime, we need a minimum of 67 firefighters or $3.5 million in additional funding," Farrell said. "In order to eliminate overtime except for training events, we need a total of $105 fire fighters or an additional $5.4 million," he said.
The government has a projected budget shortfall of more than $120 million for the current fiscal year and an extremely tight budget for the upcoming year, making new funding hard to come by.
Fire Service also needs funding for equipment maintenance, its hazardous materials incidents response, vehicle extrication, urban search and rescue, and previously negotiated salary increases, Farrell testified.
Fire Service's budget, like many agencies' budgets, has seen back-to-back cuts. Farrell said the appropriation was $20.1 million in 2010, dropping to $17.6 million in 2012, and down to $16.4 million for FY15. The department's proposed FY16 budget is unchanged, at $16.4 million. Of that, $10.7 million is for wages and salaries, and $5.2 million is for benefits, Medicare and Social Security taxes.
Office of Management and Budget and the Office of Veterans Affairs also presented their budget requests Thursday.
OMB Director Nellon Bowry presented his department's FY16 proposed operating budget of $4.22 million, with $2.35 million from the General Fund and $1.87 million from the Indirect Cost Fund. The request includes $3 million or 71 percent in personnel salaries, benefits and taxes to fund 38 full time employees; $1.12 million for supplies and services; and $102,000 for utility costs.
The FY16 total appropriation request is $266,000 more than the 2015 appropriation with the difference mostly due to $300,000 to fund the implementation of OMB's long-term fiscal planning and other initiatives, Bowry said.
There is also $3 million in the miscellaneous section of the budget, most of which is dedicated to paying a third-party fiduciary, Bowry said.
Veterans Affairs Director Patrick Farrell presented that small agency's budget of $758,000.
Of that $328,00071 is for salaries and benefits; $300,000 is miscellaneous funds for medical travel and death benefits. Another $130,000 of nonappropriated funds, which is actually from the V.I. Lottery and the Taxi-Cab Commission, covers everyday operating expenses, Farrell said.