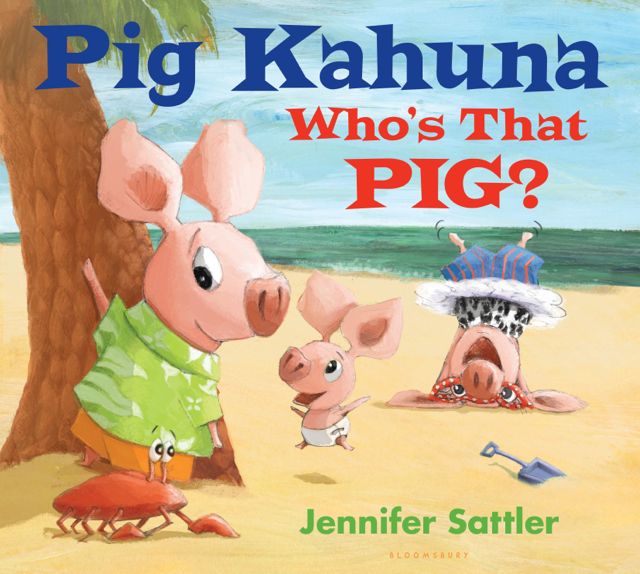 "Pig Kahuna: Who's That Pig?" by Jennifer Sattler
c.2015, Bloomsbury Children's Books $16.99 32 pages
There was a new kid in your playgroup today and he's kind of weird. He's loud, for one thing. He's always yelling and he acts goofy. Other kids seemed to think he was nice, but you can't imagine ever playing with him.
Maybe he was looking for attention. Maybe you're more the quiet type. Or, as in the new book "Pig Kahuna: Who's That Pig?" by Jennifer Sattler, maybe you just don't know him very well.
Just like every other Monday in every ordinary week, Fergus and Dink were at the beach. They were collecting seashells and building sand castles when they noticed something that was "anything but ordinary."
It was a girl pig and she was quite fashion-forward in a striped-and-leopard tutu-swimsuit and rhinestone sunglasses. She was making "sand angels" and whistling a tune. And, as Dink noticed, she was very good at standing on her head.
He wanted to go say hello, but Fergus wasn't so sure. The girl pig looked like she just wanted to be left alone. Certainly that's what Fergus wanted but Dink ran over to the new pig and introduced himself.
She answered "hello" in three different languages and said her name was Tallulah … then she started walking with Dink and they were coming toward Fergus!
That made Fergus very nervous. He tried to pretend that he was looking for something in the sand but Tallulah started showing off and Fergus didn't know what to say. He wasn't happy that Dink asked her to play with them but Fergus was a good sport. It did hurt his feelings when they kind of ignored him.
But then – while he was feeling rather awkward and out-of-sorts – Fergus spotted something in the sand. It was a crab that had somehow gotten turned on its back, and crabs hate that. Dink saw it too, but he didn't know what to do. Tallulah really didn't, either, but she said crabs were very good dancers.
Fergus didn't care about dancing. He didn't want to touch the crab but it needed help and Fergus knew that this was a good chance to save the day…
Everybody likes to be liked, whether on social media or in person – although there's such a thing as trying too hard, which can be awkward. That's even true when you're porcine, as your child will see in "Pig Kahuna: Who's That Pig?"
Even kids who are brimming with self-confidence will understand how Fergus Pig feels when presented with someone who seems to outshine him. The author does a great job conveying that in her words, but her illustrations really bring it home: Fergus has the most appealing facial expressions, telling us exactly what he's thinking. Add Dink's earnest friendliness and Tallulah's hilarious eccentricities and there you have a winner.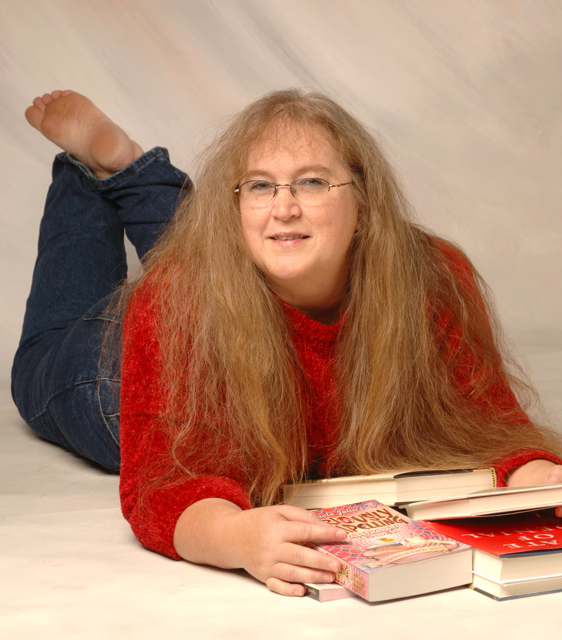 While this book is meant for children ages 3 to 5, I think slightly older kids will get a kick out of it too. When it's read-to-me time, in fact, "Pig Kahuna: Who's That Pig?" is a book they'll yell for.
__
The Bookworm is Terri Schlichenmeyer. Terri has been reading since she was 3 years old and never goes anywhere without a book. She lives on a hill in Wisconsin with two dogs and 12,000 books. Her self-syndicated book reviews appear in more than 260 newspapers.