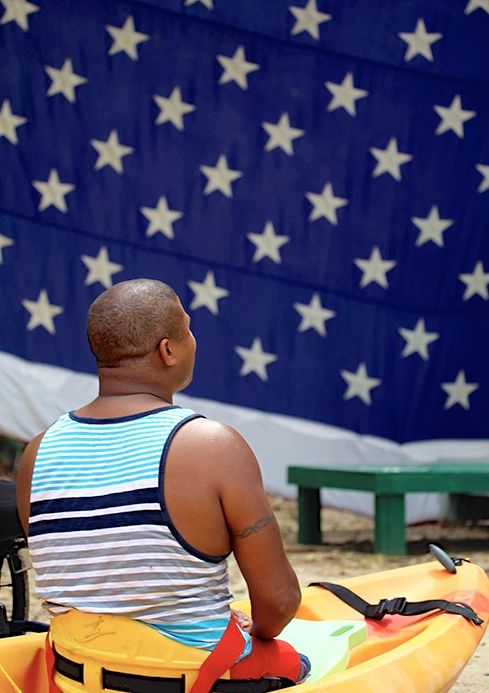 A total of 32 three-person teams went head to head in a heated kayak race on Sunday afternoon on Oppenheimer Beach at the fifth annual Chaotic Kayak Race. The fundraiser drew more than 150 people to the shoreline.
Named this year in honor of Command Sgt. Maj. Robert Gallagher, the event raised a total of $57,603 for Team River Runner, a nonprofit group that introduces wounded veterans to adaptive kayak sports.
Magic Ninja Carpentry of Coral Bay took first place in the final heat over Team Westin, Team Skinny Legs and Team Beach Bar, but the veterans who take part in Team River Runner's St. John program are the true winners. All of $57,603 raised at the event fund Team River Runner's Love City program, which brings a group of wounded veterans from the across the country to the island each November for a leadership clinic.
Team River Runner was founded at Walter Reed Army Medical Center more than a decade ago by Washington, D.C.-area kayak enthusiast Joe Mornini. Today there are chapters across the country and Mornini, a retired special education instructor, was on hand for Sunday's event.
"It was an incredible day," Mornini said. "It was the biggest crowd and the best energy yet. Thanks to the wonderful generosity of the Love City community we were able to raise more money for the St. John program than ever. It's really just amazing."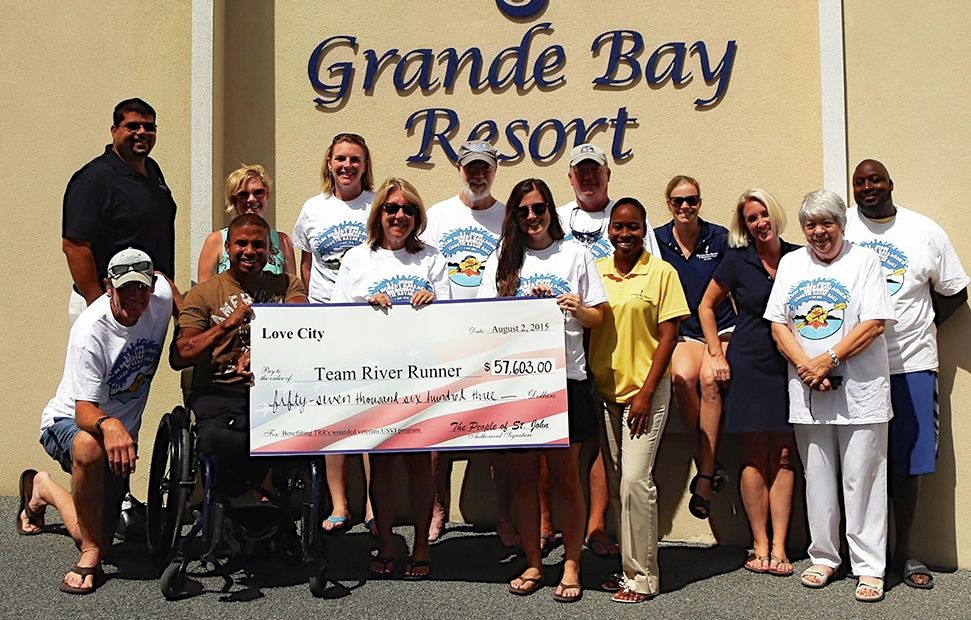 In addition to the annual November leadership clinic at Cinnamon Bay Campground, Team River Runner will use the funds from the CSM Robert Gallagher Memorial Chaotic Kayak Race to bring wounded veterans to St. John to take part in three major island sports events, Mornini said.
"This will allow Team River Runner to bring veterans down to St. John four times in the next year," said Mornini. "We'll be here for our leadership clinic in November and we'll bring veterans down to take part in 8 Tuff Miles, the Beach to Beach Power Swim, and we'll back for next year's Chaotic Kayak Race."
"One hundred percent of the money raised at the Chaotic Kayak Race goes to the St. John Team River Runner program," he said. "There are only two local programs in the Team River Runner list of chapters that are fully funded by their communities; the St. John program and the Montana program."
Teams in the race paid an entry fee and also raised additional money to buy head start time to get an edge on the competition.
In addition to the race itself, the day also featured live music, tunes by DJ Adonis, food and drinks from a number of sponsors, including Miller High Life, St. John Brewers, Grande Bay Resort and Crabby's Watersports. Numerous St. John businesses also donated prizes to the raffle drawings, which helped push the net amount raised higher than that of any of the four previous Chaotic Kayak Races.
Teams of three, two paddlers and one gunner who manned a water gun trying to distract other teams, raced in eight heats during the competition. Teams headed out from the Oppenheimer Beach shoreline and raced out around the moored M/V Sadie Sea and back to the beach. The first two finishers in each heat advanced to the second round where only the top finishers made it to the final round of competition.
In the end it was the winning team of Nat Ford, Jim Donovan and gunner Anais Craig, under team leader and Magic Ninja Carpentry owner Tyler Perino, who made it around the course first, winning this year's title and bragging rights.
Team River Runner continues to accept donations for its St. John program. For more information on the group or to make a donation go to http://www.teamriverrunner.org.