At first glance, Trunk Bay looks like the pristine beach so often featured in glossy tourist brochures. But delve into the bushes in back of the beach — like a group of Gifft Hill School second graders did Friday during a Coastweeks cleanup — and empty potato chip bags, aluminum cans, plastic bags, cups and plastic water bottle caps begin to appear.
"Those lids are very bad for the animals," V.I. National Park Ranger Laurel Brannick said.
Leaning over the railing behind the fee booth, about a dozen different pieces of trash, including a plastic cup, were visible.
According to Brannick, Trunk Bay seldom gets a cleanup because it's not on the list of beaches adopted by various St. John businesses. She said the Friends of Virgin Islands National Park put in a request for a Coastweeks cleanup so she lined up eight Gifft Hill students and their teacher, Jillian Dray.
"It teaches them to be responsible for their community and to have pride in their beautiful island," Dray said.
The students got the message.
"Some plants and animals die because of trash," Maria Leoni, 6, said.
Jahlani Chapparo, 7, and Aysia Louis, 7, saw that trash will impact the island's tourism industry.
Nylah Connor, 7, had the right answer when her father, Attlee Connor, asked her if she had her sunscreen.
"It's not good for the ocean," she said.
Connor said he was along for "daddy duty," and helped out by holding the plastic bag used to collect the trash.
The students also cleaned up along the beach, where they found a smattering of cigarette butts despite the fact that smoking is banned at park beaches.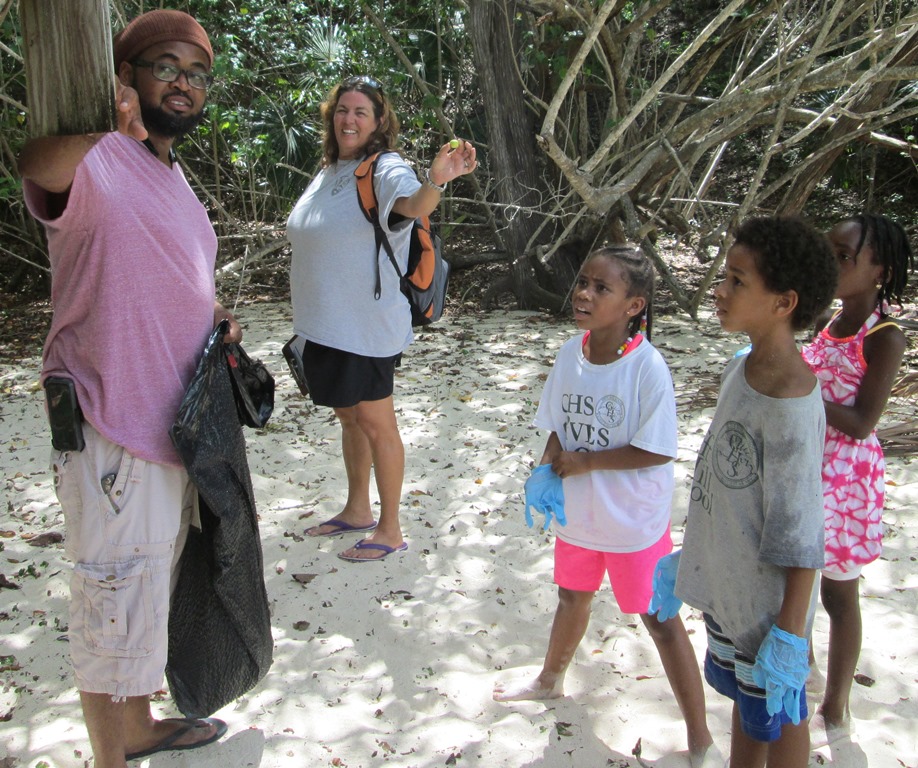 The cleanup also provided an opportunity for other lessons. Tucked back in a clearing at the western end of the beach, the students spotted some green fruit on the ground and a sign swinging from a tree.
"You never want to eat something when you don't know what it is," Brannick said, telling the students they were death apples.
The sign alerted passersby to the fact that they were the fruit from the manchineel tree, which does cause illness. And if you stand under it when it rains, you can get a rash.
Further back in the bushes, the students discovered a pond. And at the back of the pond stood a deer with a full set of antlers.
"Look at how he's staring at us," Brannick said as the students scattered to pick up more trash.