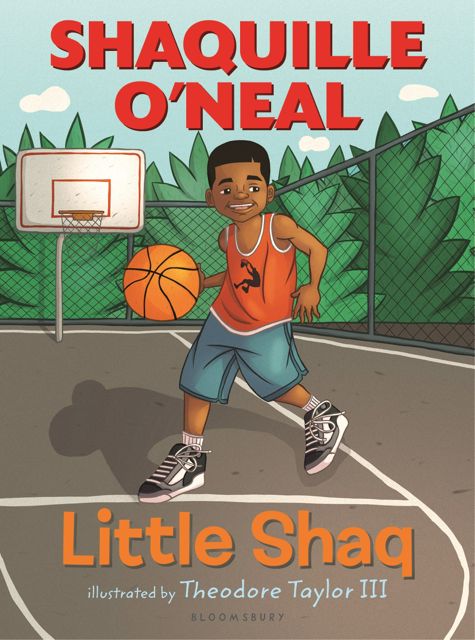 "Little Shaq" by Shaquille O'Neal, illustrated by Theodore Taylor III
c.2015, Bloomsbury Children's Books $9.99 74 pages
For almost every day of your life, someone's reminded you to share. Usually it's about sharing your toys but that's not all. You share games, the sofa, your ideas, snacks and any chore that needs four hands.
Sharing is often about teamwork, and in the new book "Little Shaq" (illustrated by Theodore Taylor III), author Shaquille O'Neal shares a story.
It was almost the end of the ballgame and Little Shaq was hot. Every shot he took was "nothin' but net." He just could not miss – nor did he miss seeing his cousin, Barry, who called for the ball but Little Shaq never passed it to him.
When the game was over and his team won, Little Shaq went looking for Barry. He knew something was wrong. Barry didn't want to talk. Barry was angry.
Once they got home, Little Shaq tried everything to make Barry laugh. Finally he offered to let Barry be "Player One" on their favorite video game, which meant that Barry got to pick the team name. Barry accepted the offer and the boys started playing, but Little Shaq couldn't help himself. He wouldn't –
couldn't
– share, one thing led to another and bang!
The boys' favorite game was accidentally broken.
Their friend Rosa, who'd seen everything, pointed out that both boys were at fault. Little Shaq's dad said they needed to work together to replace the broken game. But would they ever be able to earn that kind of money?
The answer came that week in school when the boys' teacher, Ms. Terpenny, announced that the class was going to study plants by growing a garden. Both Barry and Little Shaq knew people who loved plants. Some of their neighbors had gardens, and someone had to make sure the flowers and vegetables were watered. He and Barry could start a gardening business!
And so they did, learning as they went along, making mistakes, but earning money too. It was a great way to save for a video game replacement and their new business also gave them time to play basketball. But could they put their new talents together with their old ones to make a difference in their neighborhood?
Remember back when your coach used to tell you that there's no "I" in "team"?
Your young sportsman has likely heard those same words – but "Little Shaq" will
show
him how they work.
Kids who live for basketball will love this easy-reader story, partly because it's written by retired b-ball player and author O'Neal. O'Neal reached back into his own childhood to create this tale, which is something 7-to-10-year-olds will enjoy knowing.
Teachers and parents will appreciate that, in reading this book, kids will get gently told lessons in working together, figuring out problems independently, and being responsible and self-sufficient.
For children who are just starting to enjoy chapter books, this is a great choice to read and, with illustrations by Theodore Taylor III, it's a good book to browse. For any young buckets fan especially, "Little Shaq" is one he'll want to share.
__
The Bookworm is Terri Schlichenmeyer. Terri has been reading since she was 3 years old and never goes anywhere without a book. Her self-syndicated book reviews appear in more than 260 newspapers.