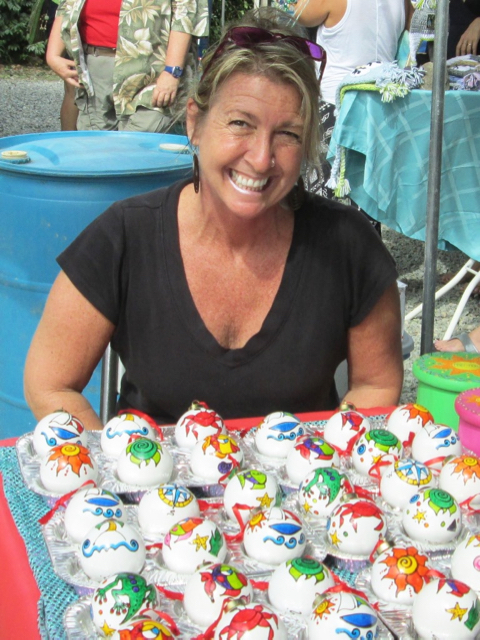 Bizarre Bazaar may just be Coral Bay's social event of the year. It gives people a chance to shop for locally made crafts and more, raises money for the Coral Bay Community Council's myriad endeavors, and provides folks from across the island the chance to meet and greet as they check out what's for sale.
"I ran into 10 people I haven't seen in a long time," St. John resident Rosanne Ramos-Lloyd said as made her way around the various tables.
Bonny Corbeil recently moved back to her native Canada after many decades on St. John, but she returned to Coral Bay for a visit.
"To see old friends," she said.
St. John winter resident Weldon Wasson called it a cultural event. "And I'm buying holiday presents," his wife, Ellie Wasson, added.
St. John resident David Silverman, busy selling plants at the front of the Bizarre Bazaar, said it was a great community bonding event that gives people the chance to see the creativity and vibrancy of Coral Bay.
Many items were unique, such as jewelry made with healing stones. Others were all-natural offerings such as bug sprays. And some were a bit on the pedestrian side, including heavy-duty garden hose holders.
A few folks had Christmassy items for sale. Stephanie Clark showcased her hand-painted porcelain balls with Christmas themes.
"They're very durable," she said.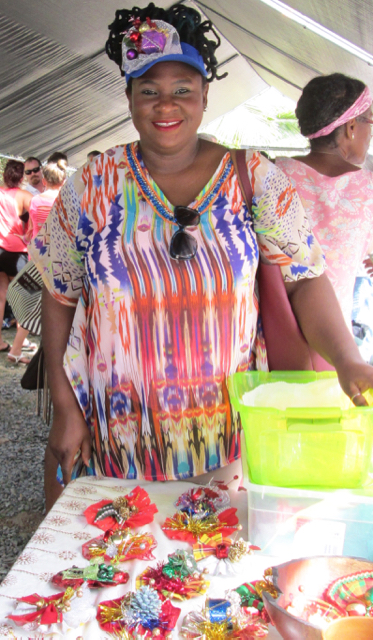 Claudine Daniel was busy selling holiday corsages made of fabric and ribbons.
"I just started doing some with madras," she said.
Shoppers came with various purposes. Caneel Bay Resort gift shop manager Denise Hotze said she was looking for items to sell at the store to promote local vendors.
"I just found some good stuff," she said, checking out Clark's Christmas ornaments.
People also came to eat. St. John winter resident Paula Savel said that last year she enjoyed the organic vegetarian egg rolls, and she hoped to find them for sale again this year.
St. John resident Pat Mortenson wanted massages. With three massage therapists setting up shop, she booked 10 minutes with each.
"Everyone was great," she said.
St. John resident Anna Adams, who works at Keep Me Posted mail service, was on hand to wrap gifts with paper made of 100 percent recycled materials. And once they were wrapped, she said she'll haul them off to the post office for shipping.
Some people were selling items to raise money for their favorite charity. St. John resident Erin Lieb had herbs and plants for sale. She said the money raised will go to the St. John Cancer Fund.
"It's a fundraiser for our team," she said, referring to the teams of participants that come out for the Light up the Night event.
St. John resident Nancy Stromp, who helped organize Bizarre Bazaar, said 64 vendors set up their wares this year in the field adjacent to Pickles Restaurant on Route 107 in Coral Bay. She said that was 10 more than last year.
She said the Community Council makes money from vendor fees and from the sale of donated food and drink. In addition to the Community Council making money, she said all the vendors make money too.
"It's quite an economic case study," she said.