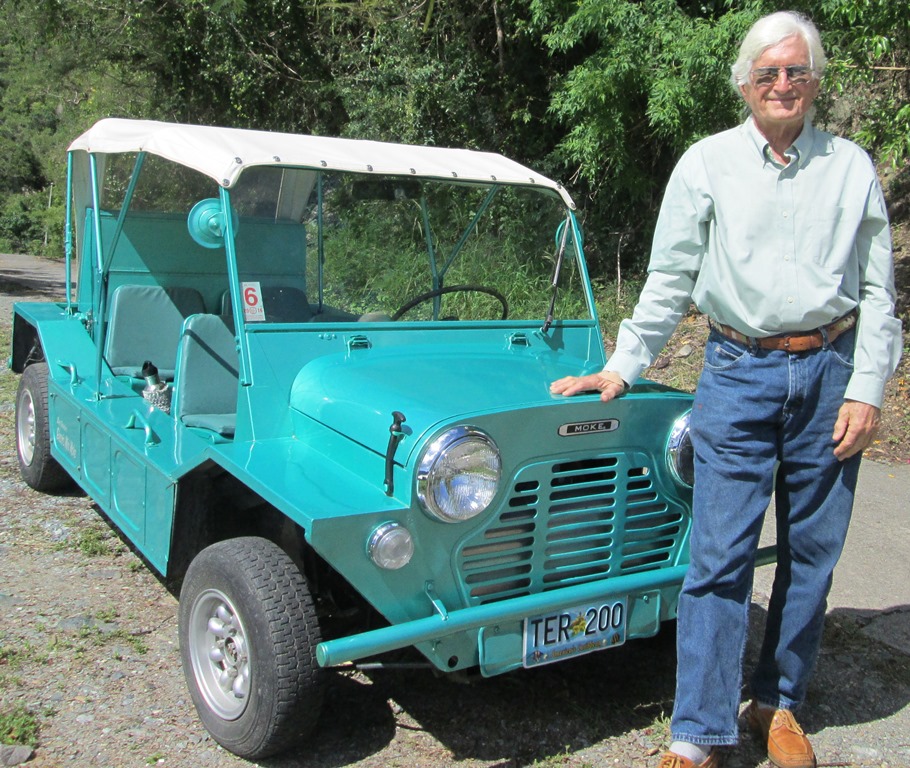 Doug White is committed to doing what he can to stop global warming. With that goal in mind, he bought a 1967 Mini Moke and had it converted to an electric car.
"This is the perfect island car," he said.
Made by the British Motors Corp., Mini Mokes have a history on St. John. In the 1970s and 1980s, they were the rented to tourists on St. John as well as other Caribbean islands. While their heyday went with the wind when more substantial cars arrived on the scene, White said the vehicle still works well for island driving.
"It has a top speed of 40 mph," said White, a retired architect who practiced on St. Thomas.
When he had it converted from gasoline to electric by the California-based E.V. West company, he made sure it had plenty of power. The car has a 20-hp motor and 11-kilowatt lithium ion phosphate battery.
He said he has no trouble going up the steep hills on St. Thomas and St. John.
He said he can make it all the way from his house on St. John's East End to St. Thomas via the barge, run around St. Thomas doing errands and back to his house on one charge.
White believes he achieved his goal of creating a zero-emission, perfect island car that runs on sunshine. He charges it in his solar carport, where it takes between 3 and 7 kilowatts to recharge. He said recharging takes five or six hours, depending on the state of the battery.
"Generally I drive during the day and recharge it at night," he said.
And despite the Mini Moke's vintage years, White said parts are still available.
After learning that it wasn't possible to buy an electric or hybrid car at a St. Thomas auto dealership, he decided to find the right car and have it converted.
He located one in Florida, coincidently in the same town where his cousin lived. After his brother inspected it, he had it shipped to California for the gas-to-electric conversion.
"It took a year," he said.
He said that while converting the car isn't a do-it-yourself project, he hopes that someone in the Virgin Islands will see an opportunity to open a business that does conversions.
White's interest in saving the environment has its roots in a trip about 15 years ago to the Amazon region of Ecuador. He said while meeting with a tribal shaman, he asked what he could do to preserve the rain forest.
"The shaman said don't ask what you can do to save the rain forest. Go home and change the way you live because it's your society that's destroying the rain forest," White said.
Calling it an "Aha!" moment, he said it was from that point he began to make changes in his life, including a solar-powered house, and to get the word out about environmental stewardship.
He was introduced to Mini Mokes in the mid-1970s when he chartered his classic wooden ocean racing yawl Stormy Weather and needed a vehicle on land.
"You could drive anywhere on the island – beaches, cow pastures, etc. – and never get stuck! And of course if you did, you just pick the back end up and move it over a bit … and off you go," he said.
While that long-ago Mini Moke was painted white, White had this one painted from its original yellow with dark green top to a bright green, keeping in tune with his environmental interest.
"It's a cool car," he said.
Those interested can call White at 340-690-0217 for more information.