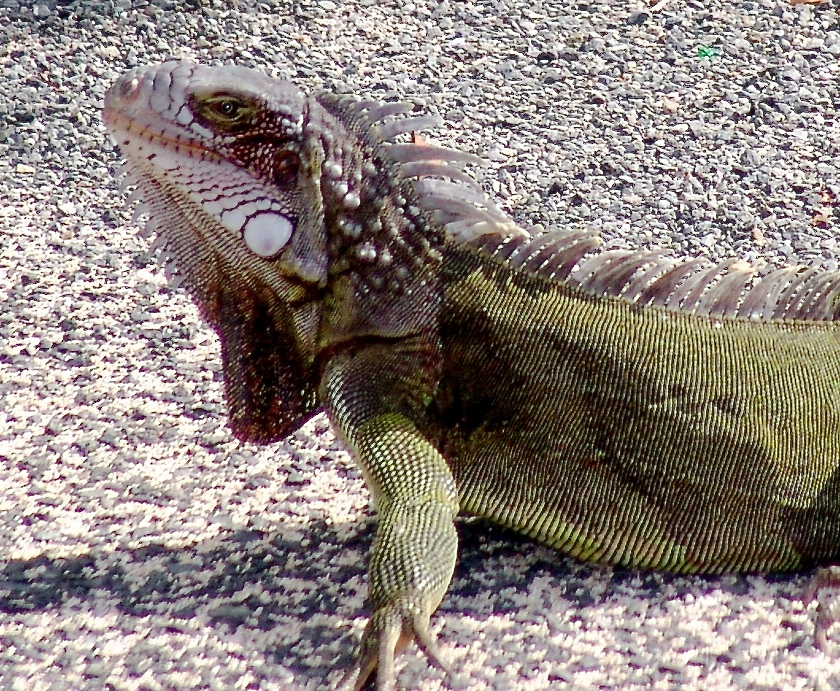 Idle the Iguana wasn't talking, and that's not like him.
Idle is the Source's mascot, has been since the news site was launched lo these many years ago. Each New Years Day he has emerged from wherever he has been lolling about, soaking up the sun, and offered pronouncements about the year just passed and offering predictions and wishes for the coming 365 days. Usually, once he gets on a roll it's hard to shut him up.
But this year, when we finally tracked him down, snoozing in the sea grape, he was, he said, "disinclined to provide the requested information."
"What do you mean?" we asked. "You always talk our ear off at the New Year. What's the problem this year?"
"I don't like to say, but if you submit your question in writing, I'll be happy to ignore it later."
"What?"
"It's the new paradigm," he said. "This is the information age, which means information is valuable. And why would you give away something valuable? That's how it works these days. Just look at what's been going on in the territory the last year."
We thought we saw an opening, so we prodded the usually loquacious lizard.
"What do you mean, what's been going on in the territory?"
"Well look at the government. Or, don't look at it. Ask it a question. If it's something they want you to know, they'll tell you. But if it's at all inconvenient, say, how much something cost, or where the funding for something is going to come from, or where some funds went to, suddenly it's all 'I'm not authorized' or 'I'm not required' to provide that information."
"And they don't say it would be wrong or bad for them to tell you. They just say the law doesn't require them to, which is not at all the same thing. And if you file a Freedom of Information Act request, they just ignore it. It's like that writer, Tom Clancy, said. 'Information, knowledge, is power. If you can control information, you can control people.' Well, if I give you my information, I'm giving you some of my power. Screw that."
That was certainly true enough, we thought. In fact, in the last year parts of the government wasn't even talking to other parts of the same government. When Senators asked for the minutes of a board meeting of the West Indian Company, WICO didn't say it would be a bad idea. They just said they didn't have to. Even though they were basing their claim on a legal precedent of dubious applicability, and one that had been overturned, they said they didn't have to let the Senate see the minutes that would help explain why they'd done what they'd done. Because apparently the last thing the WICO board wanted was to let lawmakers know why they'd done something.
"Because they're a quasi-public agency," Idle explained, "with emphasis on the 'quasi.' They're also a corporation. I think I might incorporate. That'd come in handy."
"But when they were all running for office, didn't they all talk about running an 'open government?"
"Well sure they did. Kind of makes you wonder what they mean by 'open,' doesn't it? I've never seen an election where a candidate promised to keep secrets and not tell anyone what was going on or why. In the future, it'd probably be a good idea when a candidate says something like that to get them to define their terms. But if you haven't been around long enough to know that what candidates say and what elected officials do are rarely the same thing, I sure have. Something to keep in mind, when you consider that 2016 is an election year."
We had to agree, thinking about 1,000 new jobs that we are still waiting to see.
But we had a New Year's story to file, and time was running out, so we kept looking for a way to get our mute mascot to open up. Start small, we thought.
"What about bus schedules?"
"What about 'em?"
"Wouldn't it be a good idea if VItran offered a printed schedule for its bus routes?"
"Sure, that'd be convenient," he said with a sly grin. "It would give riders something to fan themselves with while they waited for the bus. Isn't it the same thing again? If they hand out printed schedules, that's information that people would use against them if the bus wasn't on time, and this being the V.I. … "
His voice trailed off, but we got the point. We tried again.
"How about the centennial of V.I. Transfer Day?" we asked. "That's only a year away now. Are you looking forward to it?"
"Oh, yeah! There probably will be all sorts of fun events to mark the territory's transfer from Danish possession to the U.S. Events like …"
"Like what?"
"Don't know," Idle said. "The observance is supposedly going to start in August, and the last time I looked (last fall) they didn't even have an exec director to coordinate things. There have been some vague suggestions about some nice events to hold, but I haven't seen an actual schedule yet, and time's starting to run short. See, it's that information thing again. If they've actually done anything, they're being mighty close about it."
"What about climate change?" we pressed. "Certainly there's something to say about climate change. Lots of information on that."
"There sure is," he admitted. "At least there's a Climate Change Council. I believe the climate change adaptation policy and public engagement plan is supposed to be presented to the governor by the end of September. There's even a federal and a territorial coordinator for climate change. Just haven't heard of them meeting or discussing anything yet, have you?"
"And another thing," he said, now on a roll, "Let's talk about water."
"Sure."
"More than any other island, St. John needs a comprehensive land and water use plan, but after decades of talking about it, they don't seem to be any closer to it. Maybe 2016 could be the year someone will get the ball rolling again. Without one, developer after developer has had his way, without any attention paid to the big picture."
"And maybe the Legislature and governor could finally suck it up and make the hard choices that will keep the Government Employee Retirement System afloat. Sure, there aren't a lot of votes to be won by increasing the contributions and reducing benefits. In the past it was always easier and more popular to pass out special benefits like so many after dinner mints, but those days are gone. Heck, they were never really here, and now we're paying the piper."
"And you know, there's a big pot of money coming to the territory from the sale of the Hovensa facility to Arclight. It will be interesting to watch where that money goes and how it's used. That ought to be fun to watch. But … "
He paused, a glint in his beady lizard eyes, then he chuckled.
"You sly dog! You got me jabbering away instead of keeping my opinions to myself. Oh well, I guess that's how it is with New Year's resolutions. Can't keep 'em more than a few minutes."
He rose to all fours and stretched, then turned towards the brush.
"One more thing and then I'm outta here. Got things to do. But with all the things going on this year, it reminds me of what's supposed to be an old Chinese curse. It's not, there's no proof anywhere that any Chinese person ever said it, but it certainly applies to 2016."
"What's that?" we asked.
"May you live in interesting times. Is that a curse or a blessing? I guess we'll find out in the next 12 months."
"Happy New Year."