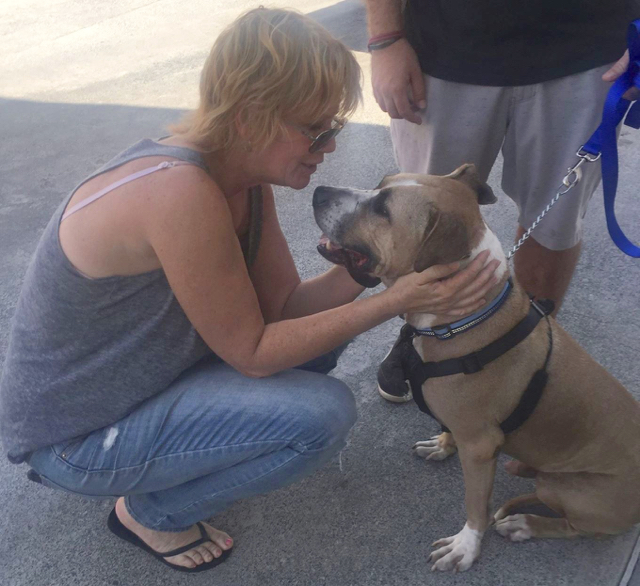 Like some visitors to St. John, a 60-pound pit bull mix named Moose traveled in style when he finally got adopted after languishing almost five years at the Animal Care Center of St. John's shelter.
"We never give up on a dog," Animal Care Center manager Ryan Moore said.
Moose went to his new home last week on a private jet owned by frequent St. John visitors, and Moore said that when the plane landed in Albany, N.Y., a limousine met Moose and Moore to drive them off to a quarantine station for two days. After that brief stop, it was off to his new owners in Massachusetts.
Animal Care Center volunteer Laurie Damron said that most dogs safely head north in the "belly of the plane." However, she said the staff worried that it would be too stressful for Moose so they were happy when someone agreed to help out.
The dog came to the Animal Care Center after he escaped from his owner, who did not want him back. He was found wandering along with the runners in the 8 Tuff Miles Race. Moore said Moose made the rounds with a race volunteer who then turned him over to the Animal Care Center.
Moose is a loner, Moore said, so he needed a home where he'd be the only pet. Dogs came and dogs went but Moose just couldn't seem to find a forever family.
"He ended up getting that shelter stigma," Moore said.
That's when Damron took matters into hand. Last summer, she started a Facebook campaign to find him a home. She created a Facebook page just for Moose.
"Last Hope K9 Rescue saw it," Moore said, referring to the Boston agency.
No one from Last Hope responded to a request for comment.
Before sending him to the states, Moore said Moose had a trial run at a St. Thomas foster family.
"He slept in a bed. There were no accidents in the house, and he didn't chew anything," Moore said.
Moose went to a Massachusetts family, but Moore said they wanted privacy so he couldn't provide contact information.
While everyone at the Animal Care Center is happy that Moose has a home, there's some sadness too.
"It's bittersweet. It's what we always wanted for him but we had gotten attached to him," Damron said.
Moose stayed so long at the Animal Care Center because it does not euthanize animals that haven't been adopted.
However, the stray dog problem is getting better, Moore said. He said when he started working at the shelter five years ago, about 70 stray dogs a year came through the shelter.
"Last year there was maybe 20," he said.
As for cats, Moore said the Animal Care Center has had great success trapping and spaying or neutering cats. He said close to 200 cats were fixed last year. However, the number of those cats with feline HIV has gone down to about a dozen out of those 200.
"They're mostly older tom cats," he said, noting that they had somehow managed to avoid efforts by the Animal Care Center and its volunteers to fix as many feral cats as possible.
The island's cats are still reproducing, mainly because there are colonies on private property where the owners won't allow the Animal Care Center access, Moore said.
According to Moore, the center has had a lot of success in finding dogs and cats homes through its dog-walking program. In this program, tourists sign up to walk the dogs during their St. John vacation.
"They can't stand to see a dog go back into the shelter so they adopt it or find a friend to adopt it," Moore said.
The Animal Care Center is online at www.stjohnanimalcarecenter.com.