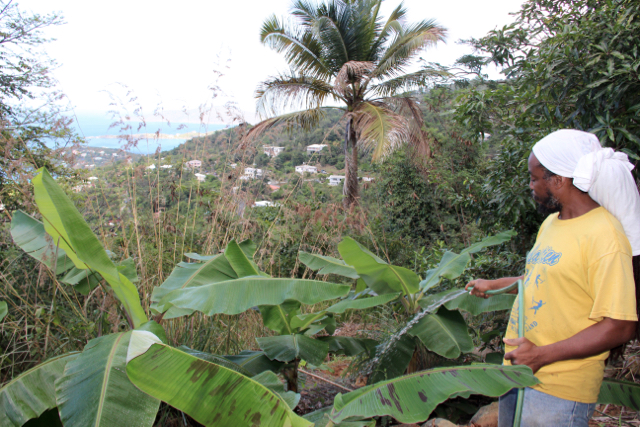 Last year's territorywide drought caused alarm in farming communities, as crops failed and agricultural productivity plummeted.
Water availability is among the most pressing issues facing the territory's farmers, but inadequate water storage systems and distribution systems are likely more urgent problems. These issues can be addressed.
According to climate change projections from the most recent report from the Intergovernmental Panel on Climate Change, droughts will likely become more common throughout the Caribbean region in the coming years, but so too will heavy rainfall events.
As a whole, the territory will have to get better at capturing water when it is available, by collecting rainfall in cisterns and ponds. Farmers will have to take advantage of heavy rainfall events.
Because the territory doesn't have large freshwater lakes or rivers, it can only rely on rainfall, wells and earthen ponds to supply its farm operations.
"We're used to a little more rainfall this time of year, but there's really no more 'used to' anymore with climate change. We can't predict the weather as well now," Benita Martin, a member of the Bordeaux-based We Grow Food Inc., said.
If there's another drought this year, Martin said she doesn't think the farming community or the Department of Agriculture is prepared to deal with it.
How Are Water Resources Measured?
To properly manage water resources and know the amount of agriculture that can be supported, it's crucial to know how much water exists. That includes knowing things like annual rainfall and groundwater recharge rates.
Commissioner of Agriculture Carlos Robles said the territory doesn't have a systematic way to monitor water resources though. Rainfall is measured at the territory's airports and a few other places, but more data points are needed, since rainfall can vary so much across each island.
After last year's drought, Robles reached out to several agencies to see if the Virgin Islands could be included in the United States Drought Monitor, an online monitoring tool that keeps track of a number of factors to determine whether or not a place is in a state of drought.
To be a part of that monitoring service, the territory would need a dedicated team made up of people from organizations such as the National Oceanic and Atmospheric Administration, the United States Geological Survey and other farm organizations to help provide the necessary drought data.
Robles is working to get the USGS back in the territory to monitor groundwater, since it ceased doing so in the early 2000s when the source for the necessary local funding match dried up.
"Since the beginning of this year, the territory's Climate Change Council has been engaging with the USGS to restart groundwater testing. We know the costs and it looks to be a favorable situation," Robles said.
Water Distribution Challenges
In Bordeaux, a system of cisterns, holding tanks and earthen ponds help store water that feeds crops. The main cistern sits under We Grow Food Inc.'s central market place and is filled by rain collected from its roof. Water pumped from the cistern, earthen ponds and wells help fill the holding tanks for those farmers who have them.
On the eastern side of the Bordeaux farming area, many growers aren't getting the water they need to maintain healthy crops. That side of the mountain doesn't have the water distribution systems it needs to support productive farming, since there aren't ponds there and some areas face the added obstacle of uphill pumping.
"A few farmers over there that can't get water through gravity feeding have outright given up, because they don't have water," Martin said. "Farmers need more storage capacity, so they can capture water when it's available."
"We are aware of the challenges and know some farmers have given up around that area due to water availability issues," Robles said. "In the near future we intend to create more storage capacity in both the Dorothea and Bordeaux areas."
Elridge "Sparks" Thomas, president of We Grow Food Inc., said his farming community is drafting a plan to partner with the government to design a water storage and distribution system for Bordeaux.
"We'd like the government's help to design and approve the plan, but our farmers will help execute it by providing free labor," Elridge said. "Water is the bloodline of agriculture – we have adequate rainfall, we just need more storage and better distribution."
Robles said the Department of Agriculture will create systems to pump water uphill if necessary, but first he'd like to survey the land and determine where it makes sense to build wells and ponds.
When there isn't enough rainfall to water crops or fill cisterns and ponds, Bordeaux farmers rely on wells that pump water from the aquifer system. But if the ponds don't have water in them, there's a good chance the groundwater hasn't been replenished by rainfall either.
Farmers have to be wary of saltwater intrusion from overpumping. This threat is one of the main reasons Agriculture wants to resume groundwater level testing.
"We do get support from the Department of Agriculture, but the timing isn't always right and projects can take months to finish," Martin said. "We need them to be consistent and see things through to completion."
The territory has received federal funding to complete water storage projects in Dorothea and Bordeaux on St. Thomas, Coral Bay on St. John and the Community Gardens on St. Croix. The St. John storage project has already started, but the St. Thomas project won't begin until next year.
Management and Accessibility Issues
Water storage and its distribution aren't the only water issues facing farmers though. Water management and access problems exist too.
Rain-filled, earthen ponds in Dorothea are regularly tapped to fill government-owned water holding tanks. Department of Agriculture employees control those tanks and are the only ones with access to the switch that turns the pumps on that feed water to nearby farmers.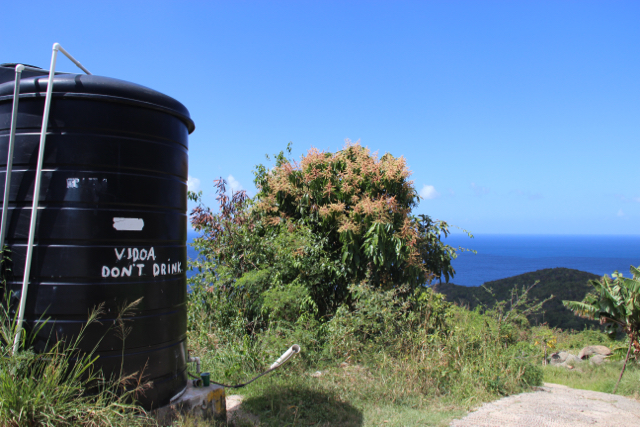 When there's a long weekend or holiday, the government tanks don't always get filled, since there are no employees available to turn the pumps on. So, farmers often go without water for a few days.
Alphonso Wade III, who farms in Dorothea, said he recently went about two weeks without water, since a pipe that fills his on-farm holding tanks was damaged.
Wade said the Department of Agriculture didn't communicate the issue to the farmers or try to fix it right away. So, he ran his own pipe to the earthen pond that supplies water to the area. Personnel from the department quickly removed his water pipe, since they said it was unauthorized.
"The department didn't communicate with me about the issue and I needed to get access to water, since I just got done with some planting" Wade III said, adding that his straining system was damaged when his pipes were removed.
Robles fully agrees the system for water delivery in Dorothea could be better, but Wade's pipes weren't authorized. Even though the broken pipe issue should've been addressed sooner, Agriculture can't encourage farmers taking matters into their own hands. Robles said there would be no management whatsoever then.
To address future issues, Robles wants to create an automated water system in Dorothea that automatically fills up the tanks when they're low. He'd also like to see water pipes that are susceptible to major damage be moved and placed somewhere safer.
"We're going to address these needs as soon as possible, even if we don't have the funding we need from the United States Department of Agriculture's Natural Resource Conservation Service yet," Robles said.
Robles said that like other government departments, Agriculture has suffered from funding and staffing cuts, so it's been difficult to address all the water access issues.
"The local government needs to commit itself to agriculture and not just rely on federal funding. We can grow tropical fruit 365 days a year, so we should be taking advantage of this. Failing to do so just isn't economically smart," Elridge said.
To tap into the full economic potential of the territory's agriculture, water storage capacity, distribution and management issues must be addressed going forward.