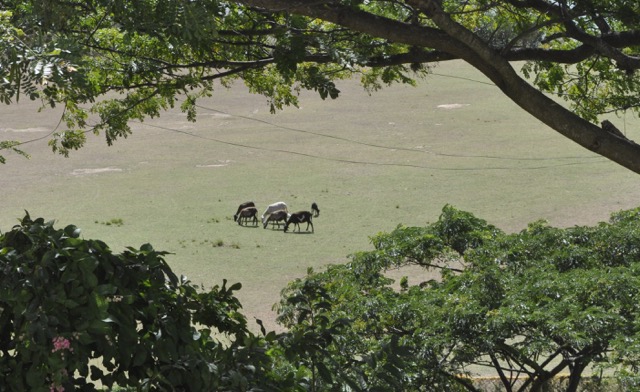 At a legislative hearing held in Cruz Bay on Tuesday, testimony for and against the rezoning of some Moravian Church lands for a proposed hotel and condominium complex highlighted widely diverging and competing visions for the future of Coral Bay.
Portions of the parcel under rezoning consideration, which contains the Coral Bay ballfield, are currently zoned low-density residential and waterfront industrial. The Moravian Church and their developer partner, T-REX St. John LLC, want the entire parcel changed to a zoning designation of "waterfront pleasure" in preparation for the building of an 89-unit hotel and condo development with related retail space. (See Link: Developers Unveil Plans for Coral Bay Hotel and Marina)
The project also includes the construction of a marina, one of two currently proposed for Coral Bay, although that aspect of the development was not a subject of the hearing.
While some Coral Bay residents are prepared to welcome long-discussed, large-scale development to their side of the island in the hopes that it will bring jobs and introduce improved cleanliness, others fear it will destroy Coral Bay's quiet, pastoral atmosphere, which they say offers social and economic advantages of its own.
"I think it's now time for us to think about where we're going," said Sharon Coldren, president of the volunteer-run Coral Bay Community Council.
"Coral Bay is seen by many as an attractive place to have a major development but, if we do that, we're going to be giving up what has been going on in Coral Bay for the last 20 years, which is building an economy that is based very much on small family businesses, vacation rental villas, wanting people to come and enjoy a very laidback, non-urban place," Coldren said.
Ann Prince Hendricks, a Moravian congregant who identified herself as a sixth-generation St. Johnian, disagreed that a development model based on small businesses and rental properties would serve all residents of Coral Bay.
"A large number of Native St. Johnians have moved out of the general area in search of better job opportunities," she said.
Prince Hendricks expressed nostalgia about a time in her youth when she said Coral Bay was cleaner, saying the current state of the harbor was unacceptable and that it needed "structure and order." Hendricks also said she feels that some residents of Coral Bay resist all development at the expense of economic growth.
"I believe that, just as any landowner, the Moravians deserve the right to develop their property," she said.
The questions of how much and what type of employment the proposed development would bring remain undetermined.
John Woods of Jaredian Design Group, designer for the project, said he estimates the number of permanent jobs added to the Coral Bay economy at 60 to 70.
Coldren expressed worries that those jobs might be low-paying, low skill jobs that wouldn't necessarily go to St. John residents, along with some management jobs that would likely be brought in by whatever company, possibly a corporate brand, manages the hotel.
Concerns over issues of density, public use of green space and the blocking of viewscapes have been raised by Coral Bay residents at previous public meetings, and they remained on the minds of critics of the proposed development on Tuesday.
But Sen. Kurt Vialet, who expressed support of the Moravian Church being able to develop the land, said the issue at hand was simply rezoning, and that any development would have to face a rigorous permitting process later through the V.I. Department of Planning and Natural Resources and the federal Army Corps of Engineers.
"By granting this rezoning are we saying yes to building anything?" Vialet asked, to which Department of Planning and Natural Resources Commissioner Dawne Henry responded no.
Henry earlier testified that DPNR recommends the rezoning application under consideration be granted.
Woods agreed that the development's plans are a "work that continues to evolve," saying that more of the public's concerns would be settled in the permitting process.
He cited two changes in the plans that have already been incorporated due to public input as evidence that the developers are willing to work with the community. One change is an increase in the amount of the Coral Bay ballfield to be preserved as a public green. The other is the movement of the complex's two-story structures to the perimeters of the development to preserve views of the harbor from the road as much as possible.
For Sen. Almando "Rocky" Liburd, the Legislature's sole St. Johnian, the issue of the use of the ballfield was a large concern. Although he said he doesn't see a problem with the church developing its lands, he wants to see the developers make good on their promise to create a new ballfield on land adjacent to the current one.
"To me that was the center of Coral Bay," he said.
Liburd, noting that many St. Johnians feel as if they are "getting priced out" of the island, said, "All I ask is a little more community involvement, make sure the project works better for us, it could be a win-win proposition."
Resident David Silverman testified that the proposed new location for the ballfield – in a flood zone with a major gut, on an undersized parcel, in a potentially archeologically rich location – is likely inadequate.
For Sen. Myron Jackson, the Moravian Church's decision to get into hotel development on St. John raised the broader question of how economic growth and historic preservation might be reconciled in the territory.
Jackson said he was disappointed that the Moravians, who have been in the islands for almost three centuries, have not heeded his frequent suggestions to draw revenue from heritage tourism related to "a long, rich history" and "remarkable sites" in the territory.
"Over the last 30 years I have asked the Moravians to be better stewards of their cultural resources," said Jackson.
The Moravian Church Eastern West Indies Province, of which the V.I. Conference is a part, is headquartered in Antigua, and it was not clear Tuesday whether the majority of money from the proposed development of Moravian land in Coral Bay would be reinvested in the territory.
The Rev. Errol Connor testified that the church makes economic decisions for "the benefit of the whole," not specific jurisdictions.
Also of concern at the hearing was the fact that the Moravian Conference of the Virgin Islands owes outstanding property taxes to the V.I. Government. Representatives of the church say tax assessments of their nearly 150 acres of V.I. land have not been correct and in line with credits due to them as a religious institution with burial sites on their land, and they are waiting for the government to issue correct tax bills.
Sen. Jean Forde said the tax issue already faced by the property's owners raised for him the question of whether the development will eventually apply for EDC tax benefits, a fact which Woods said is likely although premature to speculate on.
"What I believe that we are looking for would be investment," said Forde. "So I am a little bit cautious when you start to talk about the possibility of [tax] benefits. It sends a message to me that already we are looking for a handout of some sort."
Although no legislative action was taken Tuesday night, arguments were heard by the senators who will consider the rezoning further at a future hearing.
Present Tuesday night were Liburd, Vialet, Jackson, Forde, Sens. Marvin Blyden, Novelle Francis Jr., Justin Harrigan Sr., Neville James, Positive Nelson, Nereida "Nellie" Rivera-O'Reilly, Tregenza Roach and Janette Millin Young. Sens. Sammuel Sanes, Kenneth Gittens and Clifford Graham were excused.