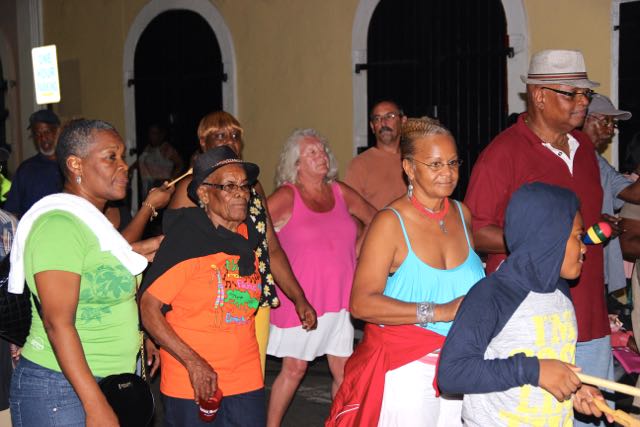 The streets of Charlotte Amalie were alive with the sounds and songs of the annual Senior Citizen's Quelbe Tramp on Tuesday evening.
Trampers gathered just before 8 p.m. near the Rothschild Francis Market Square before beginning their dance trek that took them along Main Street and all the way to Carnival Village.
Standing shoulder-to-shoulder and smiling ear-to-ear when they weren't singing, the seniors moved as a unified group along the street-lamp lit path, while a man with a light-up hat acted as the conductor.
As they danced and passed the rows of closed jewelry shops, the seniors played maracas, bottles, cans and guitars – really anything acoustic that could make rhythmic noise – and sang the traditional tunes of carnival. One woman even drummed away on a Kmart bucket to the delight of many people who were filming the scene with their cell phones.
"This is something exceptional, since you really only hear this music during carnival," said Freeman, who preferred to go only by the single name.
Families and other spectators lined parts of the street along the way, with the majority clustered in front of the downtown post office. Cheers rang out from the crowd as the seniors danced and passed by.
Mr. Kool Carnival, as he preferred to be called, said his favorite part of the tramp is seeing all the new faces that participate and how much people enjoy themselves.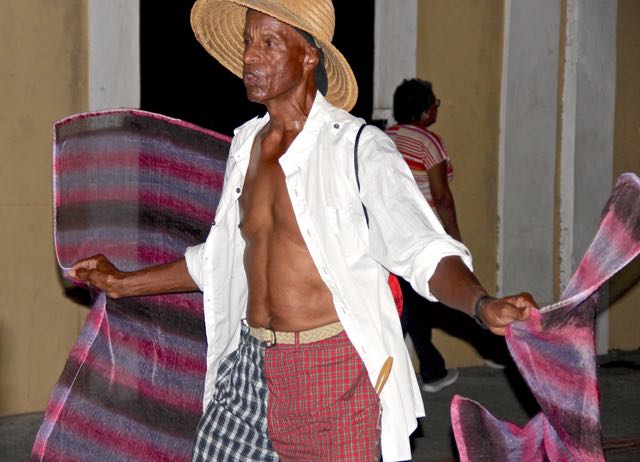 "The tramp is a pleasant buildup to the Cultural Food Fair and J'ouvert. It's all about the coming togetherness of carnival," said Sister Jahmila, who's attended the tramp five times.
Since beginning in 1986, the tramp has become an annual staple of the carnival lineup, providing a special event for seniors to participate in and a venue for them to be celebrated by the community.
According to official V.I. legislation, quelbe music is unique to the Virgin Islands. "Quelbe, the vocal and instrumental style of Virgin Islands' folk music which traces its ancestry to Africa and Europe, and which is a fusion of bamboula rhythms and chants, cariso songs and melodies, is the official traditional music of the Virgin Islands," it reads.