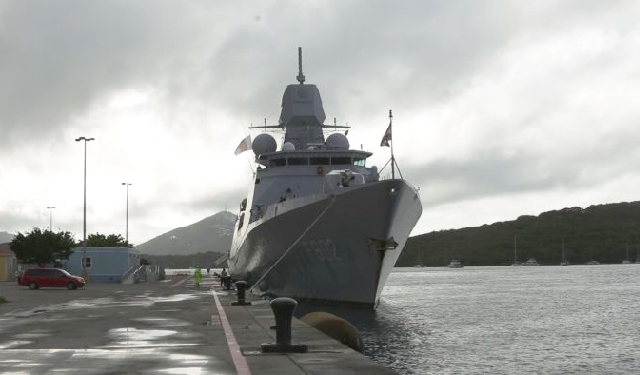 Half covered by fog and rain when it pulled into port Friday, the Dutch warship de Zeven Provincien, with everything from an on-board helicopter to a guided missile system, cut an impressive figure across the Charlotte Amalie horizon.
At sea for the past two weeks, the large Netherlands Navy frigate will remain on St. Thomas until Monday, with 180 crew members on board, to include a Belgian helicopter team and U.S. Coast Guard contingent. The ship is one in a fleet of four used for international defense and command and was the first of its class after its commission in 2002.
"There is always a Dutch Navy ship sailing in the Caribbean, and that is because we have a responsibility to our islands and former islands – such as Bonaire, Saba, Sint Maarten – to help with foreign policies, but also to provide defense," Cmdr. Elzo Jansen, the ship's commanding officer, said Friday as the crew prepared to relax and enjoy St. Thomas. Jansen said the ship's mission is sanctioned by a 15-nation alliance whose goal is to help keep the region stable.
"At this moment, being out on the sea is not dangerous, but that is because it is part of our mission to keep it that way," Jansen said. "Counter-drug operations, for example, is one of the things that we are used to doing and in the last few months we have had four big catches. We have cached more than 1,500 kilograms of drugs, arrested more than 25 people and sent back more than four ships during our stay in the Caribbean."
With hurricane season coming up, Jansen added that the ship and those on board are also ready to provide "humanitarian aid."
"This ship is ready and prepared for such a disaster and we are able to give that kind of support where required," he said.
With all of the heavy artillery on board, the commanding officer and crew said they couldn't reveal much more about the ship's features for security reasons, but they did say that they were excited to have the time on St. Thomas before moving on to other islands, including Puerto Rico, Santo Domingo and their home port of Curacao.
"Sometimes it is important in life to take some time to relax and laugh," Jansen said, pointing to one of the many humorous signs posted around the ship. "Like these, we have signs here to keep our spirits up, and we are looking forward to taking it a little easier over the next few days, just doing a little maintenance and repairs, but mostly taking some time off. And me, I'm looking forward to having a nice port visit, with no more rain."