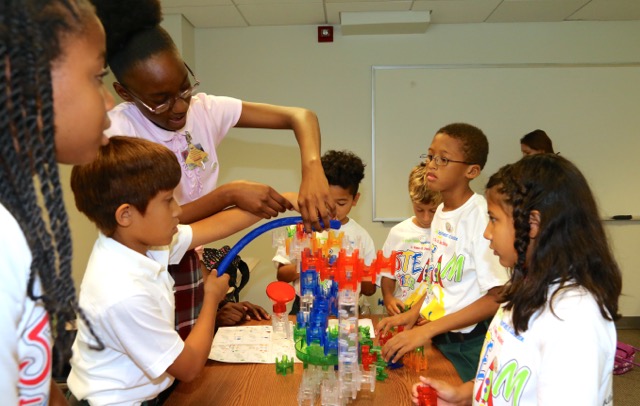 Five St. Thomas students took their place in the ranks of computer program developers by winning top honors for their computer apps and another dozen took prizes in graphic publishing and website design at the annual STEAM Fair, celebrating science, technology, engineering, art and mathematics.
The V.I. Department of Education released the winners Tuesday of the "Hands On Day," a new feature of the weeklong STEAM Fair that took place May 17-20 at the University of the Virgin Islands' Sports and Fitness Center.
During the week of activities, Thursday was set aside for a new event focusing on more than 400 fourth- through eighth-grade students representing public, private, parochial and home-schooled students in the St. Thomas-St. John district who showcased their love of science, technology, engineering art and mathematics at the first "STEAM Hands-On Day."
"Hands-On Day" included projects representing the arts. The theme for this year's STEAM Fair was "Amalgamating the Arts into STEM."
"Students get to move from station to station, building things, exploring, having challenges with each other," said Kisha Corbett, district technology coordinator and one of three organizers of the event.
Approximately 30 exhibits were displayed on the show floor – with projects ranging from an eco-friendly house made from plastic bottles to beautiful artwork made by using gravitational force and a simple medicine dropper.
"We have a lot of students that have joined graphic publishing and students that are creating artwork using Illustrator and Photoshop," Corbett said, adding that they were, "overall, creating masterpieces with different computer programs."
According to Corbett, the benefits of STEAM exposure extend beyond the classroom.
"I believe STEAM helps students dig deeper into thinking. They really have to explore and problem-solve and figure out why things aren't working. It's also where the workforce is moving, so if we get students prepared now and get them exploring STEAM, we are better preparing them for the jobs that will be available in the future," she said.
Jeune Provost, 2015 Virgin Islands state teacher, oversaw the station where students created paintings using the force of gravity.
"Students were not able to use paint brushes; they could only use droppers and they had to twist and turn their canvas to actually make shapes and combine colors," she said.
District math coordinator Avon Benjamin said the goal was to give students as much hands-on experience as possible.
"If we could get them early, then we could spark that interest into STEAM careers," Benjamin said. "As a math educator, it's exciting to hear the students discuss the process when they are problem-solving. You know thinking is taking place. I wanted them to have opportunities to process information. Being able to problem-solve is a real-world skill we want the students to have."
The weeklong STEAM Fair included exhibitions from kindergarteners through 12th-graders.
The top awards went to:
App Creation
High School: Faith Prosper, Ivanna Eudora Kean, for her app "V.I. Beaches"; Renae Emanuel, IEKHS, for her "JahRuts App."
Junior High School: Kalea Smith, Addelita Cancryn Junior High School, "Application Design."
Intermediate: Kierra Rogers, Ulla F. Muller Elementary School, "Virgin Islands Major Activities"; Sian Smith, Ulla F. Muller, "Fashionista."
Graphic Publishing
High School: Sumaiyah Richardson, Charlotte Amalie, "Inspirational Vector Art"; Ki'Andre Thomas, IEKHS, "Tourism Poster; Spenser Parr and Rahul Sartani, All Saints School, "Health Pamphlet."
Junior High: Mahleem Warner, Bertha B. Boschulte Junior High, "Scientific Inquiry"; Sherna Williams, Boschulte, "Scientific Inquiry."
Intermediate: Aaliyah John, Ulla Muller, "Guess the V.I."; Ajai Thomas, "The Benefits of Fruits"; Christopher Mai, Ulla Muller, "NASCAR."
Primary: K'Nard Callendar, Ulla Muller, "Just Photoshop It"; Harmony Allen, Ulla Muller, "Advertisement."
Individual Web Page
Primary: Shane Smith, Ulla Muller, "The Little Drummer Boy."