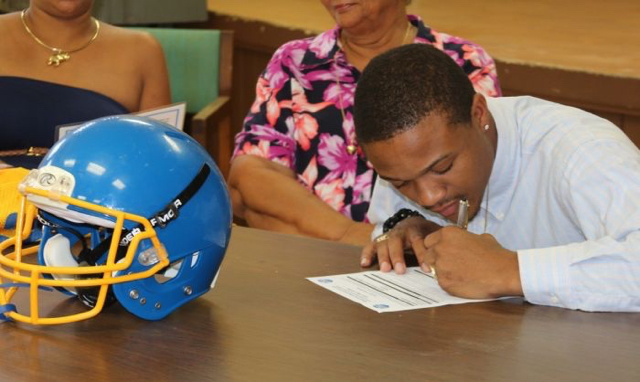 This year, Charlotte Amalie High School's Terrik Grosvenor and Eudora Kean's Dequan Solis fought against each other for a championship. Come this fall, they will fight as one as members of the North Dakota State College of Science football team.
Grosvenor and Solis signed their official letters of intent Sunday at the Winston Raymo Recreation Center, flanked by family members and officials from the V.I. Sports Training Academy, the organization that has helped mentor them throughout their high school athletic careers. The academy recently wrapped its eighth annual football showcase with the goal of exposing local athletes to college scouts.
Francisco Jarvis, the organization's secretary, said Sunday that a combine held on St. Thomas this year also gave the students a chance to meet and greet North Dakota's defensive coach.
That interaction led both athletes to pick the school. Both also fielded offers from Central Lakes College, but picked North Dakota after learning that the coach they would be working with is also from the territory.
"I picked North Dakota because they really wanted me and they had a V.I. coach, and because we would be going there as the first set of V.I. children to attend the school," Grosvenor said after the signing ceremony. "I'm going there knowing that I'm going to have the guidance from the V.I. coach and we're going to have a base, since Daquan and I going up there hand in hand. He's going to help me and I'm going to help him, and that made it the best fit for me."
Grosvenor said that going into college he will change position from linebacker to strong safety so that he's able to be a player in North Dakota's coverage.
"I would be a rover, playing the whole field instead of one half like I do now," he said. "They're going to be able to take advantage of my speed."
Sunday's ceremony was an emotional one for Grosvenor's family, who spoke about the challenges he had growing up, raised by his mother and grandmother after the death of his father.
"The loss of your dad at the age of two left a void in your life, you missed the nurturing he briefly gave, and I know that he would be very proud of your accomplishments today," grandmother Vivian Lewis, a member of the CAHS class of 1962, said. "Your mom and I picked up the slack, and with the love and nurturing of two single women, you realized what you wanted to accomplish in life and you excelled."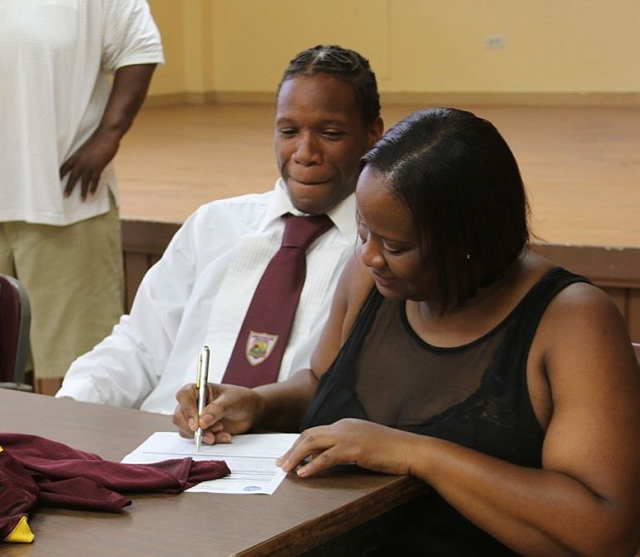 Solis' family and coaches also spoke about his determination, and how he was able to field a college offer after only playing one year – his senior year – of football for Kean.
"I was so disappointed in the fact that he waited until your senior year to play football," Kean coach Elroy Henneman Jr. said Sunday. "He's so athletic, and he came and tried out in ninth grade, but he was a little skeptical about playing with the guys when he came out. Since then, he's told me throughout the four years that he should have started in ninth grade, he would have been much, much better, bigger, stronger, but even with the one year, look how far he has come."
After the signing, Solis said he was also proud of the accomplishment, because during his senior year he "developed my game, learned as much as I could, and put every effort into doing as much as I could."
"Now, they plan to use me as tight end, along with the positions of defensive end and defensive tackle that I played this year," Solis said. "I feel really great about that, because it is a great opportunity to show that I can catch and to show how fast I am. High school football and college football are two different levels, and this is the time for me to show them that I can play the game."
Solis, too, said that he is excited to work with a local coach, who "knows the struggle" of growing up on the island.
"He left the island with the same dream as me and I want to show him that just like him, I won't give up on my dream either," Solis said. "I talked to him when he was here for the combine, and he made me feel comfortable about the opportunity."
Family members also urged the pair Sunday to take care of each other as they go on to the next level.