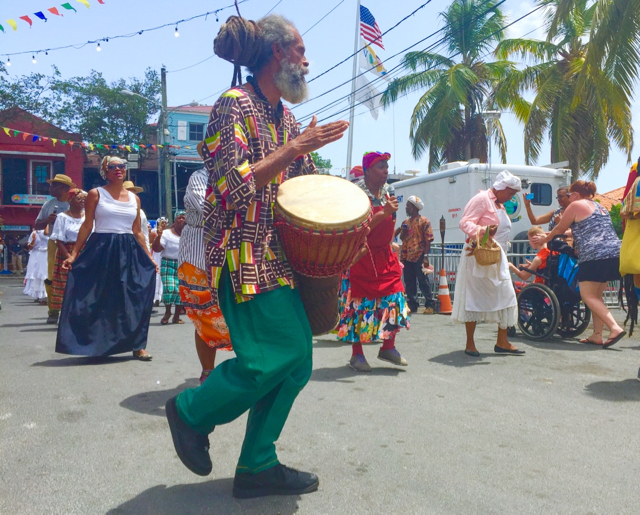 Those who braved the July heat Sunday to attend this year's Emancipation Day program in Cruz Bay were treated to not only musical and dance performances but also an educational skit titled "Set the Record Straight," performed by the St. John Drama Club.
The skit, written by Dr. Gilbert Sprauve and Rosa Samuel, was structured around a conversation between the two co-writers in which Sprauve seeks to impress upon the community the importance of not "playing down" or "sugarcoating" the meaning of Emancipation Day. The dialogue between Sprauve and Samuel was interspersed with monologues from historical figures portrayed by a host of costumed community members.
"I'm here to conduct a little talking session with ayo about emancipation," said Sprauve, one of St. John's eminent historians. "Today's a special day. This isn't just about jumping up and parading and fireworks."
Sprauve said that although America's independence is also being celebrated during St. John's festival, it is the date of emancipation in the Danish West Indies, July 3, that should be treated with the most reverence in the Virgin Islands.
"Anybody who tells you that independence comes before emancipation has got it totally upside down," he said.
Mistress of ceremonies at the Emancipation Day program Pamela Richards-Samuel echoed those sentiments. Her reference to Emancipation Day as "the most important holiday in the U.S. Virgin Islands" was met with amens from the crowd.
"What we do when we recognize this day is call upon all of the ancestors," Richards-Samuel said.
She noted that it was enslaved Africans on St. John who, in 1733, undertook one of the earliest rebellions against the institution of chattel slavery in the Caribbean. She said that as a Crucian she has similar feelings to those of many St. Johnians towards that rebellion when she reflects on the 1848 uprising on St. Croix, led by General Buddhoe, that dealt the final blow to slavery in the Danish West Indies.
Two students from Ivanna Eudora Kean High School, Ashley Doway and Lineek Williams, added more historical context to Sunday's program by offering a brief rundown of those events that led to emancipation 168 years ago.
"The slave uprising of July second into the third of 1848 in St. Croix was one of the instances in Caribbean history in which slaves secured their freedom by their own revolutionary initiative," said Williams.
Doway issued a harrowing reminder of the horrifying experience of enslavement, saying "Denmark's treatment of slaves included flogging, mutilation, dismemberment and spiritual torture."
General Buddhoe himself made an appearance in "Set the Record Straight," portrayed by Emmaus Moravian Church pastor Vankys Isaac. So did other familiar characters from Virgin Islands history, including Gov. Peter Von Scholten, who gave the proclamation that ended slavery in the Danish West Indies. Von Scholten was portrayed by former Senator-at-Large Craig Barshinger, who donned a red jacket and put on his best Danish accent for the role.
Von Scholten's mistress Anna Heegaard, portrayed by Deborah Charles, drew applause from the audience when she appeared in the skit. Many historians credit Heegaard, a "Free Coloured" women, with working behind the scenes to bring about the end of slavery.
"She used her influence to help get her people emancipated," Samuel narrated.
Other performers in "Set the Record Straight" included Yvonne Wells, Lucinda Jurgen, Gylchris Sprauve, Edna Freeman, Myrtle Isaac, Ruth Frett, Eugenie Dalmida, Marcia George, Myrna George, TiSean Hendricks, Evans Williams, Joycelyn Jacobs, Edward Bruce, Emmanuel Boyd, Mahlon Pickering and the Echo People drummers.
A 15-foot cotton, flannel and crocus collage titled "A Journey to Freedom," created by artist Ayesha Morris, formed the backdrop for the performance.
Sunday's program also featured dance performances by the Caribbean Ritual Dancers, led by Diana Brown, the Mascilyn Bamboula Dancers led by Allegra Christopher, and a solo dance by St. John resident Marcella Kelshall.
Performers also included singers from Julius E. Sprauve School under the direction of Nancy Liburd and the Bertha C. Boschulte Middle School Flambo Combo band under the direction of Calvin Jones.
Myrna George offered closing statements at the event, expressing her deep pride in the resilience of the people of St. John, the Virgin Islands, and the entire Caribbean.
"On this day I'm filled with emotion, I really am, when I think of the journey our people have gone through. And yet we are still here, a resilient people. We have endured a lot and we are one people, never forget that, all Caribbean people," said George.
"Let us go forward with our heads held high for we are a free people, free indeed," she added.