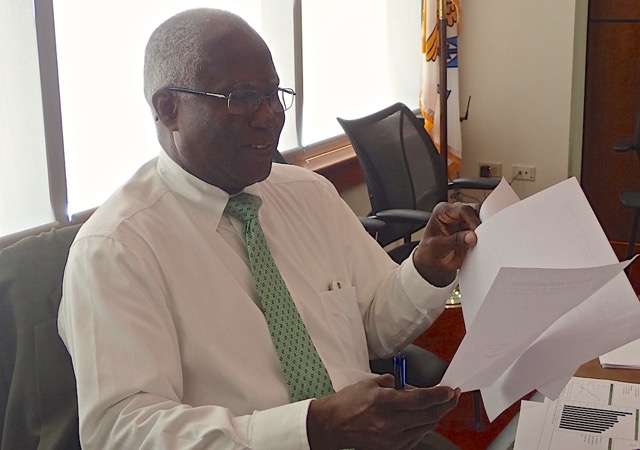 The government of the Virgin Islands owes more than $1.5 billion to the territory's retirement system and, based on the arrearages, retirees should only receive half of their retirement benefits by law, Austin Nibbs, executive director of the Government Employees Retirement System, told trustees at a board meeting Thursday.
Nibbs also read a letter to Sen. Neville James, president of the 31st Legislature, about the government's delinquent employer contributions and requested an appropriation of at least $39.2 million, overdue since 2012.
Government contributions will be $185 million short for 2017, Nibbs said, telling the board he requested $265.5 million for 2017 to make up for some of the shortage.
"I think we can notify them of a $1.6 billion default," Nibbs said in response to questioning about the total amount the government owes.
If an employer is in default, V.I. Law prohibits GERS from paying retirement benefits at the normal rate, according to the director. Last month disbursements were $20.7 million but contributions from employees were $3.6 million and employers paid $6.8 million.
"According to the law, retirees should be getting 50 percent of their retirement" because contributions are half what they should be, he said.
Nibbs provided information about the history of employer contributions noting $38 million of $48.6 million – 78 percent – of expected payments were made in 1991. After that, millions less than expected were collected each year – 50 percent less beginning in 2003 and every year thereafter. In 2016, less than 31 percent of the $247 million billed employer contributions were realized.
It is common knowledge that GERS has been predicted to collapse by 2022. Nibbs said the system's equity will run out by 2019 but there is a plan to continue to pay retirees. He did not say how that would be done.
Nibbs also reported $10.1 million has been paid out every two weeks to 8,523 retirees this year and that there were no updates on a lawsuit against the Gov. Juan Luis Hospital to recover millions in delinquent employer contributions.
On a more positive note, Bruce Thomas, GERS investment officer, reported the system's trust held $763 million at the beginning of July and $780 in equity and fixed assets by the end of the month. The return on investment at the end of July was $17.2 million with a return of $46 million year to date.
Trustees attending the meeting via videoconference and telephone were Judge Edgar Ross, acting chair, Vincent Liger, Leona Smith, Desmond Maynard and Carol Callwood.