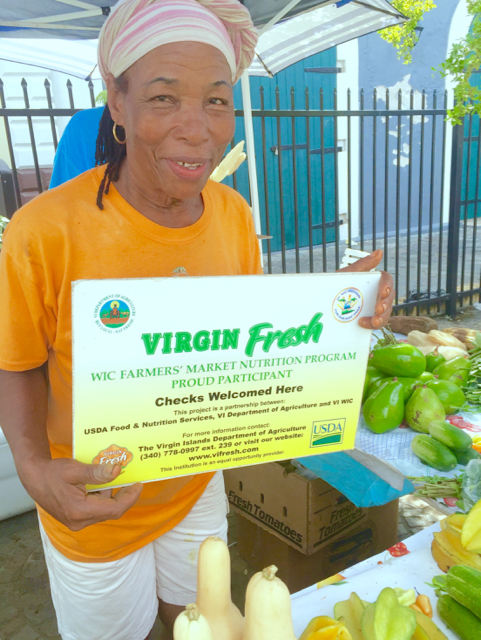 Getting more local, fresh produce on the plates of families and supporting the territory's famers markets are the goals of a national food assistance program that launched in the Virgin Islands in August.
Known as the Women, Infants and Children Farmers Market Nutrition Program, or WICFMNP, the initiative is gaining momentum after falling short when it was first introduced in the territory almost 10 years ago. Now women receiving this benefit can redeem vouchers for local produce at any market where the WICFMNP sign is posted.
According to Billy Abraham, who became the director of the Virgin Islands Department of Agriculture's marketing division in March, the program wasn't initially successful, since there wasn't someone to oversee it.
"For the last eight to nine years the department didn't have a marketing director and there was no one to manage this particular WIC grant," Abraham explained. "When we received money, there was no organization and there were problems in locating the vendors who could receive the coupons."
Having a program manager in place makes a difference, too. Joy Elliott handles the training and authorizing of vendors, as well as ensures that all WIC recipients receive their coupons. Vendors are only allowed to sell locally grown produce from the Virgin Islands, so Elliott has to keep tabs.
Abraham says the program's aims are to increase women and children's access to fresh, unprepared produce and to promote farmers markets by increasing awareness and farmers' incomes.
"We know the importance of healthy eating to breastfeeding moms and we know that local produce has a lot more shelf life and higher nutritional value. Another objective is to increase revenue, sales and farming activity. When you have a new target market that encourages buying from local farmers, it encourages more people to farm," Abraham explained.
But there are challenges to getting moms to use the coupons. WIC recipients need to know where to find authorized vendors. Younger people, which the program mostly serves, might not be familiar with some local foods and won't know how to cook them.
To raise awareness about the program, Agriculture is using online activities such as treasure hunts to promote the new WIC program through its Facebook page. There are also maps that highlight where vouchers can be used.
St. Thomas farmer Charles Leonard believes getting more public information out there will lead to more support of farmers markets . As an authorized WICFMNP vendor, he said Agriculture has been keen on knowing at which markets he'll sell his goods, so the department can share the information with benefit recipients.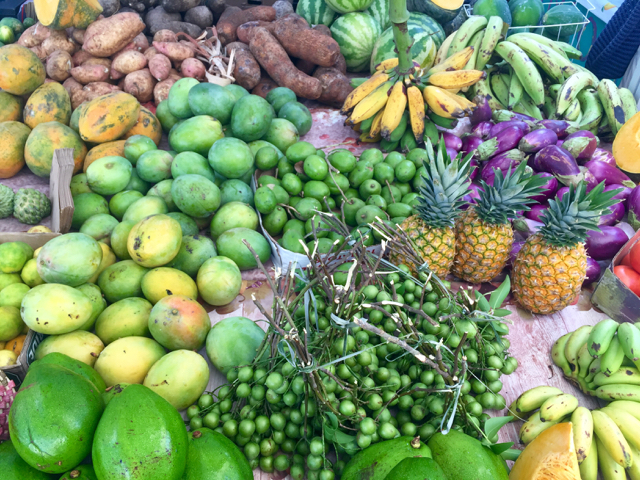 "We also have to let people know what's in season and what we have every week. If we do that, they'll keep coming," Leonard said.
Drina Anthony of St. Thomas said her farm has been certified for the new program for two weeks and that Agriculture supplied her with the signs that indicate so. In the coming weeks, Anthony hopes to be able to do cooking demonstrations at her stand to show her new customers different ways to prepare local produce.
Both Anthony and Leonard add that, so far, they've had a few customers using the WICFMNP vouchers during Saturday mornings at Market Square on St. Thomas.
"I've definitely seen some new faces at the market that are using the vouchers," Anthony said.
Sponsored by the United States Department of Agriculture through grant funding that the V.I. Department of Agriculture applied for to collaborate with the Department of Health, the WICFMNP is separate program than the regular WIC nutritional program. This additional benefit provides $25 per child at the same frequency WIC monies are dispersed, which is usually monthly but can vary.
"Regular WIC vouchers can't be used at local farmers markets, since they have to be redeemed at participating retail stores – that's why it's important to have a separate program that supports farmers markets," Abraham explained, adding that it's also separate from the Supplemental Nutrition Assistance Program, known as SNAP, which does allow recipients to purchase from farmers markets that have the equipment to accept electronic benefit transfer cards.
In 2014, SNAP recipients as a whole spent only $617 at the territory's farmers markets, but that amount jumped to $7,686, which shows that there's growing interesting in buying fresh, local produce. With more than $62 million given out to the territory's residents in SNAP benefits in 2015, there's more room to support local agriculture through federally funded food assistance programs such as the WICFMNP.
To take part in WICFMNP, a vendor must complete an application, sign an agreement and produce a harvest report for the farm. Prospective vendors also must have a business or farmers license, Schedule F tax document, health care and a tax clearance letter.
Since the program launched a month and half ago, farms have been approved to receive vouchers. On St. Croix, the La Reine and the Christiansted farmers markets have authorized vendors. Most of the food stands along Centerline Road near the Department of Agriculture are certified too, as is Sejah Farms.
On St. Thomas, both the Market Square and the Bordeaux farmers markets have authorized vendors. Pressads and Charles Barry's food stands near the Tutu Mall by the WIC main office are also certified.
On St. John, Josephine Roller and Elmo Rabsatt can accept the vouchers.